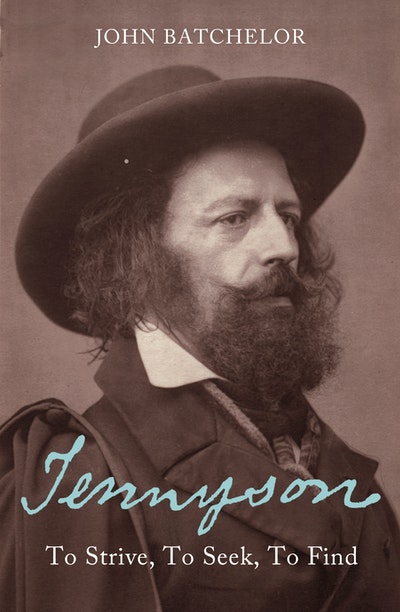 Published:

1 November 2012

ISBN:

9781448138562

Imprint:

Vintage Digital

Format:

EBook

Pages:

464
Tennyson
To Strive, to Seek, to Find
---
---
---
An enthralling new biography of Lord Alfred Tennyson: the major poet of his age, and the Queen's Laureate from 1850 until his death in 1892.
Lord Alfred Tennyson was the major poet of his age. In 1850, he succeeded William Wordsworth as Queen Victoria's Poet Laurete, and this book begins and ends with Tennyson's direct contacts with the Queen, whom Tennyson had first came to know at audience at an Osborne House on the Isle of Wight in 1862.
John Batchelor's enthralling new biography presents a Tennyson who is stronger, more self-reliant, and more business-like than previous biographies have displayed. Like many successful Victorians he was a provincial determined to make good in the capital while retaining his provincial strengths; in his particular case he never lost his Lincolnshire accent and in his relationships he remained close to his roots.At the same time and through his Laureteship, he determined the literary taste of the mid- to late Victorian period; and then, strategically, and with a secure instinct for the market, he fed that taste. The ascendancy of Tennyson was neither the irresistible triumph of pure genius nor an accident of history; he skilfully crafted his own career and his relationship with his audience.
Published:

1 November 2012

ISBN:

9781448138562

Imprint:

Vintage Digital

Format:

EBook

Pages:

464
This is a biography for everybody interested in poetry

Antonia Fraser, Mail on Sunday
Batchelor's book is a useful reminder of what makes Tennyson a brilliant poet: it points the reader back in the direction of the poems

Emma Hogan, New Statesman
John Batchelor has written a biography which is commendably careful, highly readable and wholly sensible. It should stand, in years to come, as the most advisable entry point into this most inscrutable of poets

Spectator
By far the most serious and just biography of Tennyson in a long time

Wall Street Journal
It's a pleasure when a biographer is as good a reader of poems as of life

New York Times Book Review
Batchelor tells Tennyson's story with verve, vigour and assurance and transforms our view of him. His book is as much a reading of the Victorian age as of its favourite poet

Steve Barfield, Lady
Batchelor pinpoints the amazing alignment of Tennyson's verse with the mood of Victorian Britain at large. His scholarly approach results in densely written text but his devotion to his subject and the period drenches the book with intimacy and heartfelt affection

Jeffrey Taylor, Sunday Express