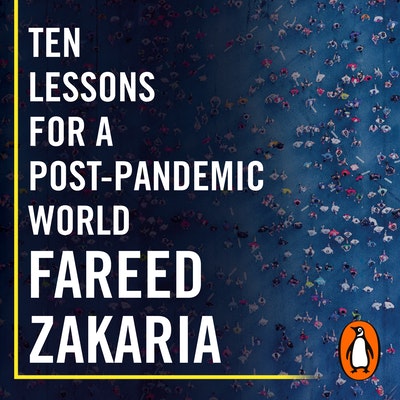 Published:

13 October 2020

ISBN:

9780241509005

Imprint:

Penguin Audio

Format:

Audio Download

RRP:

$27.99
Ten Lessons for a Post-Pandemic World
---
---
---
The celebrated CNN journalist and leading global commentator examines how COVID-19 will fundamentally reshape our world
Brought to you by Penguin.
Since the end of the Cold War, the world has been shaken to its core three times. September 11, 2001, the financial collapse of 2008 and - most of all - COVID-19. Each was an asymmetrical threat, different from anything the world had experienced before.
Fareed Zakaria presents ten surprising, hopeful and vital lessons for recovery in our age of asymmetry. He highlights the importance of investing in healthcare and education, harnessing technology and how to react to America's retreat from leadership on the world stage. COVID-19 has made the old categories of left vs right, democracy vs dictatorship and big vs small government obsolete and highlighted what should have always been the obvious challenge to populism - good government. Sheer competence made all the difference in those countries which dealt with the pandemic best. The future belongs to the smart state.
Zakaria's final lesson is to accept the reality of globalization and acknowledge that global crises need international cooperation and global solutions. He passionately argues that we need to continue listening to experts and scientists to tackle climate change. We need to resist our nationalist and isolationist instincts to fight inequality and recognise that we actually have more in common than not. He believes that Aristotle was right - we are social beings with community embedded in our human nature. We want to gather and work, eat, pray, love and mourn together. More than anything we need to build a new world together.
© Fareed Zakaria 2020 (P) Penguin Audio 2020
Published:

13 October 2020

ISBN:

9780241509005

Imprint:

Penguin Audio

Format:

Audio Download

RRP:

$27.99
Praise for Ten Lessons for a Post-Pandemic World
It is an intelligent, learned and judicious guide for a world already in the making.

Josef Joffe, New York Times