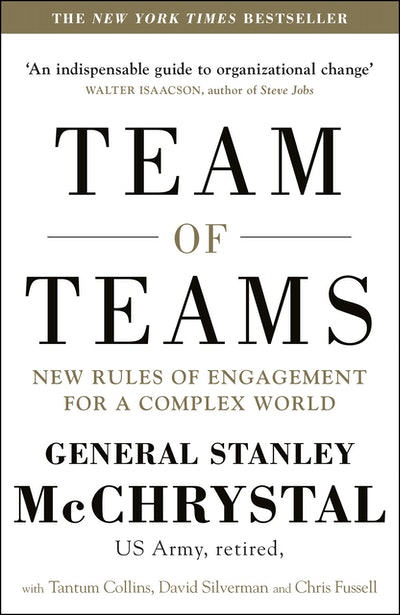 Published:

1 February 2016

ISBN:

9780241250839

Imprint:

Penguin General UK

Format:

Paperback

Pages:

304

RRP:

$24.99
Team of Teams
New Rules of Engagement for a Complex World
---
---
---
Retired four-star general Stanley McChrystal shares a powerful new leadership model
As commander of Joint Special Operations Command (JSOC), General Stanley McChrystal discarded a century of management wisdom and pivoted from a pursuit of mechanical efficiency to organic adaptability.
In this book, he shows how any organization can make the same transition to act like a team of teams - where small groups combine the freedom to experiment with a relentless drive to share their experience.
Drawing on a wealth of evidence from his military career and sources as diverse as hospital emergency rooms and NASA's space program, McChrystal frames the existential challenge facing today's organizations, and presents a compelling, effective solution.
Published:

1 February 2016

ISBN:

9780241250839

Imprint:

Penguin General UK

Format:

Paperback

Pages:

304

RRP:

$24.99
In addition to being a fascinating and colourful read, this book is an indispensable guide to organizational change

Walter Isaacson, from the foreword
In addition to being a fascinating and colourful read, this book is an indispensable guide to organizational change

Walter Isaacson, from the foreword
This is a bold argument that leaders can help teams become greater than the sum of their parts

Charles Duhigg, author of The Power of Habit
This is a bold argument that leaders can help teams become greater than the sum of their parts

Charles Duhigg, author of The Power of Habit
Team of Teams is erudite, elegant, and insightful. An unexpected and surprising wealth of information and wonder, it provides a blueprint for how to cope with increasing complexity in the world. A must read for anyone who cares about the future - and that means all of us

Daniel Levitin, author of The Organized Mind
Team of Teams is erudite, elegant, and insightful. An unexpected and surprising wealth of information and wonder, it provides a blueprint for how to cope with increasing complexity in the world. A must read for anyone who cares about the future - and that means all of us

Daniel Levitin, author of The Organized Mind