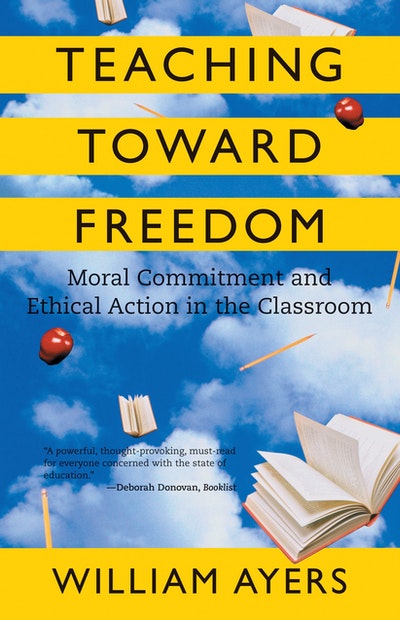 Published:

1 September 2018

ISBN:

9780807032695

Imprint:

Beacon Press

Format:

Trade Paperback

Pages:

184

RRP:

$27.99
Teaching Toward Freedom
---
---
For William Ayers, noted educator and activist, "the allure of teaching, that ineffable magic drawing me back to the classroom again and again, issues from an ideal that lies directly at its heart: Teaching, at its best, is an enterprise that helps human beings reach the full measure of their humanity."
In Teaching Toward Freedom, Ayers illuminates the hope as well as the conflict that characterize the entire project of education: how it can be used in authoritarian and dehumanizing ways in the service of the state, the church, or a restrictive existing social order-an idea he abhors-or, as he envisions it, as an undertaking to help students become more fully human, more engaged, more participatory, more free. Drawing on his own classroom experiences and those of his many colleagues, as well as on popular culture, film, poetry, and novels, Ayers redraws the lines concerning how we teach and why, and the surprising things we uncover when we allow students to become visible, vocal authors of their own texts and creators of their own lives.
"Committed and aware teachers," Ayers argues, "must endeavor to accomplish two crucial tasks. One is to convince students . . . that there is no such thing as receiving an education as a passive receptor or an inert vessel-in that direction lies nothing but subservience, indoctrination, and worse. All real education is and must always be self-education. The second task is to demonstrate to students . . . that they are valued, that their humanity is honored, and that their growth, enlightenment, and liberation are the paramount concern. We take the side of the student. . . ." This lucid and inspiring book will help teachers at every level to realize that ideal.

From the Hardcover edition.
Published:

1 September 2018

ISBN:

9780807032695

Imprint:

Beacon Press

Format:

Trade Paperback

Pages:

184

RRP:

$27.99