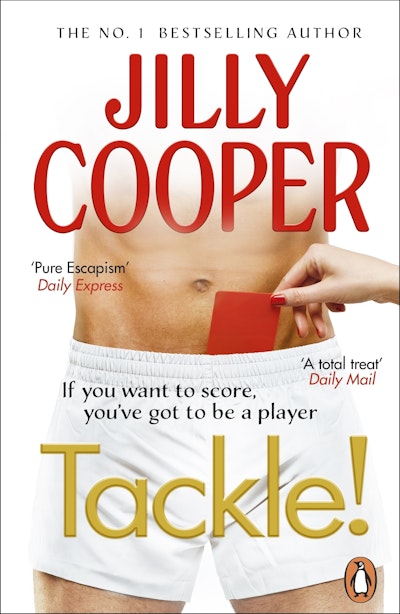 Published:

9 November 2023

ISBN:

9781473586635

Imprint:

Transworld Digital

Format:

EBook

Pages:

448
Tackle!
Let the sabotage and scandals begin in the new instant Sunday Times bestseller
---
---
---
The brand-new book from the legendary Jilly Cooper, featuring the iconic Rupert Campbell-Black. Be prepared for scandal, sex and sabotage - this time on the football field...
Jilly Cooper's legendary hero returns!
Rupert Campbell-Black, all-conquering racehorse owner-trainer and handsomest man in England, is in the darkest of places. His adored wife, Taggie, is about to undergo chemotherapy. His beloved leading stallion has been assassinated.
Now his daughter Bianca is badgering him to buy into a failing local football club, Searston Rovers, so he can sign up her superstar striker boyfriend, Feral Jackson, and he and Bianca can return home from Perth to look after Taggie.
Rupert dislikes football and his first impressions of Searston are distinctly unfavourable. But as their new and indelibly competitive Chairman, he won't stand for anything less than an Everest climb to the top of the Premier League.
With the help of the club's ravishing and adorable secretary, Tember West, and his sassy Press Officer, Dora Belvedon, he becomes increasingly fond of his riotous mix of players, despite bawling them out whenever they face defeat.
Rupert's explosive arrival at Searston causes outrage, so the fights are as furious off the field as on – particularly when glamorous WAGS flood in to stir up trouble and lust after Rupert…
Nor do the rival local football team, their duplicitous chairman and their corrupt dealings make things easier – let the scandals, sabotage and seductions begin…
Published:

9 November 2023

ISBN:

9781473586635

Imprint:

Transworld Digital

Format:

EBook

Pages:

448
A giddy, sexy, exuberant romp of a story...a total tonic, offering the sort of glorious escapism we're all desperately in need of.

Daisy Buchanan
A giddy, sexy, exuberant romp of a story...a total tonic, offering the sort of glorious escapism we're all desperately in need of.

Daisy Buchanan
A giddy, sexy, exuberant romp of a story...a total tonic, offering the sort of glorious escapism we're all desperately in need of.

Daisy Buchanan
A giddy, sexy, exuberant romp of a story...a total tonic, offering the sort of glorious escapism we're all desperately in need of.

Daisy Buchanan
A giddy, sexy, exuberant romp of a story...a total tonic, offering the sort of glorious escapism we're all desperately in need of.

Daisy Buchanan
Bursting with fun, puns, and shenanigans

Jill Mansell
Bursting with fun, puns, and shenanigans

Jill Mansell
Bursting with fun, puns, and shenanigans

Jill Mansell
Bursting with fun, puns, and shenanigans

Jill Mansell
Bursting with fun, puns, and shenanigans

Jill Mansell
If you loved Riders, and binge-watched Ted Lasso, then this is your dream novel. Pitch perfect and utterly swoon-worthy. Jilly is a genius

Clare Pooley
If you loved Riders, and binge-watched Ted Lasso, then this is your dream novel. Pitch perfect and utterly swoon-worthy. Jilly is a genius

Clare Pooley
If you loved Riders, and binge-watched Ted Lasso, then this is your dream novel. Pitch perfect and utterly swoon-worthy. Jilly is a genius

Clare Pooley
If you loved Riders, and binge-watched Ted Lasso, then this is your dream novel. Pitch perfect and utterly swoon-worthy. Jilly is a genius

Clare Pooley
If you loved Riders, and binge-watched Ted Lasso, then this is your dream novel. Pitch perfect and utterly swoon-worthy. Jilly is a genius

Clare Pooley
A fabulous feast of fun, frolics and football

Jo Thomas
A fabulous feast of fun, frolics and football

Jo Thomas
A fabulous feast of fun, frolics and football

Jo Thomas
A fabulous feast of fun, frolics and football

Jo Thomas
A fabulous feast of fun, frolics and football

Jo Thomas
Won't disappoint her many fans: bonking, balls and Campbell-Black. All present and incorrect

Sir Ian Rankin
Won't disappoint her many fans: bonking, balls and Campbell-Black. All present and incorrect

Sir Ian Rankin
Won't disappoint her many fans: bonking, balls and Campbell-Black. All present and incorrect

Sir Ian Rankin
Won't disappoint her many fans: bonking, balls and Campbell-Black. All present and incorrect

Sir Ian Rankin
Won't disappoint her many fans: bonking, balls and Campbell-Black. All present and incorrect

Sir Ian Rankin
Jilly is back on fine form bringing the world of football to brilliant life. A read that was fleet of foot and contained plenty of last minute surprises ... I loved it

Cesca Major
Jilly is back on fine form bringing the world of football to brilliant life. A read that was fleet of foot and contained plenty of last minute surprises ... I loved it

Cesca Major
Jilly is back on fine form bringing the world of football to brilliant life. A read that was fleet of foot and contained plenty of last minute surprises ... I loved it

Cesca Major
Jilly is back on fine form bringing the world of football to brilliant life. A read that was fleet of foot and contained plenty of last minute surprises ... I loved it

Cesca Major
Jilly is back on fine form bringing the world of football to brilliant life. A read that was fleet of foot and contained plenty of last minute surprises ... I loved it

Cesca Major
I felt my mood perceptibly improve over the few days of reading ... The only problem with Tackle! is that you have to ration yourself or you'll gobble it up in one go

The Telegraph
I felt my mood perceptibly improve over the few days of reading ... The only problem with Tackle! is that you have to ration yourself or you'll gobble it up in one go

The Telegraph
I felt my mood perceptibly improve over the few days of reading ... The only problem with Tackle! is that you have to ration yourself or you'll gobble it up in one go

The Telegraph
I felt my mood perceptibly improve over the few days of reading ... The only problem with Tackle! is that you have to ration yourself or you'll gobble it up in one go

The Telegraph
I felt my mood perceptibly improve over the few days of reading ... The only problem with Tackle! is that you have to ration yourself or you'll gobble it up in one go

The Telegraph
A jolly jolt of Jilly on a cold autumn day

The Times
A jolly jolt of Jilly on a cold autumn day

The Times
A jolly jolt of Jilly on a cold autumn day

The Times
A jolly jolt of Jilly on a cold autumn day

The Times
A jolly jolt of Jilly on a cold autumn day

The Times
The queen of British bonkbusters

The Economist
The queen of British bonkbusters

The Economist
The queen of British bonkbusters

The Economist
The queen of British bonkbusters

The Economist
The queen of British bonkbusters

The Economist
With her talent for boisterous plots and dialogue, Cooper delivers feisty fun ... With this novel, Cooper shoots again and scores

Daily Telegraph
With her talent for boisterous plots and dialogue, Cooper delivers feisty fun ... With this novel, Cooper shoots again and scores

Daily Telegraph
With her talent for boisterous plots and dialogue, Cooper delivers feisty fun ... With this novel, Cooper shoots again and scores

Daily Telegraph
With her talent for boisterous plots and dialogue, Cooper delivers feisty fun ... With this novel, Cooper shoots again and scores

Daily Telegraph
With her talent for boisterous plots and dialogue, Cooper delivers feisty fun ... With this novel, Cooper shoots again and scores

Daily Telegraph
clever and enormous fun to read

i
clever and enormous fun to read

i
clever and enormous fun to read

i
clever and enormous fun to read

i
clever and enormous fun to read

i
A total treat

Daily Mail
A total treat

Daily Mail
A total treat

Daily Mail
A total treat

Daily Mail
A total treat

Daily Mail
Pure escapism - who could ask for more?

Daily Express
Pure escapism - who could ask for more?

Daily Express
Pure escapism - who could ask for more?

Daily Express
Pure escapism - who could ask for more?

Daily Express
Pure escapism - who could ask for more?

Daily Express
There's still something infectiously joyful and funny about [Cooper's] particular brand of very English writing

The Observer
There's still something infectiously joyful and funny about [Cooper's] particular brand of very English writing

The Observer
There's still something infectiously joyful and funny about [Cooper's] particular brand of very English writing

The Observer
There's still something infectiously joyful and funny about [Cooper's] particular brand of very English writing

The Observer
There's still something infectiously joyful and funny about [Cooper's] particular brand of very English writing

The Observer
It's pure escapism - the perfect antidote to the read world, full of warmth, wit and Rupert Campbell-Black

Sunday Express
It's pure escapism - the perfect antidote to the read world, full of warmth, wit and Rupert Campbell-Black

Sunday Express
It's pure escapism - the perfect antidote to the read world, full of warmth, wit and Rupert Campbell-Black

Sunday Express
It's pure escapism - the perfect antidote to the read world, full of warmth, wit and Rupert Campbell-Black

Sunday Express
It's pure escapism - the perfect antidote to the read world, full of warmth, wit and Rupert Campbell-Black

Sunday Express
A breathless plot that [...] sizzles with all the scandal, scheming and saucy shenanigans a reader could hope for

The Mail on Sunday
A breathless plot that [...] sizzles with all the scandal, scheming and saucy shenanigans a reader could hope for

The Mail on Sunday
A breathless plot that [...] sizzles with all the scandal, scheming and saucy shenanigans a reader could hope for

The Mail on Sunday
A breathless plot that [...] sizzles with all the scandal, scheming and saucy shenanigans a reader could hope for

The Mail on Sunday
A breathless plot that [...] sizzles with all the scandal, scheming and saucy shenanigans a reader could hope for

The Mail on Sunday