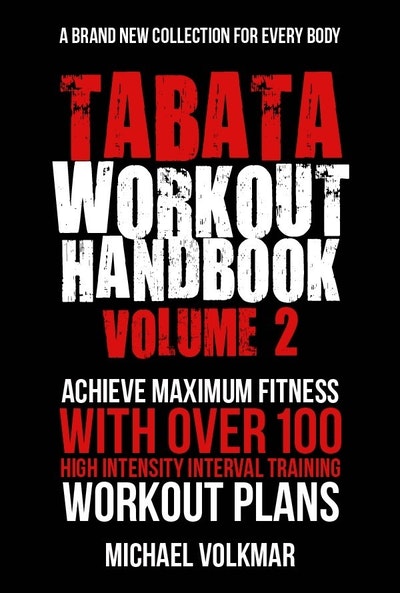 Published:

30 April 2018

ISBN:

9781578267224

Imprint:

Hatherleigh Press

Format:

Paperback

Pages:

208

RRP:

$25.00
Tabata Workout Handbook, Volume 2
---
---
More than 100 all-new, high intensity interval training plans for all fitness levels.
High Intensity Interval Training (HIIT) is now widely acknowledged to be the single most advantageous form of exercise for any number of fitness goals. Tabata Workout Handbook, Vol. 2 continues to optimize this training method for more effective weight loss, increased cardiovascular health, and improved athletic ability, with all-new workouts and training regimens.
Featuring new body-weight exercises for greater strength-building effectiveness, these HIIT workouts can be done anywhere and anytime--absolutely no gym equipment required!
   • NO GYM REQUIRED. With little to no equipment investment, tabata represents one of the most affordable, effective workout regimens on the market today. With multiple high-quality pictures for each movement, Tabata Workout Handbook, Vol. 2 requires no equipment and no special instruction.
   • ACCESSIBLE TO ALL FITNESS LEVELS. With customized and customizable workouts perfect for anyone from beginners to experts, Tabata Workout Handbook, Vol. 2 allows athletes to jump right in at their personal fitness level, making the workouts quick and easy to include in your existing routines.
   • ONLINE SUPPORT THROUGH GETFITNOW PLATFORM. Comprehensive online support via social media, community forums, and website featuring additional content such as exclusive exercise videos, nutritional tips, live updates from authors, and more.
   • REACH YOUR ABSOLUTE PHYSICAL PEAK. Designed to help athletes maximize their results in the most effective, efficient way possible, Tabata Workout Handbook, Vol. 2 lets athletes break through personal barriers and set new standards of fitness for themselves.
   • INCREASE STRENGTH AND ENDURANCE, STRESS-FREE. Traditional weight-lifting and endurance training can put unnecessary strain on the body's reserves. With a new focus on body weight exercises and equipment-free workouts, The Tabata Workout Handbook lets you push your body to its physical limits--getting the results you want--while avoiding stress-based injury and unwanted setbacks.
Whether looking to simplify an existing workout, increase your fitness results, or overcome your personal fitness plateau and reach new heights, Tabata Workout Handbook, Vol. 2 shows you how!
Published:

30 April 2018

ISBN:

9781578267224

Imprint:

Hatherleigh Press

Format:

Paperback

Pages:

208

RRP:

$25.00