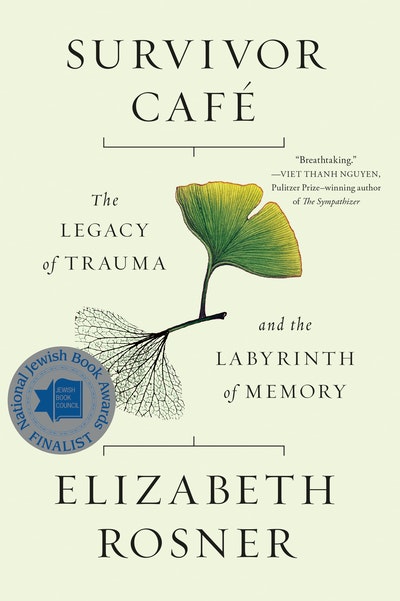 Published:

4 September 2018

ISBN:

9781640091078

Imprint:

Catapult

Format:

Paperback

Pages:

288

RRP:

$27.99
Survivor Café
The Legacy of Trauma and the Labyrinth of Memory
---
---
---
Named a Best Book of the Year by The San Francisco Chronicle
"Survivor Café...feels like the book Rosner was born to write. Each page is imbued with urgency, with sincerity, with heartache, with heart.... Her words, alongside the words of other survivors of atrocity and their descendants across the globe, can help us build a more humane world." —San Francisco Chronicle
As firsthand survivors of many of the twentieth century's most monumental events—the Holocaust, Hiroshima, the Killing Fields—begin to pass away, Survivor Café addresses urgent questions: How do we carry those stories forward? How do we collectively ensure that the horrors of the past are not forgotten?
Elizabeth Rosner organizes her book around three trips with her father to Buchenwald concentration camp—in 1983, in 1995, and in 2015—each journey an experience in which personal history confronts both commemoration and memorialization. She explores the echoes of similar legacies among descendants of African American slaves, descendants of Cambodian survivors of the Killing Fields, descendants of survivors of the bombing of Hiroshima and Nagasaki, and the effects of 9/11 on the general population. Examining current brain research, Rosner depicts the efforts to understand the intergenerational inheritance of trauma, as well as the intricacies of remembrance in the aftermath of atrocity. Survivor Café becomes a lens for numerous constructs of memory—from museums and commemorative sites to national reconciliation projects to small–group cross–cultural encounters.
Beyond preserving the firsthand testimonies of participants and witnesses, individuals and societies must continually take responsibility for learning the painful lessons of the past in order to offer hope for the future. Survivor Café offers a clear–eyed sense of the enormity of our twenty–first–century human inheritance—not only among direct descendants of the Holocaust but also in the shape of our collective responsibility to learn from tragedy, and to keep the ever–changing conversations alive between the past and the present.
Published:

4 September 2018

ISBN:

9781640091078

Imprint:

Catapult

Format:

Paperback

Pages:

288

RRP:

$27.99
Praise for Survivor Café A Best Book of 2017 (San Francisco Chronicle) A Finalist for the National Jewish Book Award A Most Notable Nonfiction by Bay Area Authors Selection (East Bay Times) "Rosner's memoir, which combines moving personal narrative with illuminating research into the impact of mass trauma on a personal and cultural scale, is imbued with urgency, sincerity, heartache, and heart." —San Francisco Chronicle, 1 of 100 Best Books of 2017 "Mixing the personal with the historical and the literary with the scholarly, Rosner achieves a breathtaking overview of events as varied as the Holocaust, the Vietnam War, the Rwandan genocide, and Japanese American internment. Her impressive, highly readable Survivor Café takes on important issues of atrocity, trauma, and memory, rendering them all with such great clarity and intimacy that the reader will not soon forget them, or this powerful book." —Viet Thanh Nguyen, Pulitzer Prize–winning author of The Sympathizer "This is a personal exploration for Rosner, but also an exploration of the commonalities found in the children of survivors." —Read it Forward "Survivor Café is an exercise in mapmaking, in identifying convergent paths in apparently disparate legacies left by the world's humanitarian disasters . . . [Rosner] asks us to look inside ourselves, to learn from the past, to forgive, and to understand the deep connections binding us to our past, our future, and to all other things." —Lilith Magazine "Survivor Café is a beautifully expressed personal examination of how trauma is passed down through generations...An exquisite read." —The Daily Gazette "In deep fissures and dark alleys having to do with multigenerational trauma, anti–Semitism, racism, terrorism, torture, death and loss, Berkeley writer Elizabeth Rosner uncovers, improbably, hope and connection." —The Mercury News "There's been a slew of research examining the genetic effects of psychological trauma, but author Elizabeth Rosner is among the first to take a deep dive into the personal implications of such inheritance with her stunning new book, Survivor Café: The Legacy of Trauma and the Labyrinth of Memory." —Orange County Register "Deeply moving." —Berkeleyside "Rosner's writing is crafted like the poet she is, and her ability to meld and transcend her own story with those of survivors of wars, slavery, and genocide is nothing less than brilliant and more importantly, healing." —ACEs Connection "Rosner demonstrates a rare blend of scholarly assessment and personal revelation, tempering her singular passion with an encompassing mercy. In this important and vital contribution to the conversation about legacy and responsibility, Rosner distills the magnitude of such burdens and defines the scope of memorialization with an elegance and eloquence that reverberates with both depth and nuance." —Booklist (starred review) "A thoughtful, probing meditation on the fragility of memory and the indelible inheritance of pain." —Kirkus Reviews "Novelist Rosner (Electric City) shines an unblinking light on the most horrific of 20th–century crimes and asks: What is the intergenerational legacy of trauma? . . . She considers art, anniversaries, memorials, and psychotherapy, but the most powerful technique she finds for dealing with trauma is simply telling the story behind it . . . Themes of memory, language, and the bodily imprint of trauma are powerful, as are Rosner's accounts of revisiting Buchenwald with her father . .