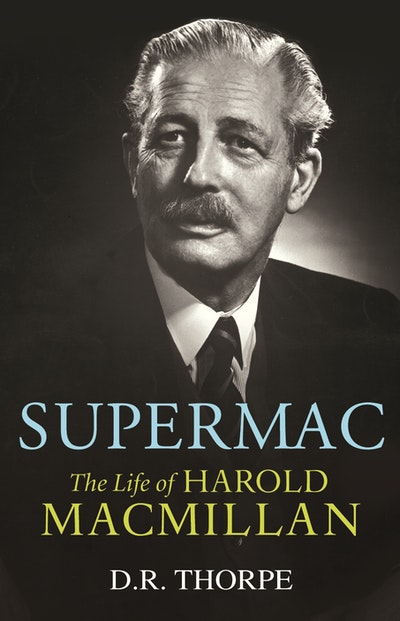 Published:

15 September 2011

ISBN:

9781409059325

Imprint:

Vintage Digital

Format:

EBook

Pages:

912
Supermac
The Life of Harold Macmillan
---
---
---
Supermac is a truly important publication, of significance to everyone interested in the history of the 20th century. Packed with new revelations about Macmillan's private life as well as key events including the 'Tolstoy' controversy, the Suez Crisis, You've Never Had It So Good, the Winds of Change and the Profumo Scandal.
Great-grandson of a crofter and son-in-law of a Duke, Harold Macmillan (1894–1986) was both complex as a person and influential as a politician. Marked by terrible experiences in the trenches in the First World War and by his work as an MP during the Depression, he was a Tory rebel – an outspoken backbencher, opposing the economic policies of the 1930s and the appeasement policies of his own government. Churchill gave him responsibility during the Second World War with executive command as 'Viceroy of the Mediterrranean'. After the War, in opposition, Macmillan overhauled the Conservatives on progressive and radical lines; after 1951, in government, he served as Minister of Housing, Defence Secretary, Foreign Secretary and Chancellor of the Exchequer. He became Prime Minister after the Suez Crisis, and between 1957 and 1963 presided over Great Britain's transition from the age of austerity to that of affluence. He also proved himself one of the great publishers of his generation.
The culmination of 35 years of research by one of our most respected historians, Supermac gives an unforgettable portrait of a turbulent age. It is a magisterial biography destined to become a classic.
Published:

15 September 2011

ISBN:

9781409059325

Imprint:

Vintage Digital

Format:

EBook

Pages:

912
superb biography...Thorpe has three qualities that make him a first-rate biographer and they are all evident here. He is a phenomenal scholar and has left almost no primary source untapped for this book. He is the master of the anecdote, in which the book abounds and which as a result makes it a joy to read...But best of all, Thorpe writes beautifully... he understands that in writing the life of a politician, it is not all about politics.

Simon Heffer, Saturday Telegraph
DR Thorpe is one of our finest historians, and this is one of his finest books: painstaking, detailed, but always readable. You come as close as you can to understanding Macmillan from these pages.

Observer
This humane, elegantly writeen, exhaustively researched biography is the best yet of Macmillan, and indeed one of the best of any postwar prime minister

David Kynaston, Guardian
Beautifully written biography...What the book shows...is that he was almost certainly the last prime minister worthy of our history as a great power

Peregrine Worsthorne, Spectator
Fine political biography

Anthony Howard, New Statesman, Christmas round up
A beautifully judged political biography, written with great flair and insight, and surely the last word on one of out most civilised, cunning and ambiguous prime ministers.

Dominic Sandbrook, Daily Telegraph, Christmas round up
Marvellously readable biography gives us all the material we need.

Andrew Gimson, Daily Telegraph, Christmas round up
Macmillan really walks and talks his stylish yet nervy way through these pages.

Peter Hennessy, Daily Telegraph, Christmas round up
Gives a wonderful sense of Macmillan's complexity and stature

Blair Worden, Spectator, Christmas round up
A spellbinding insight into the fascinating character of one of the most remarkable politicians of the 20th century.

Archie Norman, Evening Standard, Christmas round up
A solidly buttressed biography that parallels his earlier works... Supermac is crammed full with interesting facts, germane and diverting by turns

Peter Clarke, TLS
Thorpe's superb biography leaves no primary source untapped, and bountiful anecdotes make this account of a truly three-dimensional character a joy to read.

Telegraph
Bringing together 35 years of research this biography of Harold Macmillan looks at both his personal and political achievements, conflicts, and events that defined his time. From Eton to prime minister, this is a compelling read.

Charlotte Vowden, Daily Express
The best biography of a post-war British Prime Minister yet written.

Vernon Bogdanor, Professor of Government at University of Oxford