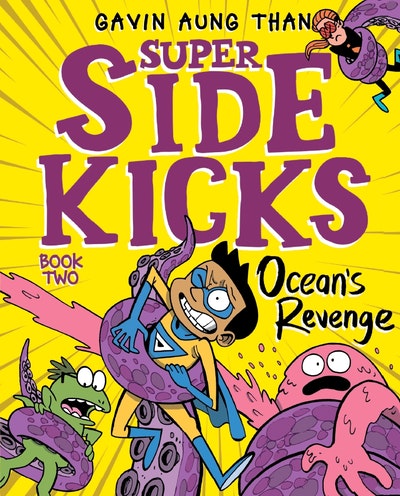 Published:

3 September 2019

ISBN:

9780143795889

Imprint:

Puffin

Format:

Paperback

Pages:

160

RRP:

$14.99
Super Sidekicks 2: Ocean's Revenge
---
---
---
The Super Sidekicks are back! Prepare for another amazing adventure from New York Times bestselling Australian author, Gavin Aung Than.
An unidentified object is heading straight for the city, moving fast! Something fishy is going on . . .
The world's superheroes are missing, and humankind is under threat from an ancient underwater menace!
Can the super sidekicks save the planet before it's too late?

'Super Sidekicks delivers action, a super side-splitting good time, and proof that heroes can come from anywhere! Giving a copy to a young reader is the most heroic thing you can do.' Andrew McDonald and Ben Wood, creators of the Real Pigeons series
'Everyone loves an underdog. Super Sidekicks is a winner!' Lincoln Peirce, author of Big Nate
Published:

3 September 2019

ISBN:

9780143795889

Imprint:

Puffin

Format:

Paperback

Pages:

160

RRP:

$14.99
Other books in the series
Praise for Super Sidekicks 2: Ocean's Revenge
Why we love it: The creativity in all the characters, evil villain and super hero alike, knows no bounds and it's action packed. There's also a very clear message about what we are (and unfortunately aren't) doing to our oceans

Better Reading
A timely series with an important message and the potential to have a huge impact.

Barbara Braxton, Teacher Librarian, thebottomshelf.edublogs.org
The environmental message is strong and is a good support for the current attention being given to demonstrations against climate change by young people across the world. This black and white graphic novel will appeal to reluctant readers because of its format but will also attract more competent readers through the strong message and the status the team creates for itself. Superheroes are sure to attract many readers, and of course the Sidekicks solve the problems and win over world leaders.

Reading Time
Why we love it: The creativity in all the characters, evil villain and super hero alike, knows no bounds and it's action packed. There's also a very clear message about what we are (and unfortunately aren't) doing to our oceans

betterreading.com.au
This hilarious graphic novel is an easy and a rollicking good read for all children. There is something for everyone, as we learn about environmental issues, developing one's self esteem and realising what a true superhero means.

Kids' Book Review