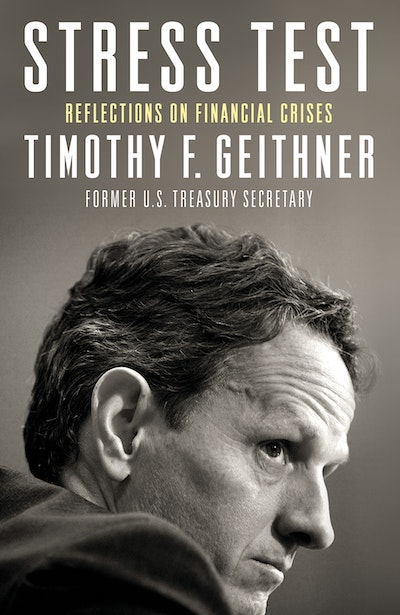 Published:

15 May 2014

ISBN:

9781448185757

Imprint:

Cornerstone Digital

Format:

EBook

Pages:

592
Stress Test
Reflections on Financial Crises
---
---
---
From the former Treasury Secretary, the definitive account of the unprecedented effort to save the U.S. economy from collapse in the wake of the worst global financial crisis since the Great Depression
From the former Treasury Secretary, the definitive account of the unprecedented effort to save the U.S. economy from collapse in the wake of the worst global financial crisis since the Great Depression
On 26 January, 2009, during the depths of the financial crisis and having just completed five years as President of the Federal Reserve Bank of New York, Timothy F. Geithner was sworn in by President Barack Obama as the seventy-fifth Secretary of the Treasury of the United States. Now, in a strikingly candid, riveting, and historically illuminating memoir, Geithner takes readers behind the scenes during the darkestmoments of the crisis. Swift, decisive, and creative action was required to avert a second Great Depression, but policy makers faced a fog of uncertainty, with no good options and the risk of catastrophic outcomes.
Stress Test: Reflections on Financial Crises takes us inside the room, explaining in accessible and forthright terms the hard choices and politically unpalatable decisions that Geithner and others in the Obama administration made during the crisis and recovery. He discusses the most controversial moments of his tenures at the Federal Reserve Bank of New York and at the Treasury, including the harrowing weekend Lehman Brothers went bankrupt; the searing crucible of the AIG bonuses controversy; the development of his widely criticized but ultimately successful plan in early 2009 to end the crisis; the bracing fight for the most sweeping financial reforms in seventy years; and the lingering aftershocks of the crisis, including high unemployment, the fiscal battles, and Europe's repeated flirtations with the economic abyss.
Geithner also shares his personal and professional recollections of key players such as President Obama, Ben Bernanke, Hank Paulson, and Larry Summers, among others, and examines the tensions between politics and policy that have come to dominate discussions of the U.S. economy. An insider's account of how the Obama administration saved the economy but lost the American people, Stress Test reveals a side of Timothy Geithner that only few have seen.
Published:

15 May 2014

ISBN:

9781448185757

Imprint:

Cornerstone Digital

Format:

EBook

Pages:

592
Sensational ... Tim's book will forever be the definitive work on what causes financial panics and what must be done to stem them when they occur.

Warren Buffett
Stress Test is an absolutely compelling account of the financial crisis, written in a clear, graceful style with striking honesty at every step along the way.

Doris Kearns Goodwin
This is a lucid, fascinating, and extremely important book . Geithner does something unusual: he engages in substance. With both insight and humility, plus a good dose of wry humor, he explains what really happened during the financial crisis. No matter your political persuasion, you will find this book educational, enlightening, and interesting.

Walter Isaacson
Sharply worded and candid memoir.

Edward Luce, Financial Times
A fascinating memoir about life in the maelstrom of the financial crisis . Earlier books have described much of what happened that September, but Geithner was present for all the frantic meetings, the thousands of phone calls - and in the case of Lehman, the failure to find a buyer that could keep it alive. New problems cropped up almost weekly, if not daily. He explains each in easy-to-understand language and what the issues were that shaped the responses. There could be another crisis someday, of course, but what Geithner and his colleagues did has made one far less likely.

USA Today
He's written a really good book - we might as well get that out of the way, as so much else about Timothy F. Geithner remains unsettled . There's hardly a moment in Geithner's story when the reader feels he is being anything but straightforward - a near-superhuman feat for someone who spent so much time in public life defending himself from careless and dishonest personal attacks. The decisions he made are easier to criticize than they are to improve upon. I doubt many readers will put his book down and think the man did anything but his best. On his feet he might have stammered and wavered. That in itself was always a sign he was unusually brave.

Michael Lewis, New York Times Book Review
An intimate take on the financial crisis . Conveys in visceral terms just how precarious things were during the crisis, just how frightened many first responders were, and just what an achievement it was to avert a major depression. [Geithner] demonstrates that he can discuss economics in an accessible fashion, making the situation the country faced in 2008 and 2009 tactile, comprehensible-and harrowing-to the lay reader. Along the way, he also gives us a telling portrait of himself.

New York Times
Deals with issues far bigger than anything on the Man Booker long list.

Anne Ashworth, The Times