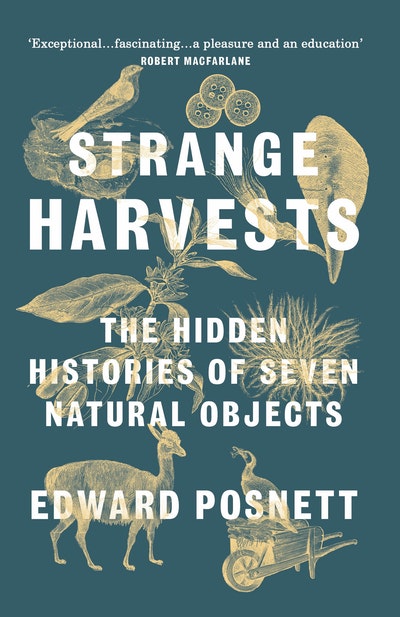 Published:

6 August 2020

ISBN:

9781473584242

Imprint:

Vintage Digital

Format:

EBook

Pages:

336
Strange Harvests
The Hidden Histories of Seven Natural Objects
---
---
---
A global exploration of how we harvest and exploit the world's natural bounty - from edible birds' nests to sea silk - Strange Harvests is perfect for readers of Robert Macfarlane and Andrea Wulf
'Exceptional...a subtle, fascinating braiding of travel, cultural and natural history... It is a pleasure and an education to journey with Posnett in these pages' ROBERT MACFARLANE
In a centuries-old tradition, farmers in north-western Iceland scour remote coastal plains for the down of nesting eider ducks. High inside a cast cave in Borneo, men perched on rickety ladders collect swiftlets' nests, a delicacy believed to be a cure for almost anything.
These luxury products are two of the seven natural wonders whose stories Harvest tells: eiderdown, vicuña wool, sea silk, vegetable ivory, civet coffee, guano and edible birds' nests. It follows their journey from the wildest parts of the planet, traversing Iceland, Indonesia, and Peru, to its urban centres, drawing on the voices of the gatherers, shearers and entrepreneurs who harvest, process and trade them.
Blending interviews, history and travel writing, Harvest sets these human stories against our changing economic and ecological landscape, and makes us see the world with wonder, curiosity and new concern.
(Previously published as Harvest)
Published:

6 August 2020

ISBN:

9781473584242

Imprint:

Vintage Digital

Format:

EBook

Pages:

336
Praise for Strange Harvests
Edward Posnett has written an exceptional first book; Harvest is a subtle, fascinating braiding of travel, cultural and natural history, ethnography and economic analysis; a modern-day Wunderkammer with echoes of Pico Iyer as well as Sir Thomas Browne. Clear-eyed but never blithe, Posnett records the destructiveness of market rapacity as well as rare, hopeful examples of human and more-than-human harmony. It is a pleasure and an education to journey with him in these pages

Robert Macfarlane
A truly remarkable debut, weird, inquisitive and swarming with memorable characters

John Carey, Sunday Times
A beautiful exploration of our fraught connections with other species. With seemingly boundless curiosity, Posnett invites us on journeys through the surprising webs created by international trade. Uniting these stories from around the world are essential questions for our time: Is a balance between humans and the rest of nature possible? Or do we inevitably destroy what we harvest and desire? Full of surprise, delight, and horror, these lively tales illuminate and captivate

David George Haskell, author of The Songs of Trees and The Forest Unseen
Harvest opens a wondrous cabinet of curiosities. Posnett engages the reader sensually, intellectually, and poetically. The great gift of this book is that it inspires us to look with new depth into the varied stuff of life, and with this widened perspective, attempt to act with care, grace, intelligence, and joy. An original and bracing read.

Lyanda Lynn Haupt, author of Mozart's Starling
Posnett moves from one example to another with moral precision, wryness and a refusal to be discouraged. Stories build subtly and sometimes with sudden drama; all are entangled in complex political, cultural and ecological circumstances

Jake Kerridge, Guardian
Fascinating

Liz Kalaugher, BBC Wildlife
Harvest is a rich and absorbing exploration of places where a singular culture meets global capitalism

Michael Kerr, Daily Telegraph
Delightful

Gaia Vince