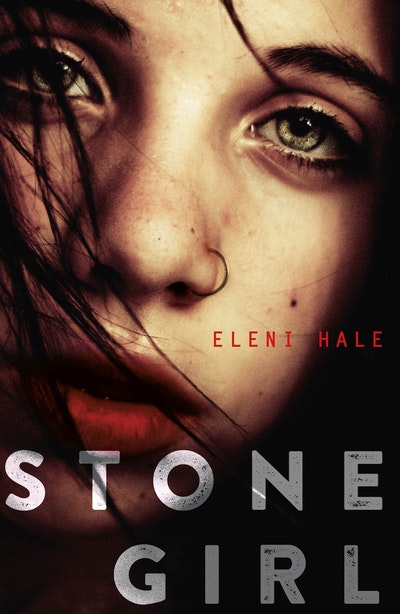 Published:

30 April 2018

ISBN:

9780143785613

Imprint:

Penguin

Format:

Paperback

Pages:

368

RRP:

$19.99
Stone Girl
---
---
---
A heartbreaking novel of raw survival and hope, and the children society likes to forget. Stone Girl is the powerful and moving story of Sophie, who becomes a ward of the state.
Winner of the 2019 Readings YA Book Prize.
An unspeakable event changes everything for Sophie. No more Mum, school or bed of her own. She's made a ward of the state and grows up in a volatile world where kids make their own rules, adults don't count and the only constant is change.
Until one day she meets Gwen, Matty and Spiral. Spiral is the most furious, beautiful boy Sophie has ever known. And as their bond tightens she finally begins to confront what happened in her past.
I'm at the police station. There's blood splattered across my face and clothes. In this tiny room with walls the colour of winter sky I hug a black backpack full of treasures. Only one thing is certain . . . no one can ever forgive me for what I've done.

Winner of the Readings YA Book Prize, 2019
Voted the Best Young Adult Book of the year by Readings customers
Voted Favourite YA Read of the year by Kids' Book Review
Voted in the top 100 great reads by Australian women
Shortlisted for New South Wales Premier's Literary Awards Ethel Turner Prize for Young People's Literature, 2019
Contains mature content. Suitable for older readers.
Published:

30 April 2018

ISBN:

9780143785613

Imprint:

Penguin

Format:

Paperback

Pages:

368

RRP:

$19.99
Hale has written a novel that is so much more than just a fantastic book. This is a book that gives a voice to the forgotten ones, the kind of book a child stuck in the system might pick up and feel some hope after reading it. And maybe, just maybe some real change will occur. (Five stars)

Books+Publishing
Gripping, eloquent, and realer than real, Stone Girl will break your heart into a million tiny pieces, then quietly put it back together again.

Nicole Hayes
Sophie's raw, honest voice will capture your heart. Ages 15+. (Voted in the Top Ten Best YA Books of 2018.)

Readings
A heartbreaking, powerful and empowering read. I would recommend it for those 14 and over who are fans of Melina Marchetta, Jennifer Niven or Angie Thomas, or who are interested in social justice issues. (The Younger Sun bookshop's Book of the Month, July 2018; Shortlisted for the Younger Sun's 2018 Book of the year.)

The Younger Sun bookshop
Stone Girl blew me away! It's the best YA debut I've read in a long time. Utterly unforgettable. Hale spills the blood of raw experience across the pages . . . Eleni Hale's prose is stunning, her analogies fresh, her writing raw and uncensored. . . This is an important book. It exposes a world few of us understand and teaches us about humanity along the way.

Hayley Lawrence, acclaimed author of Inside the Tiger, Good Reads
One hell of a ride . . . Dark, raw, confronting, but oh so important . . . heartbreaking and like nothing else I have ever read before . . . incredibly compelling. . . I found myself unable to put it down because of Hale's raw but stunning prose. . . a confronting #LoveOzYA debut you won't want to miss.

Tanaya Lowden, Booktopia blog
A heartbreaking, authentic and exceptionally written story.

Fleur Ferris
Debut author Eleni Hale has created a remarkable, captivating and courageous narrative.

Diva Book Nerd
This brutal story of drug addiction and life inside these (foster) homes can be hard to read, frustrating and downright scary, but you never stop hoping the troubled Sophie can dig herself out.

Paul Hunter, Herald Sun, Melbourne
A compassionate exploration of young people who fall through the cracks, who feel worthless and act out in an attempt to feel powerful in the face of helplessness and apathy. It is harrowing and gritty but with so much heart. Highly recommended.

Kate Murdoch
It gripped me from the very first page and I couldn't put it down. (Connie's YA Book of the Month)

www.kids-bookreview.com/2018/11/review-stone-girl-connies-ya-book-of.html
Readings Book Prize
Winner • 2019 • Young Adult
NSW Premier's Literary Awards
Shortlisted • 2019 • Ethel Turner Prize for Young People's Literature
Sisters in Crime Davitt Award
Longlisted • 2019 • Best Young Adult Crime Novel
International Book Awards
Winner • 2020 • Fiction: Young Adult