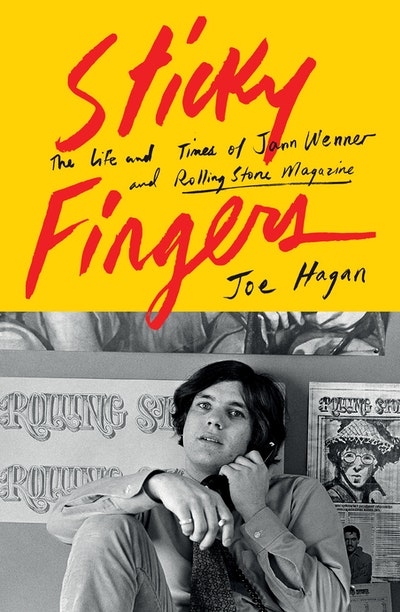 Published:

13 November 2017

ISBN:

9780670078653

Imprint:

Viking

Format:

Trade Paperback

Pages:

560

RRP:

$34.99
Sticky Fingers
The Life and Times of Jann Wenner and Rolling Stone Magazine
---
---
---
Over the course of five decades, founding editor of Rolling Stone Jann Wenner has put an indelible stamp on American culture. A nuanced portrait of a man who helped define a generation, and provides an explosive chronicle of an era.
Sticky Fingers: The Life and Times of Jann Wenner and Rolling Stone Magazine is the story of how one
man's ego and ambition captured the 1960s youth culture of rock and roll and turned it into a hothouse of fame, power, politics, and riches that would last for fifty years.
Drawn from dozens of hours of interviews with Wenner, who granted Joe Hagan exclusive access to his
vast personal archive, this biography tells the story of how Wenner partnered with rock luminaries like John Lennon, Mick Jagger, and Bob Dylan to manufacture an unforgettable cultural mythology in story and image every other week for five decades.
Featuring on-the-record interviews with Mick Jagger, Bruce Springsteen, Paul McCartney, Elton John, Keith Richards, Pete Townshend, Yoko Ono, Billy Joel, Tom Wolfe, Cameron Crowe, Lorne Michaels, David Geffen, Dan Aykroyd, Bette Midler, and dozens of others, Hagan captures Wenner with intimacy, nuance, and complexity—his marksmanship as an editor, his extraordinary understanding of the zeitgeist, his endless pursuit of fame and power, and his capacity for betrayal that would earn him as many enemies as friends.
"I'll tell you what Jann did. He put together a really good gang of writers, nice kids. Not afraid to go and ask questions. And turned something that could have just been a fan magazine into a real piece of journalism. That's what I think Jann did."
—Keith Richards
"I was intimidated by Jann . . . Not because he was a nasty or snobbish person, but because he founded something so great."
—Elton John
"It was clear to me that Jann, like myself, was growing up in a world surrounded by people who were often out of their minds on drugs, and equally out of their minds on conspiracy theories and rhetoric. All we had to do was enjoy the company and carefully steer the journey, and we might survive; standing on a pile of corpses perhaps, but having survived."
—Pete Townshend
"Jann likes sexual power, and if you're doing what he's doing, and you're in this business, how could you not be interested in that?"
—Annie Leibovitz
"He's a huge music fan. That's something that has never changed. It's
a big part of who he is. And that's at the basis of our relationship. He still gets into the records like we used to get into the records."
—Bruce Springsteen
"What a fuckin' editor. He's crazy, but he's got a dream."
—Hunter S. Thompson
Published:

13 November 2017

ISBN:

9780670078653

Imprint:

Viking

Format:

Trade Paperback

Pages:

560

RRP:

$34.99