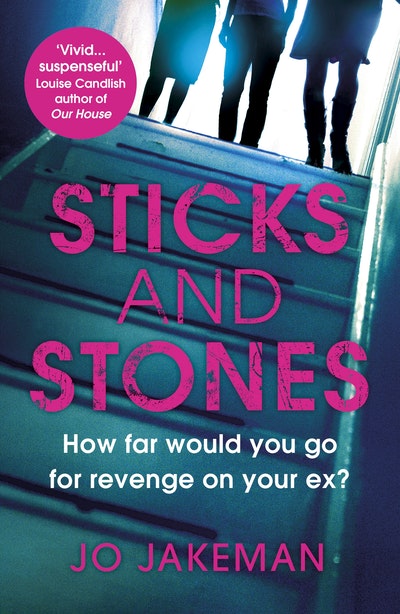 Published:

7 May 2019

ISBN:

9781784707675

Imprint:

Vintage

Format:

Paperback

Pages:

368

RRP:

$19.99
Sticks and Stones
---
---
---
How far would you go for revenge on your ex?
SHORTLISTED FOR THE BEST REVENGE THRILLER IN THE DEAD GOOD READER AWARDS 2019
HOW FAR WOULD YOU GO TO GET REVENGE ON YOUR EX?
'Gripping' Laura Marshall, author of Friend Request
'I couldn't turn the pages quickly enough' Fiona Cummins, author of The Neighbour
'Deliciously dark' Emily Koch, author of If I Die Before I Wake
Imogen's husband is a bad man. His ex-wife and his new mistress might have different perspectives but Imogen knows the truth.
When he issues her with an impossible ultimatum, Imogen does something unthinkable, locking her husband in the cellar.
But how far will she go to protect her son and punish the man who destroyed her life?
And what if she's not the only one out for revenge?
A twist-filled, edge-of-your seat psychological thriller that fans of Samantha Downing, Cara Hunter and Lesley Kara will devour.
Published:

7 May 2019

ISBN:

9781784707675

Imprint:

Vintage

Format:

Paperback

Pages:

368

RRP:

$19.99
Praise for Sticks and Stones
Revenge is a dish served with lashings of relish in this vivid, blackly comic suspense novel, as three women fight back against an abusive partner. I cheered them on to the bloody end.

Louise Candlish, author of OUR HOUSE
A revenge thriller to make you punch the air in solidarity, Sticks and Stones is a wickedly sharp, psychologically intense debut which announces Jo Jakeman as a future queen of grip lit.

Eva Dolan, author of This Is How It Ends
Witty and satirical while illuminating a dilemma often faced by women when their marriages break up

Marcel Berlins, The Times
It's not often you get a thriller that is just as good at keeping you on the edge of your seat as it is at making you laugh - but Sticks and Stones is both. A deliciously dark and gripping debut.

Emily Koch, author of IF I DIE BEFORE I WAKE
Reads like a darker Big Little Lies with all the female rage of Sharp Objects.

Bustle.com
A cracking pace, plenty of twists and some well-judged dark humour

Laura Wilson, Guardian
I loved Sticks and Stones. A gripping story, sensitively told but also really funny: no mean feat given the subject matter!

Laura Marshall, author of Friend Request
Sticks and Stones is a gem of a debut with a unique premise, tightly-crafted plot and believable characters who get under your skin from the start. Incredibly well-observed and sensitive in its handling of difficult subjects, it is, above all, thoroughly entertaining. Highly recommended!

Caz Frear, author of Sweet Little Lies
What a sensational debut - pacy, twisty and darkly funny with well-rounded characters. I loved it!

Roz Watkins, author of THE DEVIL'S DICE
A brilliant debut from an author with a sharp wit and a keen understanding of human nature. I couldn't turn the pages quickly enough.

Fiona Cummins author of Rattle
A sharply written, often darkly funny read covering an emotive topic with sensitivity and style. Cleverly plotted and brilliantly characterised. I absolutely loved it!

SJI Holliday, author of Blackwood
A cracking book. Darkly funny, yet also touching and emotive. Plus, full of suspense and twists. Buy it!

CJ Tudor, author of THE CHALK MAN
A gripping story for anyone who has ever daydreamed about getting revenge on an ex.

Emily Elgar, author of If You Knew Her
Sticks and Stones is a thriller for the #MeToo era. It's a fast-paced game of cats-and-mouse as three women form a slippery and dangerous alliance to break free from the man who has lied to and manipulated all of them. This is a modern revenge tale with a beating heart.

Julia Heaberlin, bestselling author of Black Eyed Susans
Tight, suspenseful, and satisfyingly dark, Sticks and Stones uses its deft characterisation and tense plotting to keep you turning the pages as fast as you can. Full of twists and surprises, thrilling and often bleakly funny, this is a book you'll want to swallow in one white-knuckled reading session.

Simone St. James, award-winning author of The Broken Girls
I loved the women of Sticks and Stones, and was sad to leave them behind. Dark, twisty, uplifting, funny and page-turning, I stayed up late and woke early to discover their entwined fates.

Amanda Reynolds, author of LYING TO YOU