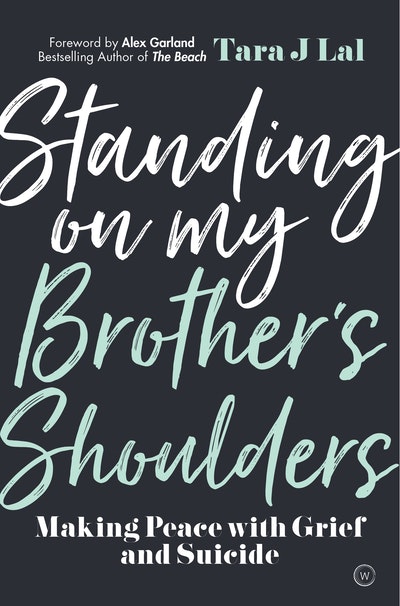 Published:

1 September 2020

ISBN:

9781786783561

Imprint:

Watkins

Format:

Paperback

Pages:

282

RRP:

$24.99
Standing on My Brother's Shoulders
Making Peace with Grief and Suicide
---
---
A suicide loss survivor tells her story.
Tara Lal's childhood was battered by her father's mental illness and by her mother's death when she was thirteen. Caught up in grief and despair, she developed a deep, caring bond with her charismatic and kind older brother Adam, though he struggled silently with growing anxiety and depression. Four years after their mother's death, Adam committed suicide.
Grief and insecurity threatened to engulf Tara, but eventually she found, through a dialogue with the words her brother left behind in his diaries, her reason to live.
The book includes an Afterword on the possibilities for recovery and growth following a tragedy, written by Miriam Akhtar, author of Positive Psychology for Overcoming Depression.
Published:

1 September 2020

ISBN:

9781786783561

Imprint:

Watkins

Format:

Paperback

Pages:

282

RRP:

$24.99
Praise for Standing on My Brother's Shoulders
'Insightful, moving and informative.' Jane Garvey, presenter of Woman's Hour on BBC Radio 4. 'With honesty, compassion, humour and intelligence, Tara Lal has written a deeply affecting memoir. Her courageous book tracks the nature and processes of destruction, but more than this, the crucial reconstructions that can follow.'Alex Garland, screenwriter, director of Ex Machina and bestselling author of The Beach. 'The wonderful part of this story has been the opportunity to learn from the book and learn from the author – an extraordinary person who continues to share her love for life.' Allan Sparkes, former Deputy Commissioner of the Mental Health Commission, Australia. 'This is, without question, the most beautifully written, sensitive, balanced account of grieving that I have ever read. This book is going to be an absolute "must read".' – Patrick Casement, psychoanalyst and award-winning author of On Learning from the Patient and Learning from Our Mistakes 'I highly recommend this book to anyone who has themselves experienced suicidal ideation or mental ill health as well as to anyone who loves someone who has experienced these.' - Dr Timothy Sharp, The Happiness Institute 'What a beautifully written book. Touching and sensitive and a piece that I am sure will help in a difficult time.' - Gus Worland, radio and TV personality and founder of Gotcha4Life  www.gotcha4life.org/gus 'Deeply moving and profoundly sad, at times this book somehow finds a way to give you hope and show you that good can come after tragedy.' - Professor Kirsten McCaffery, Sydney University, School of Public Health 'Tara unflinchingly deals with difficult but universal themes: loss, need, anger – but suffusing the whole is a loving and hopeful tone.' - Wanda Whitely, former Publishing Director, Harper Collins Publishers  'Her story will stay with you and inspire you forever.' – Dr Margo Orum, psychologist and author    'This is the honest and at times raw telling of the story of a strong but vulnerable firefighter as she struggles with, and is transformed by, the legacy of grief associated with the childhood loss of loved ones. Those on a similar journey will find guidance, inspiration and reassurance in this open, heartfelt book.' – Susan Burton, psychologist 'Poignant, moving, enlightening...' - Abigail Hatherley, composer   'The most beautiful and moving book I have ever read' - Vicky Arlidge, musical comedian and composer 'I recommend this book to everyone I know.' - Genevieve Elliot, author of Screaming in Silence 'You are not just reading, with interest, of someone's life; you are there asking the same questions of yourself and learning compassion along the way. An extraordinary book.' - Jennifer Davis, psychologist 'Tara's inspiring story takes therapy and moves it into real life. Her resilience comes from tenacity, intelligence and openness to new experiences. She persisted with study, work and relationships, using her courage and adaptiveness to create a life worthy of her and the people she loves.' – Tony Merritt, clinical psychologist   'So many times it expresses fears and doubts that we all have, in a succinct and yet profound manner. Tara's gift is to involve readers so completely in her journey that they, as I did, see the parallels in their own lives. I found it truly inspiring.' – Clinton Batty, psychologist