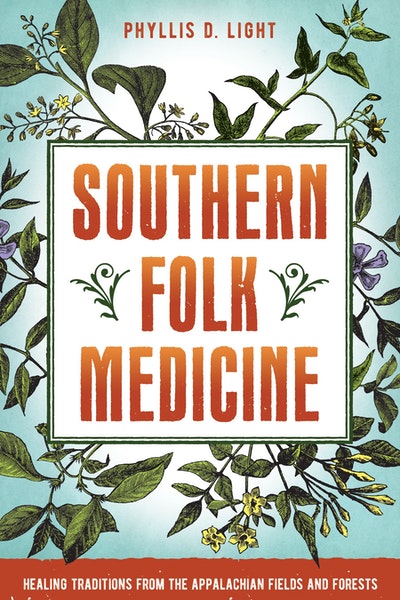 Published:

15 January 2018

ISBN:

9781623171568

Imprint:

North Atlantic

Format:

Paperback

Pages:

288

RRP:

$36.00
Southern Folk Medicine
Healing Traditions from the Appalachian Fields and Forests
---
---
This book is the first to describe the history, folklore, assessment and diagnosis methods of Southern and Appalachian Folk Medicine(SAFM)--the only system of folk medicine, other than Native American, that developed in the United States. One of the system's last active practitioners, Phyllis D. Light has studied and worked with herbs, foods, and other healing techniques for more than thirty years. In everyday language, she explains how Southern and Appalachian Folk Medicine was passed down orally through the generations by herbalists and healers who cared for people in their communities with the natural tools on hand. 
Several cultural and healing traditions merged together over a period of time to create Southern Folk Medicine, which draws from the medicine systems of the Greeks (humoral system, astrology), Native Americans (indigenous plant use, spiritual traditions, elements), African (spiritual traditions, foods), and the folk medicine of the British Isles (elements, humors, superstitions, herbs). Light shows that this is not a forgotten system, but an active, viable approach to herbalism that is readily understood and easily put into practice. 
A fourth-generation herbalist and healer, the author began her studies in the deep woods of North Alabama with lessons from her grandmother, whose knowledge had its roots in her Creek/Cherokee heritage. Light continued as an apprentice with the late Tommie Bass, a nationally renowned folk herbalist, as well as other herbal Elders throughout the Appalachians and the Deep South. Light's extensive knowledge and experience informs her explanation of the Southern Blood Types, which is different from any other indigenous system. The four elements and four tastes form the energetic foundation of the principles and practices, which recognize each individual's uniqueness and the fact that people with the same disorder might have totally different symptoms and therefore might there need totally different herbal remedies. Not only an elucidating description of Southern Folk Medicine, but also a fascinating account of how a healthcare system evolved to meet the needs of the people of this country, this book presents a comprehensive look at a uniquely American concept of healing based on self-care and personal responsibility.
Published:

15 January 2018

ISBN:

9781623171568

Imprint:

North Atlantic

Format:

Paperback

Pages:

288

RRP:

$36.00