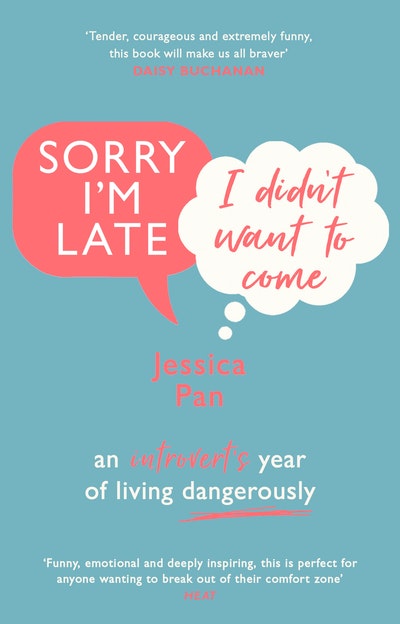 Published:

28 April 2020

ISBN:

9781784164157

Imprint:

Black Swan

Format:

Paperback

Pages:

368

RRP:

$22.99
Sorry I'm Late, I Didn't Want to Come
An Introvert's Year of Living Dangerously
---
---
---
One hilarious and painful year of misadventures in extroverting. Jess Pan goes out on behalf of all the introverts to answer the question: is it really true that extroverts have all the fun?
'Funny, emotional and deeply inspiring, this is perfect for anyone wanting to break out of their comfort zone' Heat
What would happen if a shy introvert lived as an out-and-out extrovert for one year? Jessica Pan is about to find out.
*
When she found herself jobless and friendless, sitting in the familiar Jess-shaped crease on her sofa, she couldn't help but wonder what life might have looked like if she had been a little more open to new experiences and new people, a little less attached to going home instead of going to the pub.
So, she made a vow: to push herself to live the life of an extrovert for a year. She wrote a list: improv, a solo holiday and... talking to strangers on the tube. She regretted it instantly.
Sorry I'm Late, I Didn't Want to Come follows Jess's hilarious and painful year of misadventures in extroverting, reporting back from the frontlines for all the introverts out there.
But is life actually better or easier for the extroverts? Or is it the nightmare Jess always thought it would be?
*
'In a world of self-care and nights in, this book will inspire and remind you to do some things that scare you every so often.' Emma Gannon
'Tender, courageous and extremely funny, this book will make us all braver.' Daisy Buchanan
'A chronicle of Pan's hilarious and painful year of being an extrovert.' Stylist
Published:

28 April 2020

ISBN:

9781784164157

Imprint:

Black Swan

Format:

Paperback

Pages:

368

RRP:

$22.99
Praise for Sorry I'm Late, I Didn't Want to Come
Tender, courageous and extremely funny, this book will make us all braver.

Daisy Buchanan
In a world of self-care and nights in, this book will inspire and remind you to do some things that scare you every so often.

Emma Gannon
A chronicle of Pan's hilarious and painful year of being an extrovert.

Stylist
Absolutely bloody great. As a textbook, concrete, public changing, foghorn extrovert, I find Jessica Pan's descriptions of introversion and shyness fascinating and she is very funny.

Nell Frizzell
Painfully hilarious

Red
Sorry I'm Late, I Didn't Want to Come achieves what so many books claim (but then frankly fail) to do: making you laugh, while at the same time managing to inspire. Pan is a gem, and her introvert's exploration of extroversion is all at once delightful and deftly rendered.

Sara Barron
Relatable, moving, and fantastically funny.

Rhik Samadder
Hilarious, unexpected and ultimately life-affirming.

Will Storr
Well, I adored this. Beautifully written, fascinating and so, so funny. Had me properly guffawing on the bus.

Lauren Bravo
Beautifully written and so funny! I related to it A LOT.

Emma Jane Unsworth
You WILL laugh and laugh while reading this.

Sun
I loved it! It's such a wonderful title, and the book lives up to it.

Nigella Lawson