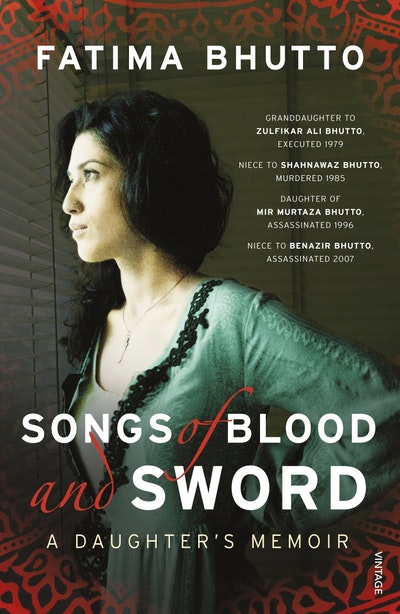 Published:

29 March 2011

ISBN:

9780099532668

Imprint:

Vintage

Format:

Paperback

Pages:

512

RRP:

$24.99
Songs of Blood and Sword
---
---
---
A lyrical, sweeping and powerful new book on the Bhutto family, an extraordinary, Kennedy-esque dynasty that is central to the story of modern Pakistan
Discover this lyrical, sweeping and powerful book on the Bhutto family, an extraordinary, Kennedy-esque dynasty that is central to the story of modern Pakistan.
In September 1996, a fourteen-year-old Fatima Bhutto hid in a windowless dressing room, shielding her baby brother while shots rang out in the streets outside the family home in Karachi. This was the evening that her father Murtaza was murdered, along with six of his associates. In December 2007, Benazir Bhutto, Fatima's aunt, and the woman she had publically accused of ordering her father's murder, was assassinated in Rawalpindi. It was the latest in a long line of tragedies for one of the world's best known political dynasties.
Songs of Blood and Sword tells the story of a family of rich feudal landlords - the proud descendents of a warrior caste - who became powerbrokers in the newly created state of Pakistan. The history of this extraordinary family mirrors the tumultuous events of Pakistan itself, and the quest to find the truth behind her father's murder has led Fatima to the heart of her country's volatile political establishment. It is the history of a nation from Partition through the struggle with India over Kashmir, the Cold War, the Soviet invasion of Afghanistan up to the post 9/11 'War on Terror'.
It is also a book about a daughter's love for her father and her search to uncover, and to understand, the truth of his life and death. It is a book about a family and nation riven by murder, corruption, conspiracy and division, written by one who has lived it, in the heart of the storm.
Songs of Blood and Sword is a book of international significance by a young woman who has already established herself as a brave and passionate campaigner.
Published:

29 March 2011

ISBN:

9780099532668

Imprint:

Vintage

Format:

Paperback

Pages:

512

RRP:

$24.99
Praise for Songs of Blood and Sword
Powerful

Telegraph magazine
A story with dazzling twists and turns told by a true-blue member of the Bhutto fold, with its family history of idealism, political betrayal, murder, hubris and paranaoia

Arifa Akbar, Independent
Fascinating

Eithne Farry, Marie Claire
She is a compassionate and brave campaigner who ought to be heard

Sebastian Shakespeare, Tatler
The purpose of this painful biography is admirable and touching

Brenda Maddox, The Times
Clear and unpretentious prose...hope, injustice, drama and grief are all ably captured and conveyed in what is a highly readable introduction to the grim realities of domestic politics in Pakistan.

Roderick Matthews, Observer
Readers of Fatima Bhutto's book can savour a uniquely fascinating, wonderfully well-constructed memoir from the heart of the most violent and Borgia-like of the South Asian dynasties. Witty, passionate and angry, it may not be objective history, but it is still the closest-focused political despatch yet written from Bhuttodom.

William Dalrymple, Financial Times
Fatima Bhutto's angry and stylish memoir

William Dalrymple, Sunday Herald, Christmas round up
Shedding private light on public life...The niece of the assassinated Benazir Bhutto, whom she accuses of orchestrating her father's murder, has written a chilling book about the feudal rivalries of Pakistan's ruling elite which helps explain the unholy political mess in that country.

Ruth Wishart, Herald, Christmas round up
It's a dramatic story that tells of feudal power and dynastic in-fighting, yet sums up the failings of Pakistani democracy, when one entitles family can so dominate its political landscape

Arifa Akbar, Independent
Engrossing

James Urquhart, Financial Times
Her mesmerising book often has the feel of a detective inquiry into the events of a Jacobean tragedy in which a dynasty is inexorably eliminated... What might have been a poignant but limited exercise in filial piety is instead a multi-layered work, as remarkable for its adroit interweaving of the personal and the political as for its ambitious scope.

Guardian