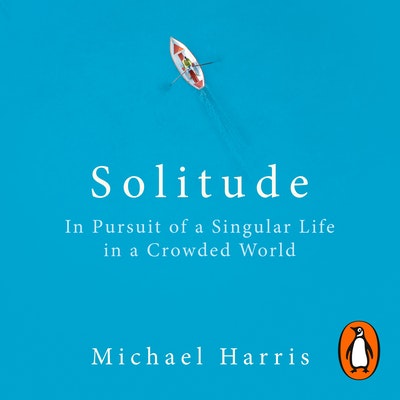 Published:

4 May 2017

ISBN:

9781473552234

Imprint:

Cornerstone Digital

Format:

Audio Download

Length:

6 hr 23 min

Narrator:

Kerry Shale

RRP:

$19.99
Solitude
In Pursuit of a Singular Life in a Crowded World
---
---
---
A timely exploration of how to be alone – and why it matters now more than ever before

Random House presents the unabridged, downloadable audiobook edition of Solitude by Michael Harris, read by Kerry Shale.
'I came away from this book a better human being. Michael Harris's take on existence is calm, unique, and makes one's soul feel good.' Douglas Coupland

Solitude is a rapidly vanishing experience. Our society now embraces sharing like never before: time alone is being forced out of our lives by the constant pings of smartphones and prods of social media. But what if being alone still has something to offer us – something we have forgotten, but that we still desperately need?
In Solitude, award-winning author Michael Harris examines why being alone matters now more than ever before. He reflects on the paradoxical feeling of isolation that emerges from being constantly connected – and on how learning the beauty of solitude can help us escape it. After all, it is when we are alone that we realise the greatest truths about ourselves. Being alone – really alone – could be the only antidote to the frenzy of our digital age.
Rich with stories about the transformative power of solitude, and drawing on the research of the world's leading neuroscientists and behavioural psychologists, Solitude offers a timely and profound exploration of how to be alone – and why it matters for us all.

'A timely, eloquent provocation to daydream and wander.' Nathan Filer, author of The Shock of the Fall
Published:

4 May 2017

ISBN:

9781473552234

Imprint:

Cornerstone Digital

Format:

Audio Download

Length:

6 hr 23 min

Narrator:

Kerry Shale

RRP:

$19.99
I came away from this book a better human being. Michael Harris's take on existence is calm, unique, and makes one's soul feel good yet never once does he rely on feel-good techniques.

Douglas Coupland
This is an excellent book by a first-rate writer. Michael Harris brings his insight and eloquence to bear on one of the most insidious problems of our time: how to break free from the seductions of technology and reclaim our inner selves.

Deborah Campbell, author of A DISAPPEARANCE IN DAMASCUS
Michael Harris's Solitude is a delightful reminder that, contrary to current wisdom, we cannot be fully human unless our minds are free to wander. An essential and spirited companion as our digital culture accelerates into the unknown.

Andrew Westoll, author of THE CHIMPS OF FAUNA SANCTUARY
Reading Harris's book is like smashing your Google Glasses and looking through your unique lenses for the first time. This enjoyable, quirky probe into current brain science, psychology, and philosophy hugely contributes to the global 'Great Turning' toward a more diverse, durable future of freer people enjoying themselves more, both together and alone.

William Powers, author of NEW SLOW CITY: LIVING SIMPLY IN THE WORLD'S FASTEST CITY
There are now plenty of self-help books that recommend a balanced media diet, but none articulates than need as simply or profoundly as this exploration of solitude.

Bookseller
We should remind ourselves that a life without solitude is a diminished life. What makes this book so valuable and so timely is that it serves both as a reminder of solitude's worth and as a spur to resistance.

Nicholas Carr, author of THE SHALLOWS
In a time of unrelenting connection, solitude becomes a radical act. It also becomes an essential one. Michael Harris makes a thoughtful and deeply felt case for why the art of spending quality time with oneself matters now more than ever - and the steps we can take to reclaim it.

Brian Christian, author of ALGORITHMS TO LIVE BY
A timely, eloquent provocation to daydream and wander.

Nathan Filer, author of THE SHOCK OF THE FALL
Harris has an intuition that being alone with ourselves, paying attention to inner silence and being able to experience outer silence, is an essential part of being human . . . Thick with fact and argument and some fine writing.

Paul Kingsnorth, New Statesman
Harris is always an engaging writer, easy to read and capable of expressing his arguments in memorable and helpful ways.

Quill & Quire
An insightful, lively meditation on why this increasingly scarce component of our lives should be preserved.

Globe and Mail
A poetic, contemplative journey into the benefits of solo sojourning. The book - which weaves together personal anecdotes and fascinating research - makes a convincing argument for stepping away from the crowd (and your even more crowded phone) and scheduling some soul-resetting me time.

ELLE
Harris's book isn't preachy; rather, it recasts small lifestyle changes as part of a struggle to regain that sense of self . . . It speaks to a long overdue conversation we still haven't properly had in our society.

VICE
An elegant, thoughtful book . . . beautifully expresses the importance and experience of liberation from the battery-hen life of constant connection and crowds.

Daily Mail
A compelling study of the subtle ways in which modern life and technologies have transformed our behaviour and sense of self . . . The strength of Harris's argument lies in his showing how seemingly harmless new technologies insidiously influence our ways of being . . . Harris proposes ways in which we can discover ourselves within an increasingly digitally connected world.

Times Literary Supplement
In this beautifully wrought and engrossing meditation, Michael Harris observes how hard it is to find solitude in our buzzing, interconnected world.

Jury of the RBC Taylor Prize
Elegant, accessible and often hilarious.

Chicago Tribune
An appealing patchwork of latest brain research, personal anecdote, journalistic reportage and sly but never cynical observation. It makes for a very readable mélange.

Literary Review of Canada
A book that explores why we hardly ever spend time on our own - and why we should.

The Pool
The leading thinker about technology's corrupting influence on our collective psyche.

Newsweek