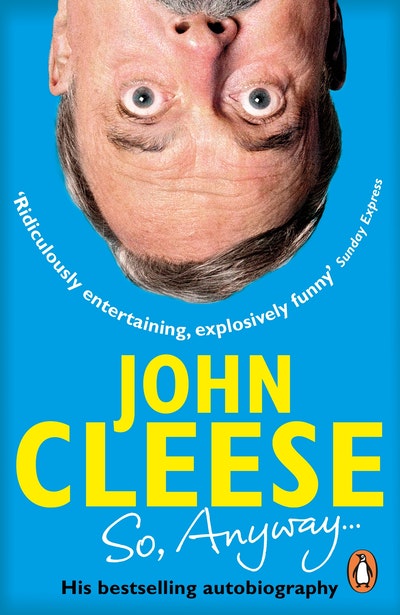 Published:

9 October 2014

ISBN:

9781448149728

Imprint:

Cornerstone Digital

Format:

EBook

Pages:

432
So, Anyway...
The Autobiography
---
---
---
The autobiography of a comedy giant.
A candid and brilliantly funny memoir...
...of how a tall, shy youth from Weston-super-Mare went on to become a self-confessed comedy legend.
En route, John Cleese describes his nerve-wracking first public appearance at St Peter's Preparatory School at the age of eight and five-sixths; his endlessly peripatetic home life with parents who seemed incapable of staying in any house for longer than six months; his first experiences in the world of work as a teacher who knew nothing about the subjects he was expected to teach; his hamster-owning days at Cambridge; and his first encounter with the man who would be his writing partner for over two decades, Graham Chapman.
And so on to his dizzying ascent via scriptwriting for Peter Sellers, David Frost, Marty Feldman and others to the heights of Monty Python.
Punctuated from time to time with John Cleese's thoughts on topics as diverse as the nature of comedy, the relative merits of cricket and waterskiing, and the importance of knowing the dates of all the kings and queens of England, this is a masterly performance by a former schoolmaster.
Published:

9 October 2014

ISBN:

9781448149728

Imprint:

Cornerstone Digital

Format:

EBook

Pages:

432
Vivid, ridiculously entertaining, and, at times, explosively funny... Cleese is a master of crisp comic prose: his elegant syntax and sudden absurdities would have PG Wodehouse raising a martini glass. So, Anyway... glows with fairness, kindness, gentleness and loyalty.

Nicholas Barber, Sunday Express
So, Anyway. breaks away from the shallow conventions of the famous person's autobiography... The result is a book that is frequently hilarious, occasionally lyrical and always thoughtful. It is a fine and funny achievement.

Herald
Left me wiping away tears.

Helen Brown, Sunday Telegraph
[Cleese's] unrelenting charm and crisp wit make this the hilarious memoir fans expected. The book might as well be coated in glue, as it proves tricky to put down.

UK Press Syndication
This is required reading for his fans.

Lady
John Cleese's memoir is just about everything one would expect of its author - smart, thoughtful, provocative and above all funny. A picture, if you will, of the artist as a young man.

Washington Post
Like having a long lunch with an amiable, slightly loony uncle. Who also happens to be John Cleese.

Michael Ian Black, New York Times
Told with considerable charm and a refreshing amount of candour, the story is one of a vulnerable soul gradually finding a degree of security from behind a carapace of cutting wit... Remarkably warm and generous.

Graham McCann, Times Literary Supplement
An upfront and hilarious account of the comedy legend's early years.

Choice Magazine