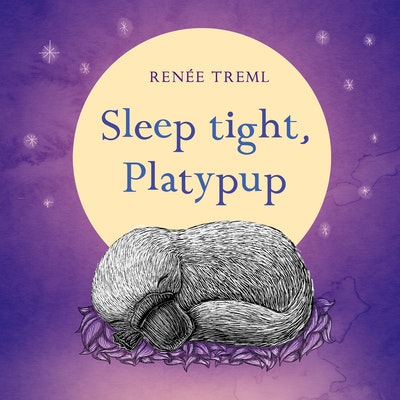 Published:

5 February 2019

ISBN:

9780143789697

Imprint:

Puffin

Format:

Hardback

Pages:

32

RRP:

$19.99
Sleep Tight, Platypup
---
---
A cosy story for anyone who's still just a little bit afraid of the dark.
**SPEECH PATHOLOGY AUSTRALIA BOOK OF THE YEAR AWARDS 2019 SHORTLISTED**
**CBCA BOOK OF THE YEAR AWARDS 2020 NOTABLE BOOK**
A Nighttime Journey
Poor little Platypup is frightened of the dark. What is that shadow? Who made that noise?
But there's nothing to fear. With his mother by his side, the little platypus ventures out of his burrow to explore. The moonlight dances on the water. Leaves whisper and gumnuts knock in the wind.
Platypup discovers that his home by the river is just as lovely in the dark of night as it is during the day! And that's not scary at all.
Growing with Platypup

Featuring author-illustrator Renee Treml's comforting storytelling and delicate illustrations of Australian native animals, this book is a significant stepping stone in your child's reading journey. For young readers who have relished Renee's board books, Sleep Tight, Platypup offers a natural progression into picture books and delves into deeper themes like confronting fears and exploring senses

What Your Child Will Discover

* Courage & Bravery: Overcome the common fear of the dark.
* Sensory Awareness: Explore the world through different senses.
* Emotional Intelligence: Talk through anxieties in a constructive way.
* Environmental Appreciation: Learn about the natural environment and native Australian fauna.
* Parental Bond: Experience the comfort of cuddling up with a parent during storytime.

A Cuddle-Filled Keepsake

Sleep Tight, Platypup is more than a story; it's a keepsake that captures the heartwarming comfort of a parent-child bond. This book also makes a lovely gift, ideal for birthdays, milestones, or simply easing nighttime fears.
Published:

5 February 2019

ISBN:

9780143789697

Imprint:

Puffin

Format:

Hardback

Pages:

32

RRP:

$19.99
Praise for Sleep Tight, Platypup
Superbly illustrated in her distinctive style, the creator of gems like Wombat Big, Puggle Small, Ten Little Owls, Once I Heard a Wombat, One Very Tired Wombat and Colour for Curlews has designed another gentle story for young readers which not only introduces them to another of Australia's unique creatures but also helps dispel fears they might have about the night – perhaps even offering human parents a strategy that could help their little ones. With its soft, gentle palette of purples portraying the night, rather than the more usual starkness of black, its sensitive text that reflects just how a mother would soothe a frightened child and its universal theme of a fear of the dark, this is a winner on so many levels.

Barbara Braxton, Teacher Librarian, thebottomshelf.edublogs.org
Renee Treml is great at creating beautiful stories featuring animals, like wombats, owls and other creatures. They are simple and break down potentially big concepts into something that is easy for young children to understand. Her illustrations are gorgeous, too. A combination of washes of colour (shades of purples and blues that match the darkness of night) and black and white scratchboard drawings. If you need to help dispel fears in young children, especially the mysteries of the night, Sleep Tight, Platypup is a really good place to start.

kids-bookreview.com
This is a sweet bedtime book about conquering fear of the dark . . . The illustrations are simple but warm and emotional, effectively depicting movement, sound and the calm of night. This will be very useful with children who do have a fear of the dark, but is a beautiful bedtime story for any young child.

Nicole Nelson, ReadPlus
Renée Treml is a beautiful storyteller and illustrators whose books will immediately capture the attention of readers of all ages thanks to her command over colour, stroke/line work and the gentle caress of her story . . . Sleep Tight, Platypup is a beautiful nod to one of Australia's most recognisable, but misrepresented animals, the platypus. Although uniquely Australian in setting, voice and style, this picture book has greater appeal world wide thanks to the universal fear of the dark and unknown, making it one of the most unique and special picture books on the market right now.

nevendbookshelf.wordpress.com
Much acclaimed author/illustrator of numerous Australian baby animal books, Treml explores a child's fear of the dark through the experiences of Platypup and his mother . . . A quiet calming book to soothe night fears as the reader learns about the habitat of one of Australia's most loved creatures. Beautifully soft glowing background colours surround the pair etched in detailed scraperboard line, each fine hair delicately drawn in reversed out white on black.

Liz Anelli, Reading Time
I always find something entirely magical about Renee's books. Both her text and her illustrations are equally charming and so beautifully suited to little readers...For little humans who are still nervous of night time this is a perfect book to share – and talk about of course.

Sue Warren, Just So Stories
Speech Pathology Australia Book of the Year Awards
Shortlisted • 2019 • Birth to 3 Years
CBCA Book of the Year Awards
Notable Book • 2020 • Early Childhood
Article
Article
Teachers' notes