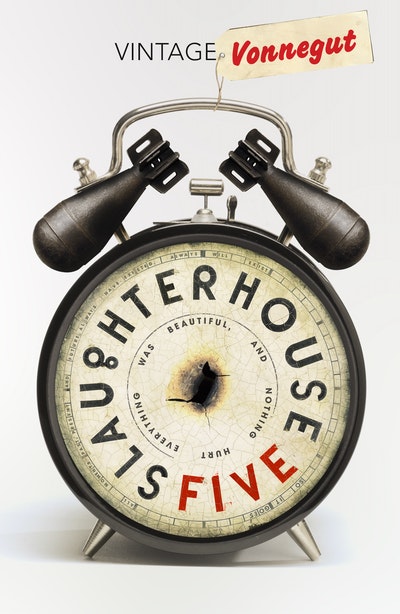 Published:

7 June 1991

ISBN:

9780099800200

Imprint:

Vintage Classics

Format:

Paperback

Pages:

192

RRP:

$14.99
Slaughterhouse 5
Discover Kurt Vonnegut's anti-war masterpiece
---
---
---
Kurt Vonnegut's masterpiece, one of the very best anti-war novels ever written, a book both beloved and banned - now rejacketed with brilliant, witty new look for the Vonnegut backlist

Read Kurt Vonnegut's powerful masterpiece, which is as timely now as when it was first published.
'An extraordinary success. A book to read and reread. He is a true artist' New York Times Book Review
Billy Pilgrim – hapless barber's assistant, successful optometrist, alien abductee, senile widower and soldier – has become unstuck in time. Hiding in the basement of a slaughterhouse in Dresden, with the city and its inhabitants burning above him, he finds himself a survivor of one of the most deadly and destructive battles of the Second World War. But when, exactly? How did he get here? And how does he get out?
Travel through time and space on the shoulders of Vonnegut himself. This is a book about war. Listen to what he has to say: it is of the utmost urgency.
'The great, urgent, passionate American writer of our century, who offers us a model of the kind of compassionate thinking that might yet save us from ourselves.' George Saunders
Published:

7 June 1991

ISBN:

9780099800200

Imprint:

Vintage Classics

Format:

Paperback

Pages:

192

RRP:

$14.99
Praise for Slaughterhouse 5
The supreme novel of an extraordinary year.

John Sutherland, The Times
Marvellous...the writing is pungent, the antics uproarious, the humour suitably black, the wit sharp as a hypodermic

Daily Telegraph
Marvellous...the writing is pungent, the antics uproarious, the humour suitably black, the wit sharp as a hypodermic

Daily Telegraph
Marvellous...the writing is pungent, the antics uproarious, the humour suitably black, the wit sharp as a hypodermic

Daily Telegraph
Marvellous...the writing is pungent, the antics uproarious, the humour suitably black, the wit sharp as a hypodermic

Daily Telegraph
Marvellous...the writing is pungent, the antics uproarious, the humour suitably black, the wit sharp as a hypodermic

Daily Telegraph
Marvellous...the writing is pungent, the antics uproarious, the humour suitably black, the wit sharp as a hypodermic

Daily Telegraph
Marvellous...the writing is pungent, the antics uproarious, the humour suitably black, the wit sharp as a hypodermic

Daily Telegraph
Marvellous...the writing is pungent, the antics uproarious, the humour suitably black, the wit sharp as a hypodermic

Daily Telegraph
Marvellous...the writing is pungent, the antics uproarious, the humour suitably black, the wit sharp as a hypodermic

Daily Telegraph
Mr Vonnegut knows a great deal about what is probably the largest massacre in modern history - the fire-bombing of Dresden in 1945. Slaughterhouse Five is a reaction to the event by one of our most gifted and incisive novelists. A work of keen literary artistry

Joseph Heller, author of 'Catch-22'
Mr Vonnegut knows a great deal about what is probably the largest massacre in modern history - the fire-bombing of Dresden in 1945. Slaughterhouse Five is a reaction to the event by one of our most gifted and incisive novelists. A work of keen literary artistry

Joseph Heller, author of 'Catch-22'
Mr Vonnegut knows a great deal about what is probably the largest massacre in modern history - the fire-bombing of Dresden in 1945. Slaughterhouse Five is a reaction to the event by one of our most gifted and incisive novelists. A work of keen literary artistry

Joseph Heller, author of 'Catch-22'
Mr Vonnegut knows a great deal about what is probably the largest massacre in modern history - the fire-bombing of Dresden in 1945. Slaughterhouse Five is a reaction to the event by one of our most gifted and incisive novelists. A work of keen literary artistry

Joseph Heller, author of 'Catch-22'
Mr Vonnegut knows a great deal about what is probably the largest massacre in modern history - the fire-bombing of Dresden in 1945. Slaughterhouse Five is a reaction to the event by one of our most gifted and incisive novelists. A work of keen literary artistry

Joseph Heller, author of 'Catch-22'
Mr Vonnegut knows a great deal about what is probably the largest massacre in modern history - the fire-bombing of Dresden in 1945. Slaughterhouse Five is a reaction to the event by one of our most gifted and incisive novelists. A work of keen literary artistry

Joseph Heller, author of 'Catch-22'
Mr Vonnegut knows a great deal about what is probably the largest massacre in modern history - the fire-bombing of Dresden in 1945. Slaughterhouse Five is a reaction to the event by one of our most gifted and incisive novelists. A work of keen literary artistry

Joseph Heller, author of 'Catch-22'
Mr Vonnegut knows a great deal about what is probably the largest massacre in modern history - the fire-bombing of Dresden in 1945. Slaughterhouse Five is a reaction to the event by one of our most gifted and incisive novelists. A work of keen literary artistry

Joseph Heller, author of 'Catch-22'
Mr Vonnegut knows a great deal about what is probably the largest massacre in modern history - the fire-bombing of Dresden in 1945. Slaughterhouse Five is a reaction to the event by one of our most gifted and incisive novelists. A work of keen literary artistry

Joseph Heller, author of 'Catch-22'
The individuality of Vonnegut's style is a curious yet perfect match for the pain of the emotional content. A humane, human book that always remains a work of art rather than biography, no matter how apparent the author's presence

Kate Atkinson
The individuality of Vonnegut's style is a curious yet perfect match for the pain of the emotional content. A humane, human book that always remains a work of art rather than biography, no matter how apparent the author's presence

Kate Atkinson
The individuality of Vonnegut's style is a curious yet perfect match for the pain of the emotional content. A humane, human book that always remains a work of art rather than biography, no matter how apparent the author's presence

Kate Atkinson
The individuality of Vonnegut's style is a curious yet perfect match for the pain of the emotional content. A humane, human book that always remains a work of art rather than biography, no matter how apparent the author's presence

Kate Atkinson
The individuality of Vonnegut's style is a curious yet perfect match for the pain of the emotional content. A humane, human book that always remains a work of art rather than biography, no matter how apparent the author's presence

Kate Atkinson
The individuality of Vonnegut's style is a curious yet perfect match for the pain of the emotional content. A humane, human book that always remains a work of art rather than biography, no matter how apparent the author's presence

Kate Atkinson
The individuality of Vonnegut's style is a curious yet perfect match for the pain of the emotional content. A humane, human book that always remains a work of art rather than biography, no matter how apparent the author's presence

Kate Atkinson
The individuality of Vonnegut's style is a curious yet perfect match for the pain of the emotional content. A humane, human book that always remains a work of art rather than biography, no matter how apparent the author's presence

Kate Atkinson
The individuality of Vonnegut's style is a curious yet perfect match for the pain of the emotional content. A humane, human book that always remains a work of art rather than biography, no matter how apparent the author's presence

Kate Atkinson
Unique...one of the writers who map our landscapes for us, who give names to the places we know best

Doris Lessing
Unique...one of the writers who map our landscapes for us, who give names to the places we know best

Doris Lessing
Unique...one of the writers who map our landscapes for us, who give names to the places we know best

Doris Lessing
Unique...one of the writers who map our landscapes for us, who give names to the places we know best

Doris Lessing
Unique...one of the writers who map our landscapes for us, who give names to the places we know best

Doris Lessing
Unique...one of the writers who map our landscapes for us, who give names to the places we know best

Doris Lessing
Unique...one of the writers who map our landscapes for us, who give names to the places we know best

Doris Lessing
Unique...one of the writers who map our landscapes for us, who give names to the places we know best

Doris Lessing
Unique...one of the writers who map our landscapes for us, who give names to the places we know best

Doris Lessing
Devastating and supremely human

Guardian
Devastating and supremely human

Guardian
Devastating and supremely human

Guardian
Devastating and supremely human

Guardian
Devastating and supremely human

Guardian
Devastating and supremely human

Guardian
Devastating and supremely human

Guardian
Devastating and supremely human

Guardian
Devastating and supremely human

Guardian
Agonising, funny. His eloquent concern transforms something as pedestrian as a war movie seen back to front into a vision which, in its weird way, is as effecting as any short passage ever written against war

Time magazine
Agonising, funny. His eloquent concern transforms something as pedestrian as a war movie seen back to front into a vision which, in its weird way, is as effecting as any short passage ever written against war

Time magazine
Agonising, funny. His eloquent concern transforms something as pedestrian as a war movie seen back to front into a vision which, in its weird way, is as effecting as any short passage ever written against war

Time magazine
Agonising, funny. His eloquent concern transforms something as pedestrian as a war movie seen back to front into a vision which, in its weird way, is as effecting as any short passage ever written against war

Time magazine
Agonising, funny. His eloquent concern transforms something as pedestrian as a war movie seen back to front into a vision which, in its weird way, is as effecting as any short passage ever written against war

Time magazine
Agonising, funny. His eloquent concern transforms something as pedestrian as a war movie seen back to front into a vision which, in its weird way, is as effecting as any short passage ever written against war

Time magazine
Agonising, funny. His eloquent concern transforms something as pedestrian as a war movie seen back to front into a vision which, in its weird way, is as effecting as any short passage ever written against war

Time magazine
Agonising, funny. His eloquent concern transforms something as pedestrian as a war movie seen back to front into a vision which, in its weird way, is as effecting as any short passage ever written against war

Time magazine
Agonising, funny. His eloquent concern transforms something as pedestrian as a war movie seen back to front into a vision which, in its weird way, is as effecting as any short passage ever written against war

Time magazine
Very tough and very funny...sad and delightful...very Vonnegut

New York Times
Very tough and very funny...sad and delightful...very Vonnegut

New York Times
Very tough and very funny...sad and delightful...very Vonnegut

New York Times
Very tough and very funny...sad and delightful...very Vonnegut

New York Times
Very tough and very funny...sad and delightful...very Vonnegut

New York Times
Very tough and very funny...sad and delightful...very Vonnegut

New York Times
Very tough and very funny...sad and delightful...very Vonnegut

New York Times
Very tough and very funny...sad and delightful...very Vonnegut

New York Times
Very tough and very funny...sad and delightful...very Vonnegut

New York Times
A most courageous account of the human condition; at the same time a satire so funny it makes one laugh aloud

Evening Standard
A most courageous account of the human condition; at the same time a satire so funny it makes one laugh aloud

Evening Standard
A most courageous account of the human condition; at the same time a satire so funny it makes one laugh aloud

Evening Standard
A most courageous account of the human condition; at the same time a satire so funny it makes one laugh aloud

Evening Standard
A most courageous account of the human condition; at the same time a satire so funny it makes one laugh aloud

Evening Standard
A most courageous account of the human condition; at the same time a satire so funny it makes one laugh aloud

Evening Standard
A most courageous account of the human condition; at the same time a satire so funny it makes one laugh aloud

Evening Standard
A most courageous account of the human condition; at the same time a satire so funny it makes one laugh aloud

Evening Standard
A most courageous account of the human condition; at the same time a satire so funny it makes one laugh aloud

Evening Standard
Funny, satirical, compelling, outrageous, fanciful, mordant, fecund and at the bottom-line, simply stoned-out-of-its-mind

Los Angeles Times
Funny, satirical, compelling, outrageous, fanciful, mordant, fecund and at the bottom-line, simply stoned-out-of-its-mind

Los Angeles Times
Funny, satirical, compelling, outrageous, fanciful, mordant, fecund and at the bottom-line, simply stoned-out-of-its-mind

Los Angeles Times
Funny, satirical, compelling, outrageous, fanciful, mordant, fecund and at the bottom-line, simply stoned-out-of-its-mind

Los Angeles Times
Funny, satirical, compelling, outrageous, fanciful, mordant, fecund and at the bottom-line, simply stoned-out-of-its-mind

Los Angeles Times
Funny, satirical, compelling, outrageous, fanciful, mordant, fecund and at the bottom-line, simply stoned-out-of-its-mind

Los Angeles Times
Funny, satirical, compelling, outrageous, fanciful, mordant, fecund and at the bottom-line, simply stoned-out-of-its-mind

Los Angeles Times
Funny, satirical, compelling, outrageous, fanciful, mordant, fecund and at the bottom-line, simply stoned-out-of-its-mind

Los Angeles Times
Funny, satirical, compelling, outrageous, fanciful, mordant, fecund and at the bottom-line, simply stoned-out-of-its-mind

Los Angeles Times
Splendid... A Funny book at which you are not permitted to laugh, a sad book without tears

Life
Splendid... A Funny book at which you are not permitted to laugh, a sad book without tears

Life
Splendid... A Funny book at which you are not permitted to laugh, a sad book without tears

Life
Splendid... A Funny book at which you are not permitted to laugh, a sad book without tears

Life
Splendid... A Funny book at which you are not permitted to laugh, a sad book without tears

Life
Splendid... A Funny book at which you are not permitted to laugh, a sad book without tears

Life
Splendid... A Funny book at which you are not permitted to laugh, a sad book without tears

Life
Splendid... A Funny book at which you are not permitted to laugh, a sad book without tears

Life
Splendid... A Funny book at which you are not permitted to laugh, a sad book without tears

Life
There are writers who create a lot of readers, and there are writers who create a lot of writers, and Vonnegut was both

Jonathan Safran Foer
There are writers who create a lot of readers, and there are writers who create a lot of writers, and Vonnegut was both

Jonathan Safran Foer
There are writers who create a lot of readers, and there are writers who create a lot of writers, and Vonnegut was both

Jonathan Safran Foer
There are writers who create a lot of readers, and there are writers who create a lot of writers, and Vonnegut was both

Jonathan Safran Foer
There are writers who create a lot of readers, and there are writers who create a lot of writers, and Vonnegut was both

Jonathan Safran Foer
There are writers who create a lot of readers, and there are writers who create a lot of writers, and Vonnegut was both

Jonathan Safran Foer
There are writers who create a lot of readers, and there are writers who create a lot of writers, and Vonnegut was both

Jonathan Safran Foer
There are writers who create a lot of readers, and there are writers who create a lot of writers, and Vonnegut was both

Jonathan Safran Foer
There are writers who create a lot of readers, and there are writers who create a lot of writers, and Vonnegut was both

Jonathan Safran Foer
Extraordinary… A remarkably nice and clever book… Billy is clearly something of a stand-in for his creator, a means of talking to the point about the horror in Dresden, a hushed-up massacre worse than Hiroshima. The author intervenes frequently enough throughout his tale to establish that: his private pain keeps thumbing up from the page

Observer
Extraordinary… A remarkably nice and clever book… Billy is clearly something of a stand-in for his creator, a means of talking to the point about the horror in Dresden, a hushed-up massacre worse than Hiroshima. The author intervenes frequently enough throughout his tale to establish that: his private pain keeps thumbing up from the page

Observer
Extraordinary… A remarkably nice and clever book… Billy is clearly something of a stand-in for his creator, a means of talking to the point about the horror in Dresden, a hushed-up massacre worse than Hiroshima. The author intervenes frequently enough throughout his tale to establish that: his private pain keeps thumbing up from the page

Observer
Extraordinary… A remarkably nice and clever book… Billy is clearly something of a stand-in for his creator, a means of talking to the point about the horror in Dresden, a hushed-up massacre worse than Hiroshima. The author intervenes frequently enough throughout his tale to establish that: his private pain keeps thumbing up from the page

Observer
Extraordinary… A remarkably nice and clever book… Billy is clearly something of a stand-in for his creator, a means of talking to the point about the horror in Dresden, a hushed-up massacre worse than Hiroshima. The author intervenes frequently enough throughout his tale to establish that: his private pain keeps thumbing up from the page

Observer
Extraordinary… A remarkably nice and clever book… Billy is clearly something of a stand-in for his creator, a means of talking to the point about the horror in Dresden, a hushed-up massacre worse than Hiroshima. The author intervenes frequently enough throughout his tale to establish that: his private pain keeps thumbing up from the page

Observer
Extraordinary… A remarkably nice and clever book… Billy is clearly something of a stand-in for his creator, a means of talking to the point about the horror in Dresden, a hushed-up massacre worse than Hiroshima. The author intervenes frequently enough throughout his tale to establish that: his private pain keeps thumbing up from the page

Observer
Extraordinary… A remarkably nice and clever book… Billy is clearly something of a stand-in for his creator, a means of talking to the point about the horror in Dresden, a hushed-up massacre worse than Hiroshima. The author intervenes frequently enough throughout his tale to establish that: his private pain keeps thumbing up from the page

Observer
Extraordinary… A remarkably nice and clever book… Billy is clearly something of a stand-in for his creator, a means of talking to the point about the horror in Dresden, a hushed-up massacre worse than Hiroshima. The author intervenes frequently enough throughout his tale to establish that: his private pain keeps thumbing up from the page

Observer
A rare accomplishment... it is a graceful, ferociously humorous, sarcastic and ultimately compassionate parable about man's power for evil and his capacity for grace

Sunday Times
A rare accomplishment... it is a graceful, ferociously humorous, sarcastic and ultimately compassionate parable about man's power for evil and his capacity for grace

Sunday Times
A rare accomplishment... it is a graceful, ferociously humorous, sarcastic and ultimately compassionate parable about man's power for evil and his capacity for grace

Sunday Times
A rare accomplishment... it is a graceful, ferociously humorous, sarcastic and ultimately compassionate parable about man's power for evil and his capacity for grace

Sunday Times
A rare accomplishment... it is a graceful, ferociously humorous, sarcastic and ultimately compassionate parable about man's power for evil and his capacity for grace

Sunday Times
A rare accomplishment... it is a graceful, ferociously humorous, sarcastic and ultimately compassionate parable about man's power for evil and his capacity for grace

Sunday Times
A rare accomplishment... it is a graceful, ferociously humorous, sarcastic and ultimately compassionate parable about man's power for evil and his capacity for grace

Sunday Times
A rare accomplishment... it is a graceful, ferociously humorous, sarcastic and ultimately compassionate parable about man's power for evil and his capacity for grace

Sunday Times
A rare accomplishment... it is a graceful, ferociously humorous, sarcastic and ultimately compassionate parable about man's power for evil and his capacity for grace

Sunday Times