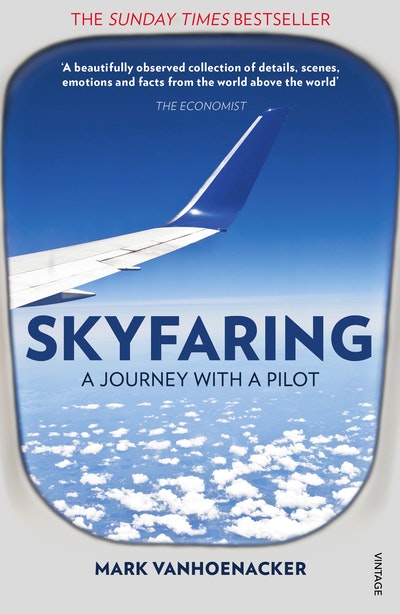 Published:

2 April 2015

ISBN:

9781448189946

Imprint:

Vintage Digital

Format:

EBook

Pages:

352
Skyfaring
A Journey with a Pilot
---
---
---
An airline pilot captures the wonder of flight for the modern traveller.
'In Skyfaring Mark Vanhoenacker reveals his passion for flight...the meaningful geography of the skies and the scent of the cities he flies to... This mesmerising book will make you view the world differently'
Sunday Times
**Sunday Times Bestseller**
**Book of the Week on Radio 4**
'A beautiful book about a part of the modern world which remains genuinely magical' Mark Haddon
'One of the most constantly fascinating, but consistently under-appreciated aspects of modern life is the business of flying. Mark Vanhoenacker has written the ideal book on the subject: a description of what it's like to fly by a commercial pilot who is also a master prose stylist and a deeply sensitive human being. This is a man who is at once a technical expert - he flies 747s across continents - and a poet of the skies. This couldn't be more highly recommended.' Alain de Botton
Think back to when you first flew. When you first left the Earth, and travelled high and fast above its turning arc. When you looked down on a new world, captured simply and perfectly through a window fringed with ice. When you descended towards a city, and arrived from the sky as effortlessly as daybreak.
In Skyfaring, airline pilot and flight romantic Mark Vanhoenacker shares his irrepressible love of flying, on a journey from day to night, from new ways of mapmaking and the poetry of physics to the names of winds and the nature of clouds. Here, anew, is the simple wonder that remains at the heart of an experience which modern travellers, armchair and otherwise, all too easily take for granted: the transcendent joy of motion, and the remarkable new perspectives that height and distance bestow on everything we love.
'A beautiful, contemplative book. What Skyfaring gives is something we need: elevation; another perspective. Normally when I find a volume where prose style and subject matter fuse so pleasingly, I tear through it in a day. Here, I found myself pausing on almost every page, as I absorbed its detail or phrasing.' Nicholas Lezard, Guardian
**A 2015 Book of the Year - The Economist, The New York Times, GQ and more**
Published:

2 April 2015

ISBN:

9781448189946

Imprint:

Vintage Digital

Format:

EBook

Pages:

352
Read it, and you'll find yourself requesting a window seat every time you fly

Bookseller
A joyful and inspiring book that will change the way you think about travel

Bea Carvalho, Bookseller
Not since Antoine de Saint-Exupéry's classic Vol de Nuit.has there been such a fantastic book about flying. Skyfaring takes the genre to a whole new level. I found myself turning over the corners of almost every page with excitement and admiration

Giles Foden, Condé Nast Traveller
A description of what it's like to fly by a commercial pilot who is also a master prose stylist. This is a man who is at once a technical expert - he flies 747s across continents - and a poet of the skies. This couldn't be more highly recommended

Alain de Botton
[An] ode to the wonder of flight in the tradition of the great pioneer pilot-author Antoine de Saint Exupéry and Charles Lindbergh... flying remains a magical business

Charles Bremner, The Times
Poets are pilots of a kind, teaching us to navigate the world anew; Mark Vanhoenacker is a pilot with the spirit, the wide-open eyes, the rare feel for beauty and discovery of an accomplished poet. Imagine Henry David Thoreau reflecting on the wonders of the lights of Oman as seen from the cockpit of a 747, and you begin to have something of the fresh magic of this exceptional debut. This is a work for anyone who longs to learn how to see again, and to live.

Pico Iyer
A refreshingly meditative perspective on a life in the clouds

Wanderlust
Reminds us of the magic of aviation... full of information that is wonderful in its simplicity

Erica Wagner, The New Statesman
A longhaul airline pilot whose vision is unexpectedly poetic and romantic...what stood out for me was that sense of wonder up there...a rather lovely book

Libby Purves, Radio 4
...both a manual for infrequent flyers (wherein the physics and metaphysics of time and space are for once essayed in a perfectly straightforward manner) and a skilful meditation on the glories of traversing the earth at the helm of mankind's greatest technological achievement that - yes - flies from the page

Bill Prince
Packed with eloquent insight into a high-flying world

Publishers' Weekly
A beauty. For so many flying has become humdrum: a bus journey to be endured then forgotten, not enjoyed and recalled. Vanhoenacker makes it wondrous again.

David Sexton, Evening Standard
Beautifully... simply put. Vanhoenacker's prose has a functional eloquence that carries the reader along for the ride.

Geoff Dyer, The Guardian
Part autobiography, part travelogue, part prose poem... a powerful antidote to the conventional belief that the romance of flight has been lost in the modern age of mass transit

Literary Review
[An] endlessly surprising, strikingly original book... combines intelligence and sensitivity with an "outward-looking introspection"

Intelligent Life
A poet of the skies to rival St Exupéry... an author of real distinction with a genuinely poetic sensibility as well as a memorable turn of phrase... a perfect voice for a glorious subject... This really is a very good book

The Spectator
This endlessly surprising, strikingly original book is a hymn to the wonders of [Vanhoenacker's] working life

Maggie Fergusson, Intelligent Life
For nervous fliers - and those jaded by airport security and the other tiresome rituals of air travel - I recommend the book Skyfaring

Peter McKay, Daily Mail
Mr Vanhoenacker, fortunately for his readers, has lost none of his sense of wonder at the miracle of flight itself... a beautifully observed collection of details, scenes, emotions and facts from the world above the world

The Economist
A wonderfully evocative and clear-eyed account of what it's like to criss-cross the globe for a living

Roger Cox, Scotsman
If you believe that airline flying has become a monotonous, humdrum experience.then reading this book will take you to a fresh and thoughtful appreciation of the magic and excitement of flight

Pilot
Engaging, even poetic...Vanhoenacker's passionate and beautifully written book will remind even the most jaded traveller of the wonder of flight

Ian Critchley, Sunday Times
A masterpiece of time, distance, palm trees, frosty mornings, lofty ambition and self-effacing charm

Monocle
A pilot's love affair with the sky, it's a beautifully written account of one of mankind's greatest achievements

Grazia
A great read for absolutely everyone with an interest in flying

Philip Whiteman, Pilot
What a great idea this is...a masterpiece of time, distance, palm trees, frosty mornings, lofty ambition and self-effacing charm

Monocle
A fascinating book that ought to put flight in a new light for many people

Nautilus International Telegraph
Masterly, beautifully written book

Alexander Frater, The Times Literary Supplement
Alive with the joy of everything from takeoff.to the dream-like quality of flight itself

Tony Parsons
Marvelously literate. If [Vanhoenacker's] book had been around in the mid-'80s, I suspect I wouldn't have been afraid to fly in the first place

Dwight Garner, New York Times
In the pages of his book.you will find yourself agreeing that "The ordinary things we thought we knew.becomes more beautiful"

Michael Kerr, Independent
Commendably, the technical aspects are outlined in a straightforward, accessible manner, while overall the book demonstrates that aviation has lost none of its appeal

Good Book Guide
A lovely memoir

Gulliver, The Economist
For anyone who wishes to get a pilot's insight into what it's really like to notch up thousands of miles and hours. - you won't find a much more passionate account than this one

Elinor Evans, Flyer
[Vanhoenacker] invites readers with him on to the flight deck, describing the minutiae of flight with a degree of detail that would be nerdy were it not for the poetry of his writing

Tom Robbins, Financial Times
Vanhoenacker is a 747 pilot with a poetic streak. The book teaches you about the physics of flight, complete with tidbits like the fact that altitude is more concept than hard fact, but the writing makes flying feel as amazing at it really is: a journey around the world while flying over it.

Wired
A superb chronicle...Vanhoenacker makes jet travel seem uncanny and intriguing all over again.[he] writes in a richly ethereal style, with the confidence of a professional who knows his subject.an elegant, nonlinear reflection on how flying in a commercial airliner-even while painfully folded in a seat in coach-can lift the soul

Tom Zoellner, New York Times
an exceptionally lucid and philosophically minded writer. He has spent the past several years taking notes about his life in the air and meditating on both the ethereal beauties and contradictions of flight...He reminds me of a brainy college physics major who actually wants to be a poet

Rinker Buck, The Wall Street Journal
The mind of a scientist and the heart of a poet

Sarah Larson, New Yorker
As you battle with the cramped legroom in economy class, [Vanhoenacker's] view of aviation may just transport you

Robbie Millen, The Times
[An] elegant meditation on being an airline pilot

John Lanchester, Guardian
[Vanhoenacker] wants us to fall in love with flying again

Damian Whitworth, The Times
An elegant meditation on how flying can lift the soul

New York Times, Notable Books of 2015
A highly readable account, as moving as it is unexpected, of what flying means, by an airline pilot with a gift for words. Antoine de Saint-Exupery lives again

Economist
Vanhoenacker is a remarkable writer. In Skyfaring he reveals his passion for flight, the mechanics of planes, the weightless, meaningful geography of the skies and the scent of the cities he flies to. He creates a still, almost poetic point in the turning, travelling world. This mesmerising book will make you view the world differently. All aboard!

Helen Davies, Sunday Times
An elegant meditation on how flying can lift the soul

Internatinal New York Times
[This] airborne odyssey of a book is enthralling, from the physics of lift and the vicissitudes of flight paths to the aura borealis and the pristine sunsets. Read it and you'll request a window seat every time you fly

Caroline Sanderson, Sunday Express
This mesmerising book will make you view the world differently

Helen Davies, The Times
Few people have captured the fascination of flying as well as U.S. journalist and pilot Mark Vanhoenacker.

Lufthansa Magazine
Delves deeply into the magic and beauty of flight. An elegant writer with a sharp eye and a literary mind, Vanhoenacker. Writes about flight on an emotional and spiritual level, how it makes him feel to soar above the Earth while watching the landscape pass below.

Kent German, CNET
He spins a curious and articulate exploration of flying.

Guardian
Vanhoenacker's calm and scrupulously composed prose style is soothing. Vanhoenacker manages to make flying seem exciting again.

Alexander Larman, Observer
A beautiful, contemplative book. What Skyfaring gives is something we need: elevation; another perspective. Normally when I find a volume where prose style and subject matter fuse so pleasingly, I tear through it in a day. Here, I found myself pausing on almost every page, as I absorbed its detail or phrasing.

Nicholas Lezard, Guardian
Here is the simple wonder that remains at the heart of an experience which modern travellers all too easily take for granted.

I
A writer of exquisite prose, fascinated both by the technical and mystical aspects of flight... In every line of this lovely book, there is something beautiful and strange.

Jane Shilling, Daily Mail
This is the best book I've ever read on the subject... It's one of the best travel books I've ever read... Superb.

William Leith, Evening Standard
An unexpectedly lyrical memoir on a fascinating subject. Skyfaring will give you a delightfully fresh perspective on the wonder that is air travel.

Kate Slotover, Riddle
It's calm, poetic and riveting. Fascinating.

National Geographic Traveller
He writes beautifully about the strange, alien world of high-altitude passenger flights. Vanhoenacker loves flying and communicates beautifully its marvels and mysteries.

Peter McKay, Daily Mail, Book of the Year
I loved this fabulous insight into the secret world of the sky.

Melanie Reid, The Times, Book of the Year