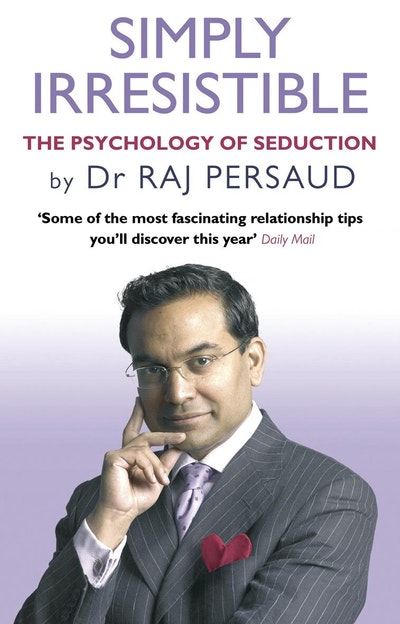 Published:

1 August 2011

ISBN:

9781409044567

Imprint:

Transworld Digital

Format:

EBook

Pages:

352
Simply Irresistible
The Psychology Of Seduction - How To Catch And Keep Your Perfect Partner
---
---
---
Professor Raj Persaud used the latest research into the science of attraction and seduction to explain how to become absolutely irresistible to anyone!
As psychology advances its understanding of the mind and brain, perhaps the last remaining bastion of mystery about why we do what we do relates to love and attraction. However, recent research suggests that even the mysteries of attraction are being revealed - which is great news for those amongst us who would rather not leave seduction to chance.
In this illuminating follow-up to his acclaimed bestseller, The Motivated Mind, Dr Raj Persaud draws on the very latest research to show not only how to increase your attractiveness generally, but how to become absolutely irresistible to anyone. For example, do you know... that experiments on dating can predict with over 80% accuracy who will be attracted to who by whether just a few simple conversational strategies are used on a date? why abnormally low lighting is strongly associated with romance, why women wear blusher on their cheeks, or lipstick to enhance their pouting lips? Or that seeking to be agreeable on a date is not actually the most attractive or successful strategy to use. And for anyone out there who is looking for that rare combination of brains and beauty, there is reassuring news: current research reveals that it is indeed perfectly possible to guess a person's IQ from the way they look. Frank, witty and packed with useful questionnaires and invaluable advice, Simply Irresistible is the essential guide on how to catch - and keep - your perfect partner.
Published:

1 August 2011

ISBN:

9781409044567

Imprint:

Transworld Digital

Format:

EBook

Pages:

352
Praise for Simply Irresistible
Some of the most fascinating relationship tips you'll discover this year

Daily Mail
Revealed: the lost art of seduction. Today's wannabe lotharios have a host of advice on how to lure the object of their desire, but the real answers are timeless according to Simply Irresistible

The Scotsman
Simply Irresistible explores the laws of seduction by examining how best to behave on a date and the ways in which we can physically improve our chances of finding a partner.

Scotland on Sunday
'He is the most eminent psychiatrist of the age ... the guru of common sense' Spectator