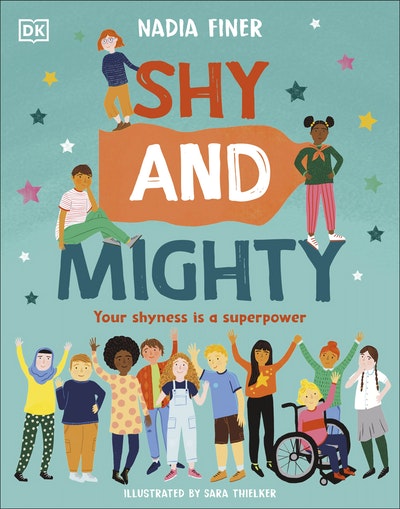 Published:

29 March 2022

ISBN:

9780241538463

Imprint:

Dorling Kindersley

Format:

Hardback

Pages:

96

RRP:

$24.99
Shy and Mighty
Your Shyness is a Superpower
---
---
Helping shy kids to step out of the shadows and shine in a noisy world

Our noisy world sometimes feels like it's not made for shy people. This book will help children understand shyness and find their inner voice.
Shyness is often misunderstood. It's not a personality flaw, it's a complex trait with many positive aspects. However, shyness means many kids struggle to speak up in class, get involved in activities, make friends, put themselves forward, and compete. As a result they can miss out on exciting opportunities, and are often overlooked, ignored, and sidelined... but it doesn't have to be this way. Shy And Mighty Kids offers a new way of looking at the subject that will comfort and reassure shy children and help them overcome the aspects of their shyness that are holding them back, without pretending to be something they're not.
Packed with simple tools and ideas to help children take small steps to get more involved, share their ideas, and make friends, Shy and Mighty Kids also explores the science behind shyness, the potential cost of shyness, and more. Combining personal experience with extensive research and feedback from parents and kids, Shy and Mighty Kids will help kids go from invisible, to invincible!
Published:

29 March 2022

ISBN:

9780241538463

Imprint:

Dorling Kindersley

Format:

Hardback

Pages:

96

RRP:

$24.99