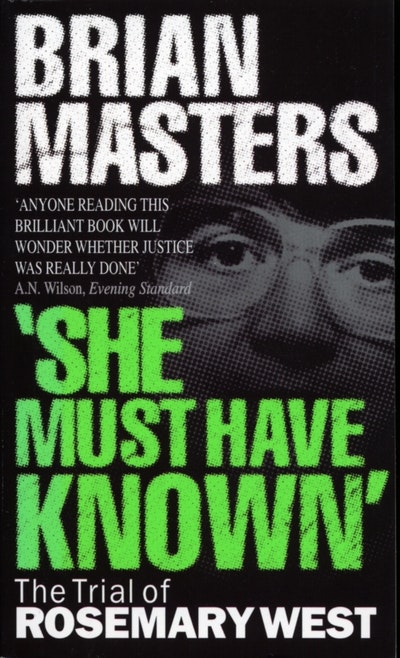 Published:

30 November 2011

ISBN:

9781448111169

Imprint:

Transworld Digital

Format:

EBook

Pages:

432
"She Must Have Known"
The Trial Of Rosemary West
---
---
---
The groundbreaking study of the Frederick and Rosemary West case, from the author of KILLING FOR COMPANY.
Captivated by the hit ITV true crime drama DES? Uncover the truth behind the trial of Rosemary West, another of Britain's most infamous serial killers.
'Anyone reading this brilliant book will wonder whether justice was really done.' Evening Standard
In 1994, Frederick West was arrested and accused of murdering twelve young women. But it was the trial of his wife, Rosemary West, that became Britain's serial-killer trial of the century...
Detained for the murder of the twelve women found at 25 Cromwell Street, Gloucester, Frederick West hung himself on New Year's Day 1995. The case had enraged the nation, and the subsequent trial of Rosemary for the same crimes caused a media sensation.
How are ordinary human beings driven to become serial killers? How did this psychopath ensnare so many women? And how much was Rosemary truly involved?
Brian Masters attended the Rosemary West trial on a daily basis. In "She Must Have Known" he produces a penetrating study of the sexual obsession that led to a series of horrifying and measured killings, ultimately leaving the reader to make up their own mind on the guilt of Rosemary West.
_______________________
'By far the most interesting book on the subject... profound and illuminating.' Sunday Telegraph
'Another serious, compelling account of a serial killer.' The Sunday Times
'A classic of criminological literature.' Spectator
What readers are saying:
***** 'Brave and compelling and beautifully written. And it will certainly make you pause to think.'
***** 'I am grateful for the existence of writers like Brian Masters . . . This is an excellent book.'
***** 'Gives you the opportunity to consider the evidence against Rose West as a juror would rather than as a tabloid reader.'

Published:

30 November 2011

ISBN:

9781448111169

Imprint:

Transworld Digital

Format:

EBook

Pages:

432
Praise for "She Must Have Known"
'Brian Masters is a very fine writer who consistently questions the nature of justice and how it is administered'

Minette Walters
'By far the most interesting book on the subject...profound and illuminating'

Anthony Daniels, Sunday Telegraph
'Like the author's previous books on Nilsen and Dahmer, it sets out the facts in detail, so the reader can make up his own mind. A classic of criminological literature'

Colin Wilson, Spectator
'Masters has marshalled his arguments with such skill that one wonders why he is not making his fortune at the bar...another serious, compelling account of a serial killer'

Anthony Storr, The Sunday Times
'Anyone reading this brilliant book will wonder whether justice was really done'

A.N. Wilson, Evening Standard