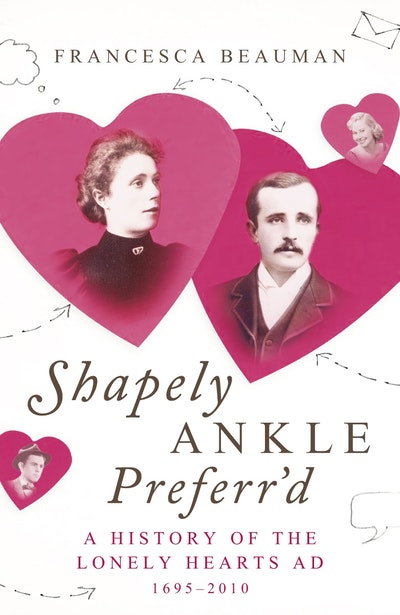 Published:

1 August 2011

ISBN:

9781446444665

Imprint:

Vintage Digital

Format:

EBook

Pages:

224
Shapely Ankle Preferr'd
A History of the Lonely Hearts Ad 1695 - 2010
---
---
---
Published for Valentine's Day - a lively history of Lonely Hearts ads, and the stories that go with them.
What do women look for in a man? And what do men look for in a woman? And how and why has this changed over the centuries?
Every week thousands of people advertise for love either in newspapers, magazines or online. But if you think this is a modern phenomenon, think again - the ads have been running for over three hundred years. In 1695, a popular London pamphlet published the brave plea of a young gentleman who 'would willingly Match himself to some Good Young Gentlewoman, that has a Fortune of £3000 or thereabouts'.
This was just the beginning. In the 1730s, papers carried regular ads in which income or respectability were the most desired qualities, though some asked for a 'shapely ankle' or a 'non-dancer'. By 1900 twenty-five British newspapers were dedicated solely to matrimonial ads. Shapely Ankle Preferr'd tells the story of ads of all kinds - from aristocrats and MPs, bus conductors and nurses, country squires and city swells, and even from a man who had lost a leg 'due to the kick of an Ostrich, in the East Indies'. The reasons are strangely familiar: the size of the city makes it hard to meet people; they're busy at work; they've just returned from abroad. Loneliness is not new.
The surprising views of Lord Byron, Charlotte Brontë and George Orwell are revealed, and every ad is a snapshot of its age, from the criminal scams of the 1890s to the sad appeals of widows after the Second World War. In this fascinating book Fancesca Beauman uses newly uncovered evidence to answer crucial questions about how humans choose their mates. The result is a startling history of sex, marriage and society over three centures - hilarious and heartbreaking by turn.
Published:

1 August 2011

ISBN:

9781446444665

Imprint:

Vintage Digital

Format:

EBook

Pages:

224