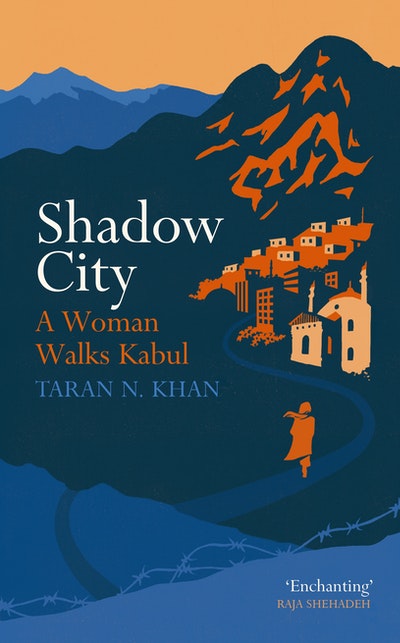 Published:

7 November 2019

ISBN:

9781473553507

Imprint:

Vintage Digital

Format:

EBook

Pages:

288
Shadow City
A Woman Walks Kabul
---
---
---
One woman's revelatory journey on foot exploring Kabul's war-torn past and scarred present
'A fabulous piece of writing . . . I recommend it unreservedly' WILLIAM DALRYMPLE
'A brilliant book' CHRISTINA LAMB, author of Farewell Kabul
One of the first things I was told when I arrived in Kabul was never to walk...
When journalist Taran Khan arrives in Kabul, she uncovers a place that defies her expectations. Her wanderings with other Kabulis reveal a fragile city in a state of flux: stricken by near-constant war, but flickering with the promise of peace; governed by age-old codes but experimenting with new modes of living.
Her walks take her to the unvisited tombs of the dead, and to the land of the living - like the booksellers, archaeologists, film-makers and entrepreneurs who are remaking this 3,000-year-old city. And as NATO troops begin to withdraw from the country, Khan watches the cycle of transformation begin again.
**Winner of the Stanford Dolman Travel Book of the Year Award 2021**
**Winner of the Tata Literature Live First Book Award for Non-Fiction 2020**
'Powerfully evocative' Kapka Kassabova
'A wonderful journey' Atiq Rahimi
'Khan illuminates Kabul's life-affirming humanity' TLS
Published:

7 November 2019

ISBN:

9781473553507

Imprint:

Vintage Digital

Format:

EBook

Pages:

288
Any reader of this book is sure to discover a Kabul so unlike what the media portrays. Taran's love of her city comes across in her enchanting evocation of a city where so many tragedies echo from across Kabul's decades of war. On her last walk, she writes: "to leave Kabul was to take it with you." This is what happened when I finished reading this book, I took Kabul with me

Raja Shehadeh, author of Palestinian Walks
Through these deep and compassionate portraits of ordinary people who call Kabul home, Taran Khan tells the story of the city through war and peace as never told before. At a time when deep uncertainly hangs over Afghanistan's future once again, Shadow City provides an invaluable perspective on life in its capital

Snigdha Poonam
An intricate, intimate portrait of a heartbreaking city, its people and its past, written with nuance, love and attention. In her multi-dimensional memoir Taran Khan explores Kabul as she wanders - through its streets but also its literature, its politics but also its passions - revealing as she does her own exacting, compassionate sense of what the city was and can still be

Alice Albinia, author of Empires of the Indus
Taran Khan invites and leads us into a wonderful journey through the streets of Kabul, its history and culture. Step by step with her, we breathe in the city's air of mysticism and mystery, walk through gardens full of myths and secrets, and we caress the wounds and scars of war on the skin of the city and cross the bridge that is built over the river between Indo-Greek civilization

Atiq Rahimi
Shadow City moved me to tears... In the service of Kabul and Afghanistan, a region of the world about which we imagine we know much more than we actually do, no book has done a more honest and heart-warming job in recent years... Thrilling

Supriya Nair, Mumbai Mirror
Offers a unique on-the-ground view of the city...a refreshing counterpoint to the macho foreign correspondent genre... Khan's interviews during her walks powerfully evoke the fluctuating mood in a city that is trying to heal itself

Amelia Gentleman, Guardian
Khan asks important questions of cities that have witnessed trauma in the palimpsests of what remains. The book carries valuable insights into the effects of war -- the fragility of books, films, ways of life; addiction as a war wound; the instability of 'home'. Mostly, it reminds us of the power of words to represent ways of seeing

Piya Srinivasan, India Today
Traces the lost glory of the city and narrates contemporary miseries. A moving memoir...and a subtle dive into history

Ashutosh Bhardwaj, Financial Express
Sparkling...a city and a part of the world that is particularly suited to the elegy... The Kabul stories Khan collects are like that: silent screams for a city that was and the city it could be

Vikram Shah, Mint Lounge
A lyrical discovery... As a Muslim woman from India, Khan is able to present a unique social and historical perspective

Edward Girardet, Global Geneva
These stories conjure a magic in the labyrinthine streets and reveal a fragile city in a state of flux, shape-shifting and flickering with the promise of peace

Sophie Lam
By excavating Afghanistan's forgotten past, Khan rescues its future, too. Her lyrical prose brings to life the most daring truth a writer can offer: that these tragedies were not preordained, and another Afghanistan is possible

Anand Gopal, author of No Good Men Among the Living
Shadow City is no conventional travel book. For Khan gives us a Kabul of the imagination: it is the city that was, less the city that is, that fascinates her. Her perambulations represent a form of "bipedal archaeology", an exercise in exhuming the past and probing the lost... It is easy to cast Kabul as a tragic mess of a metropolis, but Khan illuminates its life-affirming humanity

Oliver Balch, Times Literary Supplement
On the surface, Kabul is a city caught "between the hope of peace and the habit of violence." The deeper reality, though, is even more complex and layered: like Kabul's actual lanes, those that map its character "twist and vanish . . . like well-kept secrets." It is an elusive, illusive place - bood, nabood, now you see it, now you don't. Taran Khan's achievement is to have caught it in an affecting and beautifully observed portrait, a word-map that will endure

Tim Mackintosh-Smith
A profound, beautifully written meditation

Lucy Popescu, Tablet