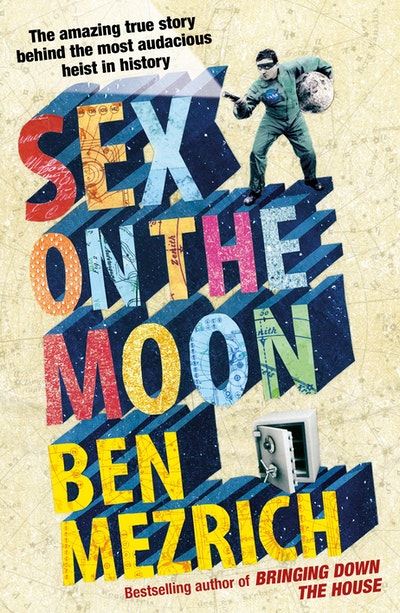 Published:

1 August 2011

ISBN:

9781446492772

Imprint:

Cornerstone Digital

Format:

EBook

Pages:

320
Sex on the Moon
---
---
---
Ocean's Eleven meets A Beautiful Mind…Sex on The Moon is the amazing true story of the 25-year-old genius who pulled off one of the most unique and significant heists in US history
Thad Roberts lead a pretty good life by his estimation. So how did it come about that this NASA employed genius found himself in one of the most dangerous county prisons in the country, sworn to secrecy by NASA and the FBI, and concocting the next step in universal history?
Despite his growing up in a strict Mormon household, Thad's heart was, at a young age, stolen by astronomy. Soon enough he found himself accepted into NASA's highly competitive Co-op program. Here he stood out both as a bright mind and as a popular figure. After catching a glimpse of moon rocks on a volunteer task within one of the most secure buildings at the NASA space station, Thad's curiosity was captured. Soon he was strategising over how he could obtain these gems. The security of the vault was insane, the very idea that you could get in there without getting caught was ridiculous. And yet, the fact it seemed impossible spurred Thad to try and figure it out. He became obsessed with the how, and on his third 'tour' at NASA's Johnson Space Center Thad, after meticulous planning and at phenomenal risk,did the unthinkableand made off with a six hundred pound safe full of the world's most precious substance – moon rocks. Illegal to own, given as gifts to heads of state by the President himself, the rocks are a national treasureof unimaginable value, something that had never been stolen before – something that can never, in fact, be replaced.
From the unique and exotic locale of NASA's Johnson Space Center, to the dark, steel cells of the harshest prison in Florida, Sex on the Moon is the compelling story of how a young genius executed one of the biggest and most unique heists ever. Renamed 'moon rock' by the killers and drug dealers incarcerated along with him, Thad began to think, write and dream again. He began to see a new way oflooking at the world, much more than the stars, the universe and the world he had left behind. Vastly complex in its physics basis, but simple to understand, Thad created what is now being lauded by many scientists as the next step in universal history. Despite NASA's attempts to cover up the details, Thad Roberts' spectacular story is finally laid bare – and through his story, a much larger, collective tale is told, ofastronauts and history, of the future that may one day give us Mars – and the awe inspiring past that once truly did give us the moon.
Published:

1 August 2011

ISBN:

9781446492772

Imprint:

Cornerstone Digital

Format:

EBook

Pages:

320
Praise for Sex on the Moon
The story that follows is everything you'd expect from Mezrich. Written almost entirely from Roberts' point of view, it delivers clever people doing clever things, betrayals and ingenious schemes and the sort of narrative arc that urges you to consume it all in one sitting...it is grippingly written...

The Times
An intriguing tale

Mail on Sunday