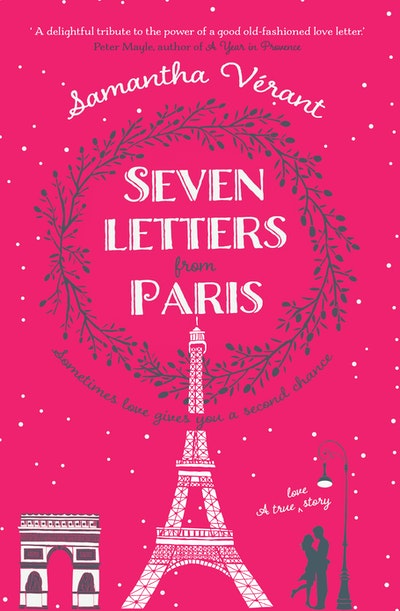 Published:

3 November 2014

ISBN:

9780857984654

Imprint:

Random House Australia

Format:

EBook

Pages:

304
Seven Letters from Paris
---
---
---
In the best romantic tradition of ALMOST FRENCH, a woman falls madly in love with a Frenchman in Paris, but with a twist. It takes her twenty years to find him again …
In the best romantic tradition of Almost French, a woman falls madly in love with a Frenchman in Paris, but with a twist. It takes her twenty years to find him again …
Samantha's life is falling apart - she's lost her job, her marriage is on the rocks and she's walking dogs to keep the wolf from the door.
When she stumbles across seven love letters from the handsome Frenchman she fell head over heels for in Paris when she was 19, she can't help but wonder, what if?
One carefully worded, very belated email apology, it's clear that sometimes love does give you a second chance.
Jetting off to France to reconnect with a man you knew for just one day is crazy - but it's the kind of crazy Samantha's been waiting for her whole life.
Truth may be stranger than fiction but sometimes it's better than your wildest dreams.
Deliciously funny, honest and beyond romantic, Seven Letters is the perfect feel-good gift for any woman with a heartbeat.
Published:

3 November 2014

ISBN:

9780857984654

Imprint:

Random House Australia

Format:

EBook

Pages:

304
Praise for Seven Letters from Paris
A charming story, and a delightful tribute to the power of a good old-fashioned love letter.

Peter Mayle, author of A YEAR IN PROVENCE
A real-life fairytale romance. You'll be rooting for this bubbly heroine and her prince charmant.

Elizabeth Bard, author of LUNCH IN PARIS
Seven Letters From Paris renewed my belief in the power of true love and made me believe that miracles can happen.

Jamie Cat Callan, author of FRENCH WOMEN DON'T SLEEP ALONE
Enchanting. A captivating real-life fairytale romance that will have you reading slowly so you can savour every delicious word. Castles included!

Janice MacLeod, author of PARIS LETTERS
A sweet and comical modern love story of one woman's wonderful happily-ever-after.

Wendy Lawless, author of CHANEL BONFIRE
The story of a sexy, passionate, whirlwind romance twenty years in the making ... and worth the wait. Shows us all the power of second chances and following your heart.

Teresa Rhyne, author of #1 NYT bestseller THE DOG LIVED (and So Will I)
You'll tear up reading this inspiring love story… sweet, touching, and real.

Kristin Espinasse, author of WORDS IN A FRENCH LIFE
Wonderfully engaging and endearingly honest. This serendipitous romance has to be one of my favourite memoirs based in France. I adore it.

Samantha Brick, author of HEAD OVER HEELS IN FRANCE
A celebration of l'amour across cultures and across decades. Verant's voice is winningly funny, curious and warm. She embraces France, and her French love, with an enthusiasm that is infectious.

Hilary Rehl, author of LESSONS IN FRENCH
A delicious and joyful story from beginning to end, one that makes you hold your breath and clutch your heart with vicarious excitement as you're carried along with what must be one of the sweetest love stories that's ever been told.

Torre Deroche, author of LOVE WITH A CHANCE OF DROWNING
A true story of long-lost passion found, but also a cautionary tale on the importance of small gestures and romance in everyday life.

Jennifer L. Scott, Author of Lessons from Madame Chic
Watch out, Walt Disney. Samantha Verant has lived a happily-ever-after story, complete with castles and a dark and handsome hero.

Candace Walsh, author of Licking the Spoon
Sam's story shows that having the courage to follow your heart and take a big leap can put you on the path that you're truly meant to be.

Holly C. Corbett, co-author of The Lost Girls
In a world where love letters and romantic overtures have all but disappeared, it is reassuring to know that feelings committed to a page still have the power to bring two people together.

Patricia Gucci, author of In the Name of Gucci
Not since Dangerous Liaisons has French letter writing been this exciting.

Helena Frith Powell, author of Two Lipsticks and a Lover
A glorious, life-affirming testament to the power of love to change everything.

Jo Maeder, author of Opposites Attack