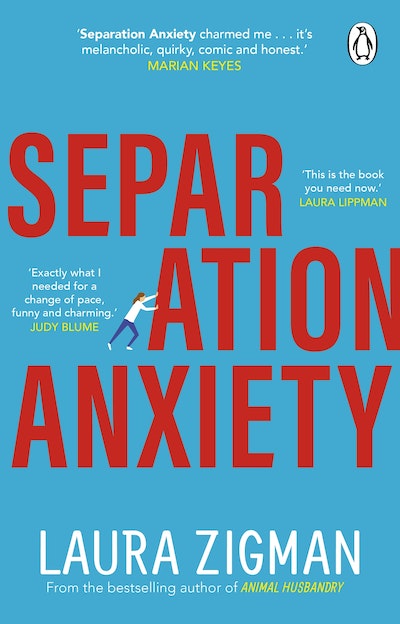 Published:

5 March 2020

ISBN:

9781473579347

Imprint:

Transworld Digital

Format:

EBook

Pages:

288
Separation Anxiety
'Exactly what I needed for a change of pace, funny and charming' - Judy Blume
---
---
---
Praised by Marian Keyes, Judy Blume, Alice Hoffman, Laura Barnett, Diane Ackerman and many more. From a NYT bestselling author,, SEPARATION ANXIETY is a life affirming, uplifting novel about marriage and family, for fans of The Authenticity Project and Where'd You Go Bernadette.
'Quirky, comic, honest' MARIAN KEYES
'Funny and charming' JUDY BLUME
'Wise and wonderful' ALICE HOFFMAN
'Written with such humour and heart' STYLIST
'A must read' RED
If you've ever wondered whether you love your dog more than your partner...
Life hasn't gone according to Judy's plan. Her career as a children's book author has taken a nose dive. Her teenage son Teddy treats her with a combination of embarrassment and indifference. She has 'separated' from her husband, Gary, who is living in the basement as they can't afford a divorce. And every day she has to write content for an uplifting self-help website while stalking her nemesis online - a creativity-lifestyle-coach guru with a social media following the size of Jupiter. All Judy wants is to not feel invisible. All she wants is to fill that space inside her. And when she decides to declutter the house, she hits on a radical solution...
Gleefully irreverent, tender, funny and uplifting, Separation Anxiety is a book filled with happiness and heart. A novel about the connections we make, the people we love and the joyful messiness of life.
___________________________________________________
Praise for Separation Anxiety
'I adored this wise, funny, sad, quirky story...It's brilliant on the stories we tell ourselves and others in order to resist change, while beating ourselves up about not taking steps towards a happier future. Heartbreaking and life-affirming.' Daily Mail
'Separation Anxiety was exactly what I needed for a change of pace, funny and charming' - Judy Blume
'What a gem of a novel...It's laced with moments of self-doubt and marital mayhem, but also the many small daily acts of mercy and heroism that love inspires.' - Diane Ackerman
'I enjoyed Separation Anxiety very much... It has a real freshness of voice and though it is very poignant, several parts also made me laugh out loud' - Laura Barnett, author of The Versions of Us
'So sweetly funny, so very touching.' Sainsburys magazine
'My advice: Start reading and don't stop until you get to the last page of this wise and wonderful novel.' - Alice Hoffman
'[A] novel about stress, release, and the unlikely places we turn to for comfort in uncertain times' - Vogue
'Laura Zigman is able to home in on the most tender, revealing, exquisitely painful aspects of our relationships with others and with ourselves. And somehow she manages to come out the other end with hope.' - Chelsea Handler
'[Separation Anxiety] is compassionate and funny, articulating with gentle humor the terrible things that we're all grappling with. To steal a phrase from my daughter, it made me happy-cry.' - Laura Lippman
Published:

5 March 2020

ISBN:

9781473579347

Imprint:

Transworld Digital

Format:

EBook

Pages:

288
Praise for Separation Anxiety
I enjoyed Separation Anxiety very much... It has a real freshness of voice and though it is very poignant, several parts also made me laugh out loud

Laura Barmett, author of The Versions of Us
What a gem of a novel. Separation Anxiety is wickedly funny, heartrending, poignantly wise, and hopeful. he main character, Judy, is hilariously offbeat, yet very easy to identify with, honest and thoughtful, and I loved spending time with her.

Diane Ackerman, author of The Zookeeper's Wife
Sometimes a book finds its way to you and you just know instantly that this is the book you need now. That's how I feel about Separation Anxiety. I think it's the book everyone needs right now. It is compassionate and funny, articulating with gentle humor the terrible things that we're all grappling with. To steal a phrase from my daughter, it made me happy-cry.

Laura Lippman
Separation Anxiety is as hilarious and painful as life itself...a joy to read

Claire Messud, bestselling author of The Burning Girl and The Emperor's Children
The light from Laura Zigman's new novel, "Separation Anxiety," is generated by a kind of literary nuclear fusion: an intense compression of grief and humor.... [Zigman] has a great humorist's eye for the comedy we've seen but overlooked

Washington Post
A triumph of friendship and storytelling . . . Separation Anxiety confronts the stark plateau of middle age with humor and grace. It's a book that transforms fractured domesticity into a more honest sense of community and selfhood with great wit and enormous heart.

New York Observer
Separation Anxiety] imparts a life-affirming vigor... Judy is a natural comedian and Zigman has gifted her with a fiercely singular voice.

Boston Globe
Written with such humour and heart that'll make you laugh out loud and have a little sob simultaneously.

STYLIST
Incisive, acerbic, but also a book that's kind to its characters. a must-read.

RED magazine
A warm-hearted, acutely-observed and knowing revelation of what it feels like when everything starts to go south.

WI LIFE
There are some very funny moments, but it's also insightful about midlife disappointment and starting over.

GOOD HOUSEKEEPING
'So sweetly funny, so very touching.'

SAINSBURYS magazine
' Like its messy, flawed heroine, Separation Anxiety is so easy to relate to, and to love.'

CULTURE FLY
'Both poignant and giggle-inducing, this is a wry look at what happens when life doesn't quite pan out as you'd hoped'

FABULOUS magazine
'I adored this wise, funny, sad, quirky story.It's brilliant on the stories we tell ourselves and others in order to resist change, while beating ourselves up about not taking steps towards a happier future. Heartbreaking and life-affirming.'

DAILY MAIL
'A hilarious yet thought-provoking exploration of the middle-aged limbo.... With wit and tenderness, Zigman explores life's most important relationships as they develop and change over time.'

EMMA STRAUB