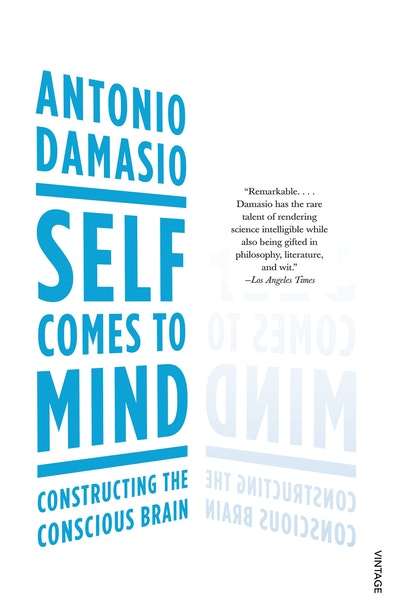 Published:

5 January 2012

ISBN:

9781446493854

Imprint:

Cornerstone Digital

Format:

EBook

Pages:

384
Self Comes to Mind
Constructing the Conscious Brain
---
---
---
A profound and groundbreaking new book telling the story of consciousness and the human mind, from one of the world's leading neuroscientists.
'Will give pleasure to anyone interested in original thinking about the brain.Breathtakingly original' Financial Times
The trailblazing investigation of a question that has confounded us for centuries: how is consciousness created?

In Self Comes to Mind, world-renowned neuroscientist Antonio Damasio goes against the long-standing idea that consciousness is separate from the body, presenting compelling new scientific evidence that consciousness - what we think of as a mind with a self - is in fact a biological process created by a living organism. His view entails a radical change in the way the history of the conscious mind is viewed and told, suggesting that the brain's development of a human self is a challenge to nature's indifference.

Groundbreaking ideas and beautifully written, this is essential reading for anyone curious about the foundations of mind and self.
Published:

5 January 2012

ISBN:

9781446493854

Imprint:

Cornerstone Digital

Format:

EBook

Pages:

384
Praise for Self Comes to Mind
Breathtakingly original

Financial Times
Awareness may be mostly mystery, but Damasio shapes its hints and glimmerings into an imaginative, informed narrative

Kirkus
The marvel of reading Damasio's book is to be convinced one can follow the brain at work as it makes the private reality that is the deepest self

V. S. Naipaul
Damasio's most ambitious work yet. It is a lucid and important work

Word
The epicenter of Self Comes to Mind concerns the neurological basis for cognition and the issue of the superposition of a "self' onto the construct which we address as reality. Damasio is both eloquent and scholarly. His command of the themes he approaches is impressive, as is the vigor with which he tackles such recondite issues as the elusive "self," inside the head. A wonderful read, and a recommended one!

Rodolfo R. Llinás, New York University
In this astonishing work, Antonio Damasio puts his years of investigation into the processes of the brain to open the impenetrable mysteries of self and mind, where all the contradictions of human experience unite in the ultimate unknown, consciousness.

Peter Brook, theater and film director and author of The Empty Space and Threads of Time.
Self Comes to Mind is often an exhilarating read. Not unlike Carl Sagan, Damasio is clearly excited by the findings he describes, and the thrill of discovery shines through his fine, clear prose

Tom Jacobs
I was totally captivated by Self Comes to Mind.In this work Antonio Damasio presents his seminal discoveries in the field of neuroscience in the broader contexts of evolutionary biology and cultural development.This trailblazing book gives us a new way of thinking about ourselves, our history, and the importance of culture in shaping our common future

Yo-Yo Ma, Musician
Damasio makes a grand transition from higher-brain views of emotions to deeply evolutionary, lower-brain contributions to emotional, sensory and homeostatic experiences. He affirms that the roots of consciousness are affective and shared by our fellow animals. Damasio's creative vision leads relentlessly toward a natural understanding of the very font of being

Jaak Panksepp, author of Affective Neuroscience
Lucid, elegantly written, and punctuated by humour... This is an exciting book by a wonderful thinker

Siri Hustvedt