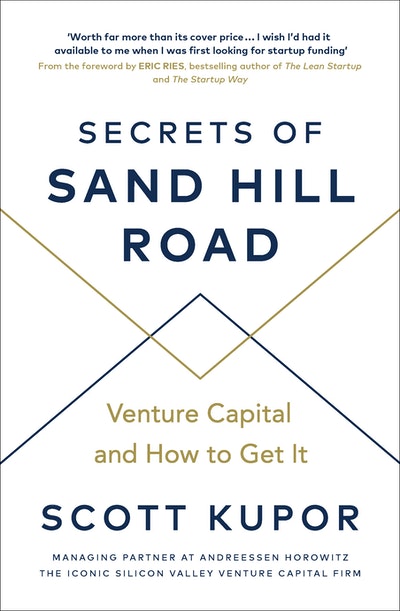 Published:

4 June 2019

ISBN:

9780753553961

Imprint:

Virgin Books

Format:

Trade Paperback

Pages:

320

RRP:

$35.00
Secrets of Sand Hill Road
Venture Capital—and How to Get It
---
---
---
The insider's guide to Venture Capital by Scott Kupor, managing partner of Andreessen Horowitz – the iconic Silicon Valley investment firm

'Worth far more than its cover price ... I wish I'd had it available to me when I was first looking for startup funding' -- Eric Ries
Every startup needs capital, and ambitious startups seek it on Sand Hill Road – Silicon Valley's dream street for entrepreneurs. That's where you'll find the biggest names in venture capital, including the famed VC firm Andreessen Horowitz, where lawyer-turned-entrepreneur-turned-VC Scott Kupor serves as managing partner.
Whether you're trying to get a new company off the ground or scale an existing business to the next level, you need to understand how VCs think. Secrets of Sand Hill Road is the first book that shows you exactly how VCs decide where and how much to invest. It will help you get the best possible deal and make the most of your relationships with VCs. You'll learn, for instance:
-- Why most VCs typically invest in only one startup in a given business category
-- Why the talent you need most when raising venture capital is your storytelling ability
-- How to handle a 'down round', when you have to raise funds at a lower valuation than in your previous round
-- Why bridge financing (reopening your last round to existing investors) is generally a bad idea
-- What to do when VCs get too entangled in the day-to-day operations of your business
-- Why you need to build relationships with potential acquirers long before you decide to sell
Filled with Kupor's firsthand experiences, insider advice, and practical takeaways, Secrets of Sand Hill Road is the guide you need to turn yourstartup into the next unicorn.
Published:

4 June 2019

ISBN:

9780753553961

Imprint:

Virgin Books

Format:

Trade Paperback

Pages:

320

RRP:

$35.00
Praise for Secrets of Sand Hill Road
Worth far more than its cover price ... I wish I'd had it available to me when I was first looking for startup funding

ERIC RIES, bestselling author of tHE LEAN STARTUP and THE STARTUP WAY, from the foreword
As someone who helped a small company become a huge, valuable company, I know firsthand the power of the startup ecosystem and entrepreneurship. This is the definitive book on navigating VC as part of that

ERIC SCHMIDT, former executive chairman and CEO, Google; technical advisor, Alphabet Inc
I've observed thousands of founders and thought a lot about what it takes to create something important and to achieve outlier success. Kupor's book takes founders who want to do both through everything from how VCs raise money and evaluate deals, to how to think about term sheets and set up boards. It's a valuable resource for any founder who wants to work with VCs

SAM ALTMAN, partner and president, Y Combinator; cofounder, OpenAI
Secrets of Sand Hill Road is the definitive guide to how to engage the VC community, including governance and other best practices, in a startup's journey to a successful public company

ADENA FRIEDMAN, president and CEO, Nasdaq; former managing director and CFO, The Carlyle Group
From acquiring startups, to leading a company, to working to select the next leader of an iconic company, I've seen it all. It's become clear to me that startups drive the kind of innovation that big companies can't easily do. Secrets of Sand Hill Road provides a useful overview for the next generation of leaders seeking to start such companies

JOHN W. THOMPSON, chairman, Microsoft; former CEO, Symantec
Despite its explosive growth, the world of venture capital remains mysterious to many entrepreneurs seeking funding and to the public more generally. Scott Kupor provides an informative account of the way in which these investors select and nurture young companies

JOSH LERNER, head, Entrepreneurial Management Unit, Harvard Business School
Andreessen Horowitz's managing partner, Scott Kupor, has written an indispensable guide for anyone with a big idea and an even bigger dream

JAMES PETHOKOUKIS, fellow, American Enterprise Institute; former columnist, Reuters "Breakingviews"