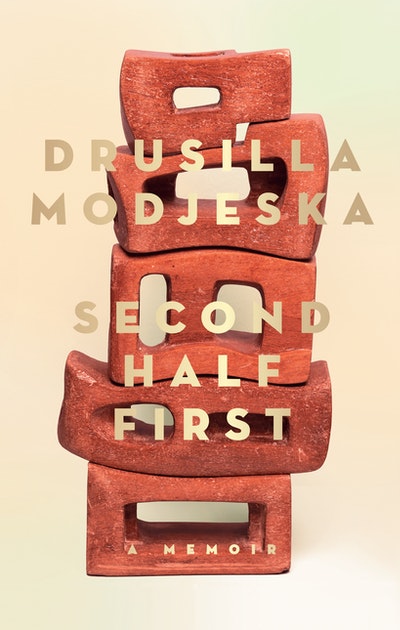 Published:

1 October 2015

ISBN:

9780857989796

Imprint:

Knopf Australia

Format:

Hardback

Pages:

400

RRP:

$39.99
Second Half First
---
---
---
A stunning new memoir from one of Australia's most highly acclaimed writers
A stunning new memoir from one of Australia's most highly acclaimed writers
Beginning with the disastrous events of the night before her fortieth birthday, in Second Half First Drusilla Modjeska looks back on the experiences of the past thirty years that have shaped her writing, her reading and the way she has lived.
From a childhood in England, and her parents' difficult marriage, to her time as a young newlywed living with her husband in Papua New Guinea; arriving as a single woman in Sydney in the 1970s and building close friendships with writers such as Helen Garner, with whom she lived in the bookish 'house on the corner', and the lovers who would – sometimes briefly – derail her, to returning to Papua thirty years later to found a literacy program, this new book by Drusilla Modjeska is an intensely personal and moving account of an examined life.
In asking the candid questions that so many of us face - about love and independence, the death of a partner, growing older, the bonds of friendship and family - Drusilla Modjeska reassesses parts of her life, her work, the importance to her of writers such as Virginia Woolf and Simone de Beauvoir, among many others. The result is a memoir that is at once intellectually provocative and deeply honest; the book that readers of Poppy, The Orchard and Stravinsky's Lunch have been waiting for.
Published:

1 October 2015

ISBN:

9780857989796

Imprint:

Knopf Australia

Format:

Hardback

Pages:

400

RRP:

$39.99
Praise for Second Half First
Second Half First offers a diaphanous and nuanced vision of the layers of a life, and of life writing. Its magnificent collective portrait reveals Modjeska's life as part of those it intersects with, including the women writers she lives with and reads ... [a] luminous and captivating work

Felicity Plunkett, Australian
Second Half First is a beautiful, sometimes profound, and always engaging memoir by a great writer.

Mark Rubbo, Readings Magazine
This enthralling memoir ... is a remarkable literary work ... Modjeska's eloquent reckoning not only of her own history, but of her intellectual life, reaffirm[s] her as a lucid, formidable thinker ... Wise, vital and relayed in Modjeska's restrained, sophisticated prose, [the book is] a major contribution to a literary lineage traceable to Virginia Woolf, one of Modjeska's own heroes, herself a constant presence throughout this remarkable book.

Gerard Elsom, Books+Publishing
Second Half First is on my shelf near the poet Elizabeth Bishop, who also wrote despite tragedy and liked travelling in remote, unmapped regions. For this reader, Modjeska's work, with its unanswered questions, is a beacon.

Sydney Morning Herald
With an amazing lightness of touch, [Modjeska] takes her reader on a journey across continents and centuries, discussing, among other things, lovers, parents, family, friends, literature, visual art, depression, death, and the post-colonial realities of Papua New Guinea ... Second Half First is a deeply crafted narrative, not only in its weave and structure, but also in the ways in which Modjeska invokes the visual arts to articulate her concerns ... Second Half First has a soul. It is both solid and expansive. Modjeska assembles her stanzas masterfully to create a poem of great insight, intelligence, and beauty.

Bernadette Brennan, Australian Book Review
Compelling reading

Newtown Review of Books
Modjeska's memoir Second Half First is warm, intelligent and open-hearted, and provides a rarely captured perspective … Like Italian novelist Elena Ferrante, Modjeska takes the reader to the close grain of an older woman's life: to friendships that restore perspective on shared experiences … to a vibrant late love affair … Also examined are the complexities of the literary form, including those of the memoir

Brenda Walker, The Monthly
Colin Roderick Award
Longlisted • 2015 • Colin Roderick Award
ALS Gold Medal Award
Shortlisted • 2016 • ALS Gold Medal
Nita B Kibble Literary Awards
Shortlisted • 2016 • Kibble Literary Award
Prime Minister's Literary Awards
Shortlisted • 2016 • Prime Minister's Literary Awards - Non-fiction
Queensland Literary Awards
Shortlisted • 2016 • Queensland Literary Awards - Non-fiction Book Award
Victorian Premier's Literary Awards
Shortlisted • 2016 • Victorian Premier's Literary Awards - Prize for Non-Fiction