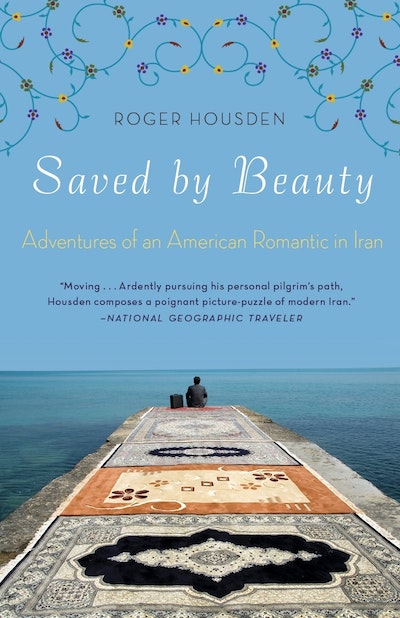 Published:

15 August 2012

ISBN:

9780307587749

Imprint:

Crown

Format:

Paperback

Pages:

304

RRP:

$24.99
Saved by Beauty
Adventures of an American Romantic in Iran
---
---

When Roger Housden decided to travel to Iran and finally see the subject of his youthful fascination, he was in his sixties. By then, he thought he had seen the world. He was wrong.
It was a quest that changed him forever. In Iran, Housden met with artists, writers, film makers and religious scholars who embody the long Iranian tradition of humanism, and shared with him their belief in scholarship and artistry. From the bustle of modern Tehran to the paradise gardens of Shiraz to the spectacular mosques and ancient palaces of Isfahan, Housden met Iranians who were warm, welcoming, generous, intellectually curious, and altogether alive with their love for one another, and for the faith and tradition that holds them together.
Saved by Beauty weaves a richly textured story of many threads. It is a deeply poetic and perceptive appreciation of a culture that has endured for over three thousand years, while it also portrays the creative and spiritual cultures within contemporary Iran. While there, Roger Housden was brought face to face with the reality that beauty and truth, deceit and violence, are inextricably mingled in the affairs of human life, and was forever altered by it.

Published:

15 August 2012

ISBN:

9780307587749

Imprint:

Crown

Format:

Paperback

Pages:

304

RRP:

$24.99
Praise for Saved by Beauty
"Both readers new to Housden and fans of his poetry will treasure this memorable account of what may be a once-in-a-lifetime trip. Even better, his insights are also sure to inform and maybe even re-form preconceived notions many hold about Iran. It is impossible not to lose oneself in Housden's many-faceted narrative."
—Booklist, starred review

"A lyrical panorama of contemporary Persian politics and culture, this book gives contour and nuance to our idea of Iran, and introduces us to complex, very memorable characters."—Publishers Weekly, starred review

"The eloquent account of a Western poet's encounters with the land, culture and people of Iran...soulful and uplifting."—Kirkus Reviews

"Moving…Ardently pursuing his personal pilgrim's path, Housden composes a poignant picture-puzzle of modern Iran." – National Geographic Traveler 


From the Hardcover edition.