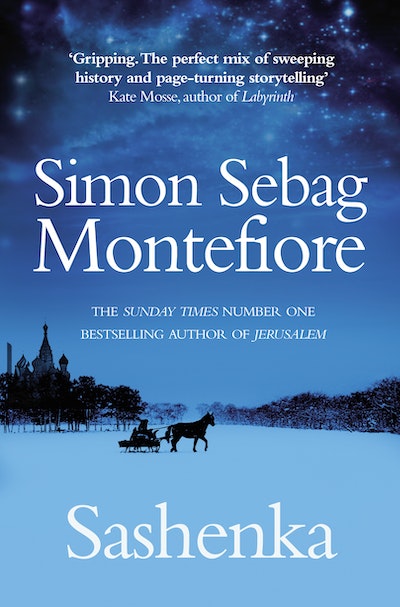 Published:

30 June 2011

ISBN:

9781446486054

Imprint:

Transworld Digital

Format:

EBook

Pages:

640
Sashenka
---
---
---
In the bestselling tradition of Dr Zhivago and Sophie's Choice an epic story of revolution, passion and betrayal - and one woman whose extraordinary secret lies uncovered for half a century.
'Intricate, fast moving . . . by the time I finally put the book down, long after midnight, I was in tears' The Times
Winter, 1916. In St Petersburg, snow is falling in a country on the brink of revolution.
Beautiful and headstrong, Sashenka Zeitlin is just sixteen. As her mother parties with Rasputin and her dissolute friends, Sashenka slips into the frozen night to play her role in a dangerous game of conspiracy and seduction.
Twenty years on, Sashenka has a powerful husband and two children. Around her people are disappearing but her own family is safe. Yet she is about to embark on a forbidden love affair which will have devastating consequences.
Sashenka's story lies hidden for half a century, until a young historian goes deep into Stalin's private archives and uncovers a heart-breaking story of passion and betrayal, savage cruelty and unexpected heroism - and one woman forced to make an unbearable choice ...
Published:

30 June 2011

ISBN:

9781446486054

Imprint:

Transworld Digital

Format:

EBook

Pages:

640
Gripping from start to finish. The perfect mixture of sweeping history and page-turning storytelling

KATE MOSSE, author of LABYRINTH
Intensely moving, with an unforgettable climax that will touch the hardest heart

JUNG CHANG, author of WILD SWANS
Furiously readable - it's hard to put Sashenka down. The glory and tragedy of her story remains long after the last page is turned

THOMAS KENEALLY, author of SCHINDLER'S LIST
Intricate, fast moving... by the time I put the book down, long after midnight, I was in tears

THE TIMES
To write a good historical novel you have to recreate that world, both physically and intellectually - and there must be a sense that history is driving the plot forwards. Montefiore succeeds on all counts... The real achievement of this novel is that it describes the profound levels of self-deception required if you wanted to stay alive and be a loyal communist in Stalin's Russia

EVENING STANDARD
A dramatic, gripping tale of a passionate, beautiful woman living in pre-revolutionary Russia, and subsequently in Stalin's Soviet hell. Her story, set against richly textured backgrounds - some lavish, some grim - make this novel extraordinarily difficult to put down

ROBERT MASSIE, author of NICHOLAS & ALEXANDRIA
In Sashenka, Simon Montefiore proves himself a true storyteller. The world of the Russian Revolution and of Stalin's Terror comes vividly to life in this deeply intimate novel, full of Russian atmosphere and color. I felt as if I'd lived through an epic movie

EDWARD RUTHERFORD, author of SAURUM AND RUSSKA
An absolutely rollicking tale which also manages to convey an authentic period atmosphere. Very colourful, very evocative, very readable, and very very real

JOANNE HARRIS
Agile plotting, vivid characterisation and the exuberant spectacle of a well-informed author enjoying a flourish of serious frivolity - convoluted plot twists, astonishing coincidences, tear-jerking family separations and all - combine to make Sashenka an addictive page-turner with an elegant, steely edge of verisimilitude

SUNDAY TELEGRAPH
A tale rich in conspiracy, seduction, glamour and intrigue that should satisfy all

IMAGE Magazine, Eire
This epic tale spans almost 100 years of tumultuous Russian history in the mould of Dr Zhivago; its themes of love, lust, treachery, sacrifice and family values dominate the book

THE COURIER-MAIL, New Zealand
A compelling and affecting saga that resonates long after the reading. Montefiore's depiction of the epoch is superb. The language is precise and evocative without getting in the way of the storyline. Its evocation of 20th Century Russia is so intoxicating it made want to buy a plane ticket and find out more for myself. I can't remember being as moved by the fate of a character in a novel for some time

SYDNEY MORNING HERALD, Australia
A must read! Montefiore polishes all the facets of a good story - secrets, lies, betrayal, love and death - and places them in Russia's grand setting

THE SUNDAY TELEGRAPH, New Zealand
Gripping... moves you to tears

DAILY EXPRESS
This completely addictive story offers an authoratative insight into Stalin's USSR and, in its huge characters and epic ambition, carries echoes of Tolstoy himself

DAILY MAIL
A heartbreaking tale of passion, betrayal and an unthinkable decision

IN STYLE
A compelling novel of passions and secrets, politics and lies, love and betrayal, savagery and survival

SAGA
Sweeping historical epic about a daring young woman forced to make a hard choice in Stalinist Russia

OBSERVER TOP FIVE SUMMER READS OF 2008
Excellent... the historical detail is strong. The characterisation is superb, with Sashenka being especially well drawn. With her unwanted beauty and charisma, her gentle nobility that transcends class or wealth and her earnest ideals which eventually cost her so much. Sashenka commands out total sympathy, and when she is forced apart from her children, the sadness is profound and hard to dispel. A powerful novel... with a heroine who lingers in the mind when the story is finished

SPECTATOR
Sashenka is grand in scale, rich in historical research, and yet never loses the flow of an addictive, racy, well-wrought plot. It combines a moving, satisfyingly just-neat-enough finale with a warning - that history has an awful habit of repeating itself

THE SCOTSMAN
An epic novel... The suspense lasts until the final pages. There is no let-up. At the end of the book, you really feel that even though Sashenka is a fictional character, she has become one of the thousands of real people who haunt the Moscow archives that Montefiore knows so well

SUNDAY EXPRESS