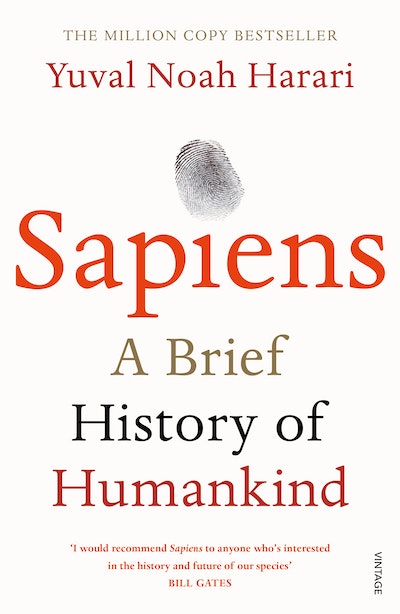 Published:

1 May 2015

ISBN:

9780099590088

Imprint:

Vintage

Format:

Paperback

Pages:

512

RRP:

$24.99
Sapiens
A Brief History of Humankind
---
---
---
What makes us brilliant? What makes us deadly? What makes us Sapiens? This bestselling history of our species challenges everything we know about being human.
**THE MULTI-MILLION COPY BESTSELLER**
Discover the book that inspired Gareth Southgate's leadership style.
'Interesting and provocative... It gives you a sense of how briefly we've been on this Earth' Barack Obama
What makes us brilliant? What makes us deadly? What makes us Sapiens? Yuval Noah Harari challenges everything we know about being human in the perfect read for these unprecedented times.
Earth is 4.5 billion years old. In just a fraction of that time, one species among countless others has conquered it: us.
In this bold and provocative book, Yuval Noah Harari explores who we are, how we got here and where we're going.
________________
PRAISE FOR SAPIENS:
'Jaw-dropping from the first word to the last... It may be the best book I've ever read' Chris Evans
'Sweeps the cobwebs out of your brain... Radiates power and clarity' Sunday Times
'It altered how I view our species and our world' Guardian
'Startling... It changes the way you look at the world' Simon Mayo
'I would recommend Sapiens to anyone who's interested in the history and future of our species' Bill Gates

**ONE OF THE GUARDIAN'S 100 BEST BOOKS OF THE 21st CENTURY**
Published:

1 May 2015

ISBN:

9780099590088

Imprint:

Vintage

Format:

Paperback

Pages:

512

RRP:

$24.99
Here is a simple reason why Sapiens has risen explosively to the ranks of an international best-seller. It tackles the biggest questions of history and of the modern world, and it is written in unforgettably vivid language. You will love it!

Jared Diamond
This is mega-history of the best sort: sweeping but not simplistic, contemporary but not gimmicky, provocative but not contrarian. Almost everyone will want to argue with one part of this book or another, but working out which part and why will do us all good.

Dr Steven Gunn
Sapiens is packed with heretical thinking and surprising facts. This riveting, myth-busting book cannot be summarised in any detail; you will simply have to read it

John Gray, Financial Times
Full of shocking and wondrous stories

Sunday Times
Harari delivers a boldly synthesized account of Homo sapiens' rise through the hominin ranks...A view of our ascent as nasty, brutish, long - and endlessly fascinating

Nature
Harari can write. Not in the sense that most authors can...But really, really write, with wit, clarity, elegance and a wonderful eye for metaphor

The Times
Sapiens is the sort of book that sweeps the cobwebs out of your brain. Its author, Yuval Noah Harari, is a young Israeli academic and an intellectual acrobat whose logical leaps have you gasping with admiration...Harari's writing radiates power and clarity, making the world strange and new

John Carey, The Sunday Times
Sapiens is a fast-paced, witty and challenging romp through 70,000 years of human history...I did love it, and if you are interested in the whole story of humankind, I'm confident that you will love it too

Literary Review
We usually think that we are an outcome of our personal history, where we grew up, the way our parents educated us, etc. In Sapiens, Harari delves deep into our history as a species to help us understand who we are and what made us this way. An engrossing read.

Dan Ariely, New York Times Bestselling author of Predictably Irrational
Eloquent and wonderfully funny

i
A rare book...thrilling and breathtaking

Observer
Provocative, thrilling erudite. One of the year's most talked-about books

Metro
For its sheer originality and intellectual stimulation, I was captivated by Yuval Noah Harari's Sapiens

Matthew d'Ancona, Evening Standard - Books of the Year
Probably the most ambitious history book of the year. Certainly the most thought-provoking

Dan Jones, Evening Standard - Books of the Year
Reading it is like having a mental massage, cold shower and brisk workout, and all in the comfort of your own home

Esther Rantzen, Mail on Sunday
Ambitious and invigorating

Charlotte Heathcote, Sunday Express
Harari is able to be as refreshingly clear in his discussions of biology, of evolutionary anthropology and of economics as he is of historical trends. Stick with him and you learn a lot

Daily Telegraph
Consistently engaging.Harari writes prose that leaps from the page. His broad sweep, collating philosophy, science, history and economics, creates moments of eyebrow-raising revelation for a reader from any background

New Statesman
I have just read Yuval Noah Harari's book Sapiens. It is brilliant. Most likely the best - and I have read very many - on the history of humankind. I have never read anything better

Henning Mankell
Harari's book is important reading for serious-minded, self-reflective sapiens

Avi Tuschman, Washington Post Sunday
Brilliantly done and endlessly fascinating

Reader's Digest
As a writer, Harari is superbly clear. He's also a formidable polymath and a wonderfully elegant thinker... He is a brilliant analyst with a storyteller's gift

William Leith, Evening Standard
Vast and intricate... Engaging and informative

Guardian
A thrilling account of humankind's extraordinary history

Jersey Evening Post
The book is maddeningly opinionated and insanely ambitious. It is also compulsively readable and impossibly learned. It is one of the best accounts by a Homo sapiens of the unlikely story of our violent, accomplished species

Michael Gerson, Washington Post
An enthusiastic and confident narrative that is relentlessly interesting from the first word to the last

UK Press Syndication
The most exciting book I've read this year

Rory MacLean, Geographical
One of the most talked about non-fiction bestsellers of the year... Harari is one of the very few thinkers around who's really looking at what's happening now. Sapiens is his attempt to tell the story of the past to understand the present: the great technological advances that we are all living through now

Observer
Eloquent and provocative

Mail on Sunday
A headclutchingly provocative account of our species from the Stone Age to the present... Stunningly ambitious and compellingly written. They call it macro-history. They're right.

David Sexton, Evening Standard
Fascinating

Chris Skinner, Financial Services Club Blog
Contains a remarkable piece of information on almost every page and reminds us that we should be grateful to be human.

Matt Haig, Observer
Thought-provoking

Sunday Times
I would recommend Sapiens to anyone who's interested in the history and future of our species.

Bill Gates
Read with an open mind and you might look at life in a whole new way.

How it Works
Provocative and fascinating and opinionated.it makes the familiar seem unfamiliar. It altered how I view our species and our world.

Mohsin Hamid, Guardian
Its breadth is startling... It changes the way you look at the world and few books tick that box.

Simon Mayo, Daily Express
What makes it so interesting and provocative is that because it's such a condensed sweeping history it talks about some core things that have allowed us to build this extraordinary civilisation that we take for granted, but weren't a given, and it gives you a sense of perspective in how briefly we've been on this Earth

Barack Obama, CNN
What's unique about Harari's take is that he focuses on the power of stories and myths to bring people together... I would recommend this book to anyone interested in a fun, engaging look at early human history... Harari tells our history in such an approachable way that you'll have a hard time putting it down

Bill Gates
A dark and thrilling epic.

Rachel Hadas, Times Literary Supplement, Book of the Year
Unbelievably good book. Jaw dropping from the first word to the last.

Chris Evans, BBC Radio 2
I have continued to be driven bonkers by my current obsession: Sapiens by Yuval Noah Harari, an extraordinary tome that charts the plight of the planet's most destructive species since the dawn of time: us. Every paragraph gives you pause for thought, as it catalogues how nuts human beings really are. It may be the best book I've ever read; it's certainly fascinating.

Chris Evans, Mail on Sunday
This doesn't make you feel clever; it makes you feel included. It's written so brilliantly. He's written about the human family as a family.

Marcus Brigstocke, Shortlist
It's one of the best books I've read recently and gives an excellent overview of how our species has developed and helps us understand why and who we are today.

Lily Cole, Hello!
A sweeping account of the history of our species, written in vivid prose.

Matthew Syed, The Times
It rattles along, firing glitter-coated bullets of wisdom as it goes. If Carlsberg made professors, they'd have fashioned them thus. You'll never have quite as much fun while learning so much.

Lynne Barrett-Lee, Western Mail
Reading this wonderful book feels like looking at life down the bigger end of the telescope. Its scope - which incorporates the history of our species and the question of what the future may have in store - is so magisterial, one has an increasingly godlike feeling while reading it.

Gavin Turk, Week
An absolute trove that everyone who wants to understand everything from human evolution to diet, religions and limited liability companies should read.

Sally Moussawi, Pool
Opening up a controversial topic with spirit and thoroughness, Sapiens will challenge your preconceptions, provoke discussion and, most importantly, push you to think for yourself. Bold and provocative.

Women's Running
A brilliant, interdisciplinary account of the past and future of our species. Some of Harari's most interesting points are the ways in which the fundamental, unchanging traits that make us human (emotions, desires) relate to the modern world. Essential reading for any liberal arts degree.

Francesca Carington, Tatler
I would recommend Sapiens to anyone who's interested in the history and future of our species

Bill Gates
Interesting and provocative. It gives you a sense of how briefly we've been on this Earth

Barack Obama
Jaw-dropping from the first word to the last. It may be the best book I've ever read

Chris Evans
Tackles the biggest questions of history and the modern world. Written in unforgettably vivid language

Jared Diamond
Startling... It changes the way you look at the world

Simon Mayo
One of the best books I've read recently. Gives an excellent overview of how our species has developed

Lily Cole
Sweeps the cobwebs out of your brain. Radiates power and clarity, making the world strange and new

Sunday Times
That fellow connected an awful lot of dots in that work. I thought the book would be a dense read, a slog, with a struggle for my brain on every page. I had a highlighter ready to mark the more pavement-thick paragraphs I'd have to go back and re-ponder. Instead, I flew through it like it was a nonfiction The Thorn Birds. Does that mean I'm getting smarter?

Tom Hanks, New York Times
In the unlikely event you haven't already read it and.fancy learning some cool new stuff in a fun way, I wholeheartedly recommend it to you.

Jenny Colgan, Spectator
It's so intense that you have to read a bit then have a rest. It has brilliant passages, such as where he argues humans became enslaved by agriculture. Vivid and invigorating.

Bill Bailey, Daily Express
Every now and then a book comes along that tilts your perspective on the world. This internationally best-selling phenomenon is one of them.

Martin Chilton, Olivia Petter and Ceri Radford, Independent, *Books of the Decade*
It succeeds through its eclectic scope, its readability, and its author's willingness to offer ethical judgements

Martin Rees, Observer
Shortly before the pandemic, I read Sapiens... It's not an exaggeration to say I've thought of it every day since

Curtis Sittenfeld, Guardian
Insightful, provocative and certainly gives you a sense of perspective

Diederik Vos, Creativepool
Article
Article