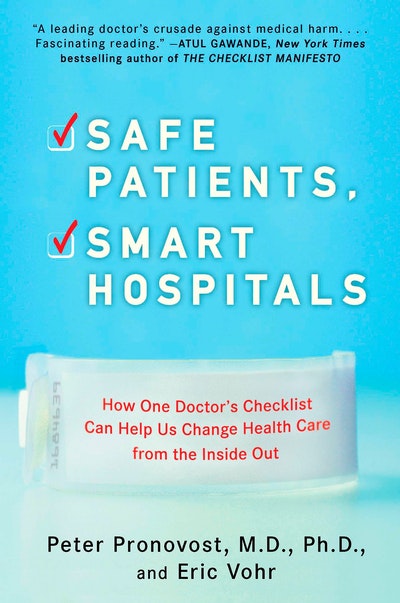 Published:

25 January 2011

ISBN:

9780452296862

Imprint:

Plume

Format:

Paperback

Pages:

304

RRP:

$32.99
Safe Patients, Smart Hospitals
How One Doctor's Checklist Can Help Us Change Health Care from the Inside Out
---
---
"The tough-minded and revealing story of a leading doctor's crusade against medical harm...Fascinating reading." -Atul Gawande, author of The Checklist Manifesto.
First, do no harm. Doctors, nurses, and clinicians swear by this code of conduct. Yet, medical errors are made every single day-avoidable mistakes that often cost lives. Inspired by two such mistakes, Dr. Peter Pronovost made it his personal mission to improve patient safety and make preventable deaths a thing of the past, one hospital at a time.
Safe Patients, Smart Hospitals shows how Dr. Pronovost started a revolution by creating a simple checklist that standardized a common ICU procedure. His reforms are being implemented in all fifty states and have saved hundreds of lives by cutting hospital-acquired infection rates by 70%. Atul Gawande profiled Dr. Pronovost's reforms in a New Yorker article and his bestselling book The Checklist Manifesto is based upon Dr. Pronovost's success in patient safety. But Safe Patients, Smart Hospitals is the real story: an inspiring, thought-provoking, accessible insider's narrative about how doctors and nurses are improving patient care for all Americans, today.
Published:

25 January 2011

ISBN:

9780452296862

Imprint:

Plume

Format:

Paperback

Pages:

304

RRP:

$32.99
Praise for Safe Patients, Smart Hospitals
"Safe Patients, Smart Hospitals is the tough-minded and revealing story of a leading doctor's crusade against medical harm. The tale of Peter Pronovost's journey in patient safety is fascinating reading." -Atul Gawande, author of The Checklist Manifesto, Better, and Complications "No one in America has thought more -- and done more -- about patient safety than Dr. Pronovost. Safe Patients, Smart Hospitals is the right prescription for American health care." -Sherrod Brown, United States Senator (Ohio) "Dr. Pronovost and Mr. Vohr offer a constructive and compelling case for patient safety and improving health care quality in the United States. Health providers and policy makers would benefit greatly from reading this book." -Tom Daschle, former Senator and author of Critical: What We Can Do about the Health-Care Crisis "Both riveting and important.... Safe Patients, Smart Hospitals gives an excellent overview of changes in hospital practice which, when instituted, profoundly affect rates of serious medical complications and death. A pioneer in the field of patient safety, [Peter Pronovost] has radically altered how modern medicine is practiced." -Kay Redfield Jamison, Ph. D., author of An Unquiet Mind and Nothing Was the Same "A must read for doctors, nurses, administrators and especially the public. Patient safety can only be achieved by everyone being informed and asking questions when...the train is [headed] off the track." -Edward D. Miller, M.D., Chief Executive Officer of Johns Hopkins Medicine, Dean of the Johns Hopkins University School of Medicine, and and vice president for medicine of The Johns Hopkins University "A wonderful, beautifully written book-if every hospital in the country read it and followed Peter's advice, I believe there would be fewer deaths from medical efforts and we would all benefit. Dr. Pronovost is a true hero, both to many in the healthcare industry and patients as well. Because of his hard work, passion, and brilliance, Peter has made hospitals around the world safer for us all. Safe Patients, Smart Hospitals is a true testament that one person can make a difference." -Sorrel King, patient safety advocate and author of Josie's Story "Safe Patients, Smart Hospitals reminds us how great change can be wrought by one person with the courage to do the right thing. Dr. Pronovost's account tells the thrilling story about how--not so long ago--sloppiness and medical arrogance made even the best American hospitals perilous places to spend the night. His remedy: something simple, elegant, convincing." -Jean McGarry, professor at The Writing Seminars, Johns Hopkins University and author of seven books of fiction "Peter Pronovost is a true visionary, whose simple checklist will save many lives and highlight the fact that the simplest answer is often the best, a must- read for all healthcare workers." -Patrick Perry, M.P.H, Executive Editor, The Saturday Evening Post "Captivating and readable, this book takes a hard, honest look at the truth about toxic hospital cultures and the need for addressing culture, teamwork and cooperation. The compelling stories Peter shares illustrate the transformation that occurs when institutions address these issues. I also think the emphasis on improving work environments and respect among all professions involved in patient care clearly impacts nurses' satisfaction, retention, and the nursing shortage in hospitals." -Martha N. Hill, PhD, RN, Dean and Professor of Nursing, Medicine and Public Health at Johns Hopkins University "A riveting account right from the first page... Safe Patients, Smart Hospitals is a must read for everyone in healthcare including consumers. The authors have covered particularly well the perspectives and challenges of nurses in keeping pat