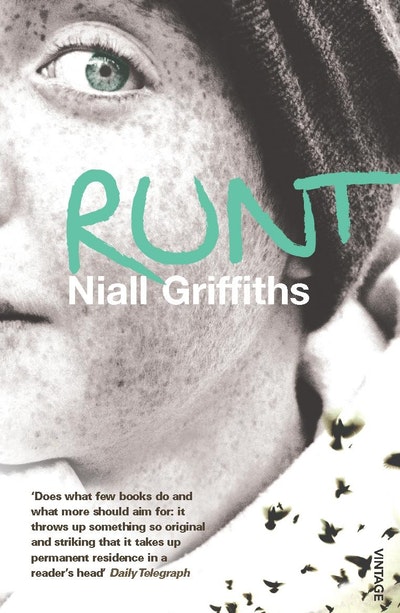 Published:

1 August 2011

ISBN:

9781409059097

Imprint:

Vintage Digital

Format:

EBook

Pages:

160
Runt
---
---
---
'Niall Griffiths is a literary star' - Daily Telegraph
On leaving school a sixteen-year-old boy goes to live with his uncle on a remote Welsh hill-farm. His aunt has recently committed suicide after losing her livestock in the foot-and-mouth epidemic and his uncle has turned, once again, to the bottle. The boy is a spiritual savant: an unwitting repository of folk memory from the margins, barely educated but possessed of extraordinary insights; barely literate but able to speak a language of his own - a poetry laden with Pagan and Christian myth.
He is unaware that he is gifted and unaware of what he knows. But during one of his ecstatic trances, the boy learns that he has an appointed role in the world, which he must discover for himself. During an episode of brutal and climactic violence, he does exactly that.
Told through the boy's internal monologue of beauty and damage, Runt is a powerful, disturbing and moving novel that reinvigorates the language of fiction and illuminates domestic tragedy with a penetrating epic light.
Published:

1 August 2011

ISBN:

9781409059097

Imprint:

Vintage Digital

Format:

EBook

Pages:

160
Evolutionary psychology meets mythology in this short, strange, savage novel... Niall Griffiths's prose enchants you

Guardian
The troubled teenager's tall tale spills out in a syntax-defying stream of consciousness that is at once liltingly innocent yet seeded with profundity

Sunday Times
Runt is a bungee-jump plummet from modern sophistication into something lurking below, where fantasy takes flesh and ancient knowledge prevails

Jennie Renton, Sunday Herald
[It has a] visionary simplicity and mythic sense of place

Caroline McGinn, TLS
Runt deserves the hackneyed description 'tour de force' ... it demonstrates Griffiths, a gritty realist, in complete command of the dark despairing gloop that so often smothers human lives

Tom Adair, Scotsman
Niall Griffiths is unrivalled as the literary voice of contemporary Wales... He mixes gritty realism with myth, poetry and regular doses of bone-cracking violence

Jonathan Gibbs, Metro
You would have to go back to Thomas Hardy to find a British writer who evokes a landscape so completely

Time Out
The writing leaps off the page...it throws up something so original and striking that it takes up permanent residence in a reader's head

Tim Martin, Daily Telegraph