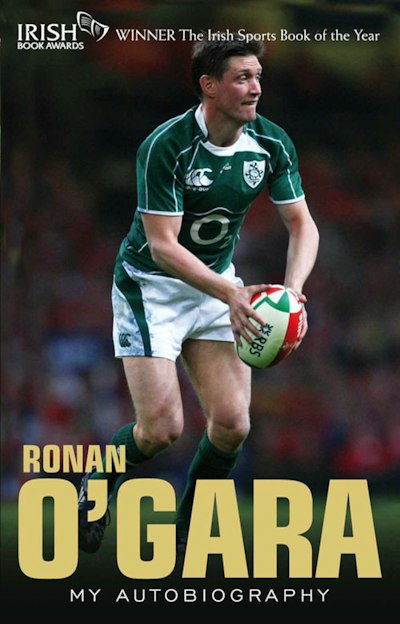 Published:

1 August 2011

ISBN:

9781409081494

Imprint:

Transworld Digital

Format:

EBook

Pages:

448
Ronan O'Gara
My Autobiography
---
---
---
The colourful and dramatic life story of the record points scorer in Irish rugby history.
Ronan O'Gara is one of the greatest sportsmen Ireland has ever produced. A brilliant kicker both from the hand and at penalty goals, a sublime orchestrator of play from the out-half position he has made his own, and a cool head in the pressure-cooker of club and international rugby, the list of the Cork man's achievements goes on and on. The leading points scorer in Irish rugby history, the Six Nations and the Heineken Cup. The architect of two amazing Munster triumphs in Europe. The man whose last minute drop-goal sensationally won the Grand Slam in 2009, Ireland's first for 61 years.
In his candid, illuminating autobiography, O'Gara tells the story of those many on-field successes and, with brutal honesty, the darker days as well, most notably at the 2007 World Cup. He tells the inside story of Ireland's disappointments in France, and responds to the allegations about his personal life that made front-page news that autumn. Ronan O'Gara: My Autobiography is the unforgettable story of a rugby player at the top of his game, of a life lived to the full, and of a passionate and proud representative of the people of Cork and Ireland.
Published:

1 August 2011

ISBN:

9781409081494

Imprint:

Transworld Digital

Format:

EBook

Pages:

448
Perhaps the finest sports book of the year and among the best Irish sports biographies ever written... a deeply rewarding portrait of a great sportsman

Michael Foley, Sunday Times (Ireland)
This engrossing book sails straight between the posts

John O'Donnell, Irish Times
Candour is a defining characteristic of O'Gara's and pervades his autobiography... a compelling read

Hugh Farrelly, Irish Independent
Basically it's the book O'Gara hoped it would be and that's the genius of it. Nothing is off limits, his world is laid bare and people are left to make up their own minds about the subject... He is brutally honest in his observations, is very hard and unforgiving on himself and tells it like it is. It is a hallmark of the man... It's all O'Gara

Conor George, Evening Echo
Smoothly written...open and honest. As a sports autobiography, straight between the posts

Michael Moynihan, Irish Examiner
Searing honesty

Daily Telegraph
A different class... superb insight

Linda Maher, Sunday Business Post
Compelling, entertaining and woven together with particular style and grace... O'Gara is up with the greats

Dave Hannigan, Evening Echo
He should be commended for his frankness. It certainly defines this tome in contrast to the usual drudgery of rugby autobiographies

James Corrigan, Independent
Since so many sports efforts in this genre tend to reveal very little, a memoir like O'Gara's, one with real bite and new insight, makes for a markedly refreshing read. The book is laced with fleshy anecdotes. All make for bona fide eyebrow arching, giggle-inducing, page turning stuff

Dermot Keyes, Munster Express
It is to O'Gara's credit that his autobiography remains true to his personality. It is a compellingly candid read... There is a sense of singularity about O'Gara that takes him into places others find uncomfortable... few men walk the walk better than Munster and Ireland's No. 10

Vincent Hogan, Irish Independent
O'Gara is fascinating on both the mental and physical mechanics of the rugby kick... His candour means that he does not avoid discussing the darker aspects of his personal life

Leo McKinstry, Sunday Telegraph
Munster's recent story is compelling and O'Gara has been a central figure. With the assistance of Denis Walsh, this is a sweetly struck penalty of a book: revealing and hard-nosed

Robert Kitson, Guardian
The perfect present for any rugby fan. It shows the goldfish-bowl aspect to life as a modern-day sporting legend and gives an insight into what it's like on the inside looking out

Irish Independent
Whether you are a rugby fan or not, this book is likely to please... This honest autobiography will provide an intriguing read for the Christmas period

South Tipp Today
Compelling reading

Richard Fitzpatrick, Irish Examiner
Arguably the best Irish book of the year... told with flawless skill

Malachy Clerkin, The Sunday Tribune