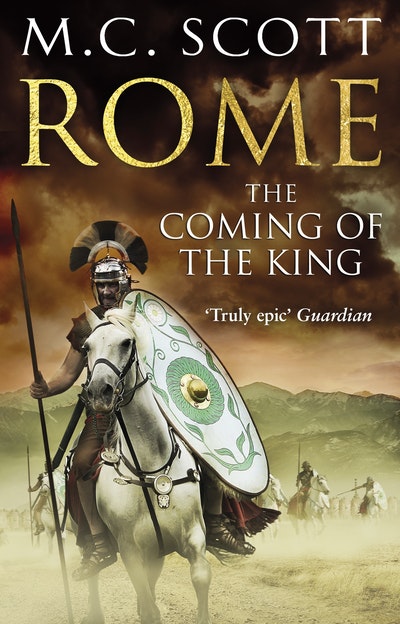 Published:

1 July 2011

ISBN:

9781409042914

Imprint:

Transworld Digital

Format:

EBook

Pages:

496
Rome: The Coming of the King
Historical Fiction: Rome 2
---
---
---
A compelling novel of Rome in the tradition of Conn Iggulden and Simon Scarrow
From the Sunday Times bestselling author Manda Scott, a high-octane, stirring and exciting historical adventure full of intrigue and action. Perfect for fans of Simon Scarrow, Robert Harris and Conn Iggulden."Intricately woven, cleverly plotted. Miss this at your peril!" -- BEN KANE"Intelligent, historical...I was bereft when I turned the final page." -- ROBERT LOW"A dazzling, wonderfully crafted tale. Spellbinding." -- GILES KRISTIAN"Manda Scott's 'Rome' is fast becoming one of my favourite series. Highly recommended." -- ***** Reader review"Definitely required reading for anyone interested in this phase of history, amongst others !!" -- ***** Reader review***********************************TO SAVE ROME HE MUST PLACE HIS TRUST IN ANOTHER. Sebastos Pantera, known to his many enemies as the Leopard and something of a lone wolf, is the spy the Emperor Nero uses only for the most challenging and important of missions. His next mission: to find the most dangerous man in Rome's empire and bring him to bloody justice.
His prey is cunning, subtle and ruthless. Saulos has pledged to bring about the destruction of Rome and her provinces and now fate, good luck and planning have given him the means to do so.
The brilliance of Saulos' plan will be difficult to combat, but Pantera has a new ally: a king in the making who could change the future of his people - a man he can finally trust. If they work together, they could bring a province back from the edge of ruin.
But first, they must attempt the impossible; an assault on an invulnerable fortress, where failure means death to them both.
The story continues in Rome: The Eagle of the Twelfth. Have you read Rome: The Emperor's Spy, where the story begins?
Published:

1 July 2011

ISBN:

9781409042914

Imprint:

Transworld Digital

Format:

EBook

Pages:

496
Praise for Rome: The Coming of the King
Religious and political tensions, passion and intrigue, superb action sequences and real and imagined characters are seamlessly woven together to create a fascinating and exciting story on a truly epic scale.

Laura Wilson, THE GUARDIAN
Full of good fights and battles...Scott's version is not only perfectly tenable in theory; it is grippingly sustained in her fiction.

Independent
Brilliant detail, credible locations and characters, and a cracking plot mark this out as a definite success.

Shropshire Star