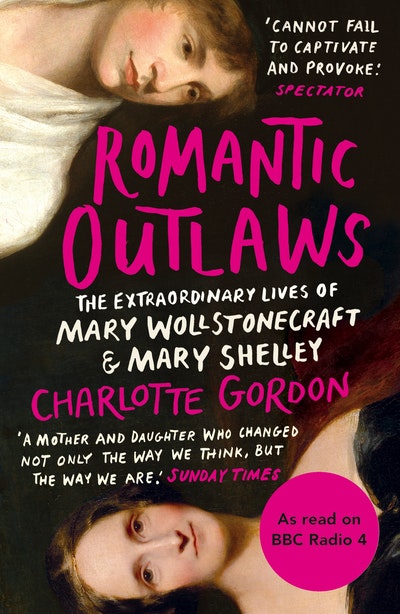 Published:

23 April 2015

ISBN:

9781473518162

Imprint:

Cornerstone Digital

Format:

EBook

Pages:

672
Romantic Outlaws
The Extraordinary Lives of Mary Wollstonecraft and Mary Shelley
---
---
---
Inventive, page-turning, involving biography at its best.
Romantic Outlaws is the first book to tell the story of the passionate and pioneering lives of Mary Wollstonecraft - English feminist and author of the landmark book, The Vindication of the Rights of Woman - and her novelist daughter Mary Shelley, author of Frankenstein.
***AS READ ON BBC RADIO 4***NATIONAL BOOK CRITICS CIRCLE AWARD WINNER'A gripping account of the heartbreaks and triumphs of two of history's most formidable female intellectuals, Mary Wollstonecraft and Mary Shelley. Gordon has reunited mother and daughter through biography, beautifully weaving their narratives for the first time.' Amanda ForemanEnglish feminist Mary Wollstonecraft and author Mary Shelley were mother and daughter, yet these two extraordinary women never knew one another. Nevertheless, their passionate and pioneering lives remained closely intertwined, their choices, dreams and tragedies eerily similar.
Both women became famous writers and wrote books that changed literary history, had passionate relationships with several men, were single mothers out of wedlock; both lived in exile, fought for their position in society, and interrogated ideas of how we should live.
Romantic Outlaws takes the reader on a vivid journey across revolutionary France and Victorian England to explore in this ground-breaking dual biography of the author of A Vindication of the Rights of Woman and the author who wrote Frankenstein - mother and daughter - a pair of visionary women, who should have shared a life, but who instead share a powerful literary and feminist legacy.
Published:

23 April 2015

ISBN:

9781473518162

Imprint:

Cornerstone Digital

Format:

EBook

Pages:

672
Praise for Romantic Outlaws
[A] unique double biography... An excellent and poignant book whose heroines breathe in its pages.

David Aaronovitch, The Times
A mother and daughter who changed not only the way we think, but the way we are… extraordinary women, a dozen decades ahead of their time… Romantic Outlaws enables readers to compare the different ways in which these two remarkable women confronted their tragically different destinies… [A] thoughtful, intelligent, deeply-felt book'

Miranda Seymour, Sunday Times
A gripping account of the heartbreaks and triumphs of two of history's most formidable female intellectuals, Mary Wollstonecraft and Mary Shelley. Gordon has reunited mother and daughter through biography, beautifully weaving their narratives for the first time.

Amanda Foreman, author of A World on Fire
Full of enriching paradox… Charlotte Gordon has managed to produce that rare thing, a work of genuinely popular history... It works beautifully.

Melissa Benn, New Statesman
Wollstonecraft and Shelley were extraordinary women who led sensational lives. They were Romantic revolutionaries… retelling their story cannot fail to captivate and provoke.

Spectator
Unique... Marvellous, passionate stuff.

David Aaronovitch, Books of the Year, Times
An exceptional achievement

Michael Morpugo, Daily Telegraph
Read and be seriously inspired.

Stylist
An innovative dual biography that foregrounds the writing of two women who disregarded the moral codes of their eras and shaped their own destinies. Gordon's parallel mapping of their lives reveals fascinating similarities in the ways writing sustained, and sometimes saved, them both.

Financial Times
Mother and daughter shadow and reveal each other. The retelling emphasises the extent to which Shelley's life was shaped by her mother's legacy but here is underlined in thought-provoking ways... In Gordon's narrative, [Wollstonecraft and Shelley] appear at their best and bravest.

Daisy Hay, Observer
A most welcome deeper take on the women who scandalized Victorian England - and whose stories continue to resonate today.

Vogue
The relationship between Mary Shelley and Mary Wollstonecraft is explored with remarkable insight and perspicacity in this exhilarating dual biography… Gordon's lucid prose and multi-faceted appraisal… makes warm-blooded and fully fleshed-out people of writers who exist for readers today only as the literary works they left behind.

*Starred* Publisher's Weekly
Charlotte Gordon reunites a mother and daughter tragically separated at birth in this rousing and surpassingly readable epic spanning the Romantic era. Wordsworth and Byron must step aside to make room for two brilliant women, Mary Wollstonecraft and her daughter Mary Shelley, early and late Romantics whose remarkable contributions to their time and ours lend Gordon's artfully twined tale special significance

Megan Marshall, Pulitzer Prize-winning author of Margaret Fuller: A New American Life and The Peabody Sisters
Gordon infuses literary history with electrifying discoveries in this symbiotic portrait of radical mother-daughter writers who indelibly changed society and the arts… Gordon chronicles their harsh, tragic, and courageous lives in alternating chapters that are as emotionally incisive as they are finely particularized in their astute renderings of tumultuous settings and dire predicaments... She delivers overdue justice to two… thinkers and writers who risked everything to protest in word and deed crimes and discrimination against women.

*Starred* Booklist
Charlotte Gordon's fascinating double biography [of Mary Wollstonecraft and Mary Shelley]… is a skilful interweaving of the two stories… [It] presents a compelling comparison of their struggles, adventures, romantic entanglements and, ultimately, the uniquely personal philosophies that helped to shape the writings for which they are best remembered…'

Hallie Rubenhold, BBC History Magazine
Fascinating... The accumulated detail of places, characters and historical events gives these two lives a hallucinatory realism.

Lynn Roberts, Books of the Year, Tablet
A mother and her daughter, who changed not only the way we think, but the way we are … Skilfully entwining the story of two generations that spanned a century, Gordon's book enables readers to compare the different ways in which these two remarkable people confronted their tragically difficult destinies.

Miranda Seymour, Sunday Times, Paperback of the Week