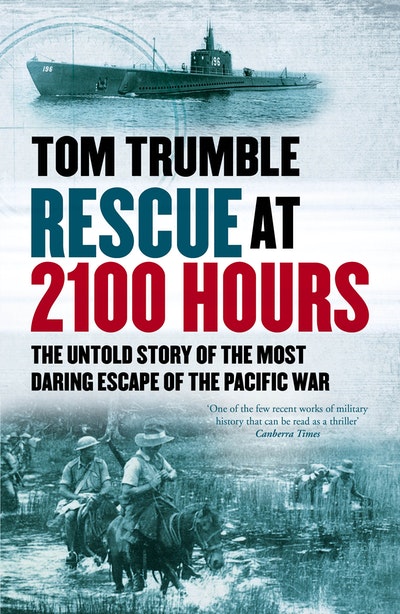 Published:

24 September 2014

ISBN:

9780143572107

Imprint:

Penguin

Format:

Paperback

Pages:

344

RRP:

$22.99
Rescue at 2100 Hours
---
---
---
A World War II story of courage, cruelty, friendship and the extraordinary things ordinary men must do to survive.

February 1942. The Japanese invasion of Timor has begun and attempts to evacuate a group of 29 Australian airmen, charged with keeping an airfield operational until the last moment, are thwarted.
Under the leadership of Bryan Rofe, a 24-year-old meteorological officer, the airmen make for remote jungle along the northwest coast. All attempts to rescue the group fail. Malaria-ravaged and starving, these men are taken to the limits of their endurance for 58 days. When a 300-strong Japanese patrol is sent to hunt them down all hope seems lost, until they receive a strange signal from sea – an American submarine has been dispatched to their position. With the Japanese closing in, only courage will keep them alive.
Using diaries of the airmen and wartime records, Rofe's grandson Tom Trumble brings to life one of the greatest stories of survival and escape of the Second World War. From the young man who stepped up to bring his men home and the Japanese soldier sent to hunt down the Australians, to the American submarine captain and the Timorese fisherman who saved them, this is an insight into the extraordinary things that happen to ordinary men in war.
'Fascinating . . . Intimate passages exploring passion, separation and loneliness bring the protagonists to life in a way rarely achieved in narratives dealing with events now 70 years in the past . . . Trumble, a master of his material, builds the suspense without running aground on the rocky shallows of melodrama. His characters appear true to life and the events he describes are related with what appears to be unfailing historical accuracy. This is one of the few recent works of military history that can be read as a thriller. There should be more like it.'Canberra Times
'Gripping from the get-go . . . Vivid images inflame the pages and the book smoulders with intensity . . . Driven by love and respect [for the airmen], Tom Trumble recounts their journey into hell with journalistic flair, empathy and restraint . . . This book resonates.' Sunday Tasmanian
'A gripping tale . . . which has you glued to the page'. Steven Carroll, Sydney Morning Herald
'A ripping yarn of courage against the odds, great resourcefulness and a daring night rescue by submarine.' Courier-Mail
'Trumble gives a gripping account of one of those many little-known stories worthy of a big-budget Australian film.' Daily Telegraph
Published:

24 September 2014

ISBN:

9780143572107

Imprint:

Penguin

Format:

Paperback

Pages:

344

RRP:

$22.99