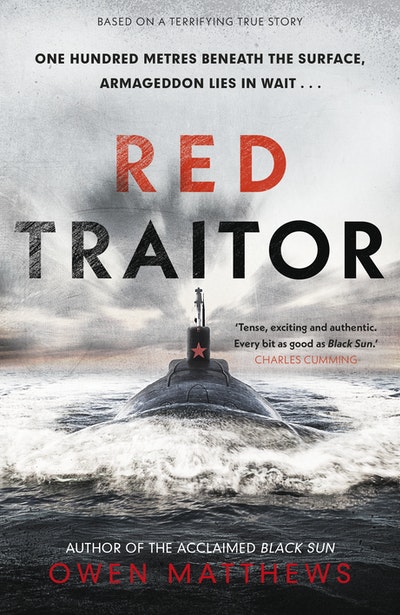 Published:

29 October 2021

ISBN:

9781787634961

Imprint:

Bantam Press

Format:

Hardback

Pages:

336

RRP:

$38.99
Red Traitor
---
---
---
From the author of acclaimed historical thriller Black Sun comes a claustrophobically tense, page-turner, set during the Cuban Missile Crisis and based on a terrifying true story. . .

If you enjoyed the BBC TV series 'Vigil' starring Suranne Jones, dive into Red Traitor, the ultimate submarine thriller...
'This is Robert Harris storytelling territory and is told with equal panache and authenticity. There could be no higher praise.' Daily Mail
The year is 1962 and in Moscow KGB officer Alexander Vasin feels as if he's chasing ghosts. Ordered to find an American spy rumoured to be embedded at the highest echelon of Soviet power, he's caught up in a dangerous game of espionage against not only the CIA but also state rival agencies.
But it's while pursuing this infiltrator that Vasin learns of a top-secret operation that could push the world to the brink of war. The Kremlin has deployed short-range nuclear missiles on Cuba, barely ninety miles from the US coast, and, to support its high-risk gambit, dispatched four submarines to the Caribbean. Each is armed with a nuclear payload - and on board one of them there is an officer who is dangerously unfit for command.
As tensions between the USSR and the USA escalate, the world holds its breath-and Vasin faces an extraordinary dilemma: how to warn his enemy without betraying his country.
Weaving together historical fact with nail-bitingly tense fiction, the acclaimed author of Black Sun brings one of the most terrifying stand-offs in modern times to life in his stunning new Cold War thriller.
Published:

29 October 2021

ISBN:

9781787634961

Imprint:

Bantam Press

Format:

Hardback

Pages:

336

RRP:

$38.99
His feel for the period is a great pleasure to read. Russet October.

THE TIMES
This dynamic thriller skilfully weaves its story around one of the 20th-century's most tense moments, the Cuban missile crisis.

BBC HISTORY
A superlative follow-up to Black Sun . . . With some particularly tense scenes set inside submarines that put Tom Clancy to shame in their claustrophobic realism, you have a humdinger of a Cold War thriller . . . Gripping and unmistakably authentic.

Maxim Jakubowski, CRIME TIME
Tense, exciting and authentic. Every bit as good as Black Sun.

CHARLES CUMMING, author of Box 88
This is Robert Harris storytelling territory and is told with equal panache and authenticity. There could be no higher praise.

DAILY MAIL
Gripping . . . Cold War buffs will particularly enjoy the ride, though any reader who appreciates the finer points of espionage and foreign intrigue will also be well satisfied.

PUBLISHERS WEEKLY
Superb . . . a real cold-war tale, much in the vein of a Tom Clancy, but with a degree of detail and conviction that grabs the reader and doesn't let go . . . if you like your thrillers realistic, accurate and impossible to put down, buy a copy today. You won't regret it.

SHOTS MAGAZINE
Matthews' excellent Cold War thriller . . . he writes knowledgeably about Moscow in Soviet times. the deadly rivalry between the KGB and GRU . . . the tension is real aboard the submarines . . . it's a terrific read.

CHOICE magazine 'Book of the Month'
A standout thriller . . . the story races along and Matthews' superb scene-setting . . . feels completely authentic.

FINANCIAL TIMES