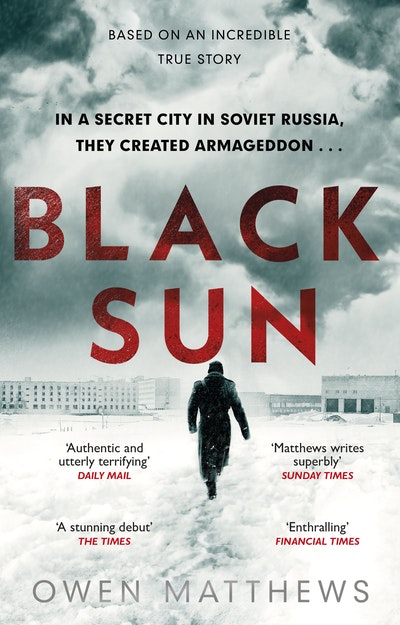 Published:

1 September 2020

ISBN:

9780552176576

Imprint:

Corgi

Format:

Paperback

Pages:

416

RRP:

$22.99
Black Sun
Based on a true story, the critically acclaimed Soviet thriller
---
---
---
Based on a true story, this acclaimed, chillingly authentic, page-turner of a thriller brings Soviet Russia and the Cold War world to brilliant life and should rank alongside Martin Cruz-Smith's Gorky Park and Robert Harris' Archangel.
'Outstanding' SUNDAY TIMES
'A stunning debut thriller . . . utterly terrifying . . . absolutely riveting' DAILY MAIL
'Fascinating . . . fearsome' FREDERICK FORSYTH
'Enthralling' FINANCIAL TIMES
'Thrilling . . . compelling' SIMON SEBAG MONTEFIORE
1961. Hidden deep within central Soviet Russia is a place that doesn't appear on any map: a city called Arzamas-16. Here dedicated scientists and technicians are building the most powerful nuclear device the world will ever see - three thousand times more powerful than Hiroshima.
But days before the bomb is to be tested, a young physicist is found dead. His body contains enough radioactive poison to kill thousands. The authorities believe it is suicide - they want the corpse disposed of, the incident filed and forgotten. But Moscow is alarmed by what's going on in this strange, isolated place.
And so KGB major Alexander Vasin is sent to Arzamas to investigate. What he finds there is unlike anything he's experienced before. His wits will be tested against some of the Soviet Union's most brilliant minds - eccentrics, patriots and dissidents who, because their work is considered to be of such vital importance, have been granted the freedom to think and act, live and love as they wish. For in Arzamas, nothing can be allowed to get in the way of the project. Not even murder . . .
Intricately researched, cunningly plotted and brilliantly told, Black Sun is a fast-paced and timely thriller set at the height - and in the heart - of Soviet power from the acclaimed author of An Impeccable Spy.
What readers are saying:
'Woven around real events, people and places, it's genuinely terrifying stuff' *****
'The twists and turns and intrigue kept me on tenterhooks' *****
'Brings alive one of the most fascinating periods of Soviet history' *****
Published:

1 September 2020

ISBN:

9780552176576

Imprint:

Corgi

Format:

Paperback

Pages:

416

RRP:

$22.99
There are some authors who have gone out into the world to observe the good, the bad and the ugly. Owen Matthews is such a novelist. Black Sun is fascinating and has fearsome authenticity.

FREDERICK FORSYTH
A stunning debut. Matthews writes enviably well and knows Soviet Russia inside-out. Fantastic.

CHARLES CUMMING
This thrilling and suspenseful and original thriller of murder and power is a compelling voyage into the darkest secret city of the soviet nuclear project by an expert on all of Russian life.

SIMON SEBAG MONTEFIORE
[Frederick Forsyth's] endorsement of fellow journalist Matthews' totally immersive debut for its "fearsome authenticity" raises the reader's expectations, and Matthews delivers. To call the novel chilling is an understatement . . . Forsyth claims his wife told him to quit writing because he was too old to travel to dangerous places. Fortunately, there are brilliant new, informed tellers of tales following in his wake.

BOOKLIST Starred Review
Matthews is especially adept at limning the bureaucratic infighting and political double-dealing that permeate Soviet society . . . the depiction of the forces and behaviours animating Soviet life are compelling . . . well-constructed characters, and the persistence of history is a powerful tidal presence . . . this thriller provides many pleasures.

KIRKUS REVIEWS
Brilliantly plotted and all the more satisfying because it is based on a true story . . . Something else, too: you get it that the Soviet Union in the sixties was a mess with all the wrong people holding the levers of power. And yet, inside the machine, there were humans too: sometimes noble, often seriously brilliant. Reading Black Sun is like stepping into a time machine and setting the dial for Soviet Russia, 1961.

JOHN SWEENEY
Matthews is an excellent storyteller . . . Black Sun is the kind of thriller you want to savour as you turn the pages, suspenseful and thought provoking.

NEW YORK JOURNAL OF BOOKS
An impressive debut and it's not a stretch to say that Matthews' whole life led him to this book . . . [he] knows the landscape and the people, and his recreation of Cold War-era Russia and the inner workings of Soviet government and society are so good they seem effortless . . . deeply researched and filled with small details and brief scenes that give the setting a cold, clear life . . . the characters are also sharply drawn. A thriller like this lives or dies by its protagonist and Vasin is a breath of fresh air.

CRIMINAL ELEMENT
A page-turning police procedural . . . . Far beyond a murder mystery, the novel is a textured examination of truth, assumption, and deception. Rich street scenes and dialogue embed in the reader's mind undercurrents of the paranoia of living in a totalitarian state where neighbour betrays neighbour, colleague denounces colleague, and police gather information to manipulate underlings and bury the secrets of political leaders.

HISTORICAL NOVELS REVIEW
One of the best thrillers of recent years . . . a glorious book, a tour-de-force. It drips with authenticity from every page . . . a page-turning, thumping good read.

DAVID YOUNG, bestselling author of Stasi Child
Enthralling . . . Black Sun propels Matthews straight into the first division of thriller writers.

Adam LeBor, FINANCIAL TIMES
A thoroughly dark and disturbing thriller.

Jon Wise, SPORT
A stunning debut thriller . . . ferocious, authentic and utterly terrifying . . . absolutely riveting.

Geoffrey Wansell, DAILY MAIL
An outstanding first novel . . . Matthews writes superbly.

SUNDAY TIMES 'Crime Book of the Month'
'[Matthews] impressive first novel . . . the murder investigation is clever, the science neatly explained . . . and the descriptions . . . are revealing.

LITERARY REVIEW
Fact and fiction combine to keep the pages turning in this impressive debut thriller.

Antonia Senior, THE TIMES 'Best Historical Fiction of the Year'
The most exciting thriller or mystery story debut this year . . . a cold war whodunnit . . . an absolutely gripping novel by one who knows Russia well and evokes a horrifyingly convincing Soviet Union.

A. N. Wilson, THE TABLET 'Books of the Year'
A rattlingly good yarn . . . Matthews has the uncanny ability to transport the reader back in time to the Soviet Union of 1961 . . . a debut novel which deserves a wide readership.

Trevor Royle, THE HERALD
Atmospheric . . . his evocation of the landscape and times is sharp, and the insights into the horrors of the Communist past chastening . . . a powerful and gripping piece of writing.

Maxim Jakubowski, CRIME TIME
Based on real events . . . this story is set in a secret Soviet city in 1961. Featuring murder and betrayals, and a flawed but principled KGB man as its hero, it unfolds in the aftermath of Stalinism, amid the scars left by the purges, denunciations and Great Patriotic War. The author, a former Moscow correspondent, knows his terrain inside out.

THE ECONOMIST 'Books of the Year'
Gripping and authentic.

Jason Goodwin, COUNTRY LIFE
Magical . . . don't miss it.

FORBES magazine
A terrific thriller, knowledgeably written, intricately plotted and the more chilling for being based on a true story.

CHOICE magazine 'Book of the Month'