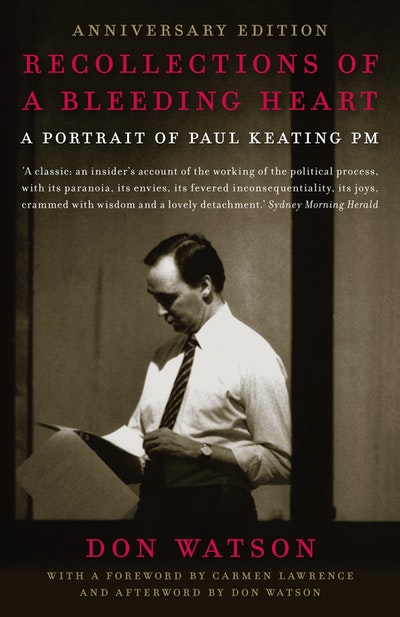 Published:

1 September 2011

ISBN:

9781742751993

Imprint:

Vintage Australia

Format:

Trade Paperback

Pages:

800

RRP:

$34.99
Recollections Of A Bleeding Heart 10th Anniversary Edition
---
---
---
Award-winning and best-selling biography of Paul Keating with new content
Award-winning and best-selling biography of Paul Keating with new content
Introduced by Carmen Lawrence, former Premier of WA and senior minister in the Keating government.
"Others have fair claim on the economic transformation of Australia, but Paul Keating's so-called 'big picture' vision, his political courage, the requisite luck and his gift for story-telling have earned him most of the credit. Certainly no one did more to bring about the successful economy we now enjoy - and inhabit. But history will just not behave. If this transformation not only brought economic growth and prosperity, but in some degree also laid the ground for the debasement of political debate to tin-eared sloganeering and second-hand managerialism, should he not share the credit for that as well?" From the Afterword by Don Watson.
In December 1991 Paul Keating wrested the role of Prime Minister from Bob Hawke and the bruises from that struggle were part of the baggage he brought to the job: the other parts included the worst recession in 60 years and an electorate determined to make him pay for it. Keating defied the odds and won the 1993 election, and in his four years as Prime Minister set Australia on a new course - towards engagement with Asia, a republic, reconciliation, a social democracy built on a modern export-based economy and sophisticated public systems of education and training, health and social security. Widely regarded as a quintessential economic rationalist, Keating's record clearly shows that his vision was infinitely broader and more complex.
Don Watson was employed as Keating's speechwriter. Based on the diaries Watson kept through the four turbulent and exhausting years of Keating's Prime Ministership, on its release Recollections of a Bleeding Heart was widely deemed a masterpiece. It is at once a groundbreaking 'inside' account of politics and a profound and extraordinarily frank study of the most intriguing and visionary politician in Australia's modern history. Now, when vision and character have all but vanished from politics, Don Watson's Recollections makes absorbing - and essential - reading.
Published:

1 September 2011

ISBN:

9781742751993

Imprint:

Vintage Australia

Format:

Trade Paperback

Pages:

800

RRP:

$34.99
Praise for Recollections Of A Bleeding Heart 10th Anniversary Edition
Everyone who sets out to write history must be free to decide how he will do it. It can't be any other way. I regret very few things more deeply than Paul Keating's belief that he was betrayed by this book, but if I had written it according to his lights, rather than mine, from his angle rather than mine, I would have betrayed myself; and, for want of a more clinical term, history - this bit of it at least - would have been betrayed as well.

From the Afterword by Don Watson
Focus Watson's sharp and seditious eye on the strange world of the Prime Minister's Office and the result is mesmeric, and not just to the strange breed, the politics watcher. It's a great yarn. Many of his descriptions of the Federal Parliament and the life lived in it are disturbing - and extremely funny. We should revisit Keating's world, not out of nostalgia (Watson's treatment doesn't allow it in any case), but to imagine - and see - that politics can be done differently.

From the Foreword by Carmen Lawrence
This book is like the black box recorder in a plane.

former PM Paul Keating
...a masterpiece...simply the best inside account of life, politics and combat inside the highest office of the land ever written.

Michael Gordon, The Age
one of the most intelligent and seductive books about Australian politics which has ever come my way.

Robert Manne, The Sydney Morning Herald
...the story of four tumultuous years told by an intelligent and curious insider, and no insider has ever done it better.

Les Carlyon, The Bulletin
...the finest insider's account yet published of Australian politics in action at the highest level.

Tony Baker, The Adelaide Advertiser
...a classic: an insider's account of the working of the political process, with its paranoia, its envies, its fevered inconsequentiality, its joys, crammed with wisdom and a lovely detachment.

Evan Williams, Spectrum, The Sydney Morning Herald
....a sheer delight to read...written by a man who would have difficulty putting together a dull sentence...Watson stiches a rich tapestry of national, international and personal context.

Diana Simmonds, The Sun-Herald