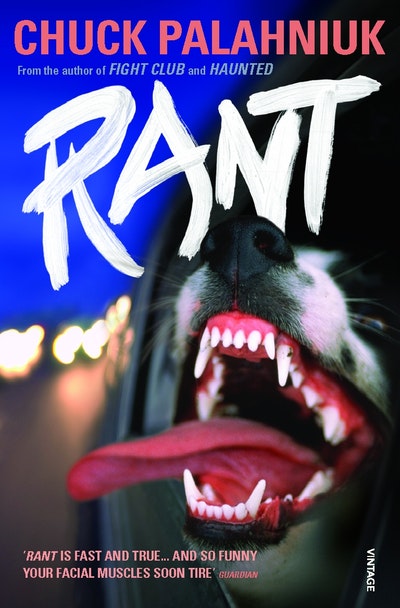 Published:

2 June 2008

ISBN:

9780099499367

Imprint:

Vintage

Format:

Paperback

Pages:

336

RRP:

$19.99
Rant
The Oral History of Buster Casey
---
---
---
The provocative and mind-bending new novel from the bestselling author of Fight Club and Haunted.
Rant takes the form of an oral history of one Buster 'Rant' Casey, in which an assortment of friends, enemies, admirers, detractors and relations have their say on this (in Chuck Palahniuk's words) 'evil, gender-conflicted Forrest Gump character'.
Buster Casey was every small kid born into a small town, searching for real thrills in a world of video games and action/adventure movies. Anyone who's ever kissed him would do well to seek treatment, for his recreational drug of choice is rabies and he gets bitten by black widow spiders for the priapic effect of their venom. The high school rebel who wins, Rant Casey escapes from his hometown of Middleton for the big city, where he becomes a leader of an urban demolition derby called Party Crashing where, on designated nights, the participants recognise each other by dressing their cars with tin-can tails and 'Just Married' toothpaste graffiti. (Or with 'forgotten' coffee mugs bolted to their car roofs or Christmas trees tied from bumper to bumper.) During specific windows of time, in limited areas of the city, Party Crashers look for the designated markings in order to stalk and crash into each other. It's in this violent, late-night hunting game that Casey meets three friends. And after his spectacular death, these friends gather the testimony needed to build an oral history of his short life. Their collected anecdotes explore the charges that his saliva infected hundreds and caused a silent, urban plague of rabies. But it's a plague that liberates his peers from being stuck in only one boring track through history…
Expect hilarity, horror and blazing insight into the desperate and surreal contemporary human condition as only Chuck Palahniuk can deliver it. He's the post-millennial Jonathan Swift, the man to watch to learn what's – uh-oh – coming next.
Published:

2 June 2008

ISBN:

9780099499367

Imprint:

Vintage

Format:

Paperback

Pages:

336

RRP:

$19.99
There is no question that Palahnuik is an important writer with a huge popular following... I'm glad he continues to bring us these American visions of Hell, each one more disturbing than the last

Matt Thorne, Independent on Sunday
Rant is fast and true, savagely clear-sighted and intelligent, a luxury to read, and so funny that your facial muscles soon tire...Rant is the novel you might expect if Philip K Dick met Dennis [sic] Johnson and they took crystal meth together and spent a week telling one another everything they knew about epidemiology, economics, cars, coin-collecting, generation war-fare, spiders and the physics of time

Guardian
A twisted paranoid version of our world... so even if the suspicion sometimes lingers that Palahniuk is like a hip uncle tring to impress the kids with his capacities fo taboo-breaking and imaginative riffs, he still presents something that we all yearn for

Financial Times