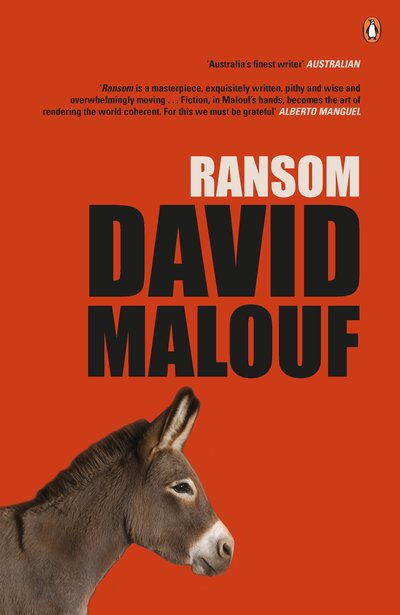 Published:

19 March 2018

ISBN:

9780143790846

Imprint:

Penguin

Format:

Paperback

Pages:

240

RRP:

$19.99
Ransom
from the award-winning author of Remembering Babylon, An Imaginary Life and Johnno
---
---
---
Malouf's fable engraves the epic themes of the Trojan war onto a perfect miniature.

'Australia's finest writer' Miriam Cosic, The Australian
'... profound ... subtle and extremely moving.' Daniel Mendelsohn, New Yorker
'a masterpiece' Alberto Manguel, Australian Literary Review
'A work of immediacy, humanity and tenderness.' Philip Parker, Financial Times
__________
David Malouf shines new light on Homer's Iliad, adding twists and reflections, as well as flashes of earthy humour, to surprise and enchant.
In this exquisite gem of a novel, Achilles is maddened by grief at the death of his friend Patroclus. From the walls of Troy, King Priam watches the body of his son, Hector, being dragged behind Achilles' chariot. There must be a way, he thinks, of reclaiming the body - of pitting compromise against heroics, new ways against the old, and of forcing the hand of fate. Dressed simply and in a cart pulled by a mule, an old man sets off for the Greek camp ...
Lyrical, immediate and heartbreaking Malouf's fable engraves the epic themes of the Trojan war onto a perfect miniature - themes of war and heroics, hubris and humanity, chance and fate, the bonds between soldiers, fathers and sons, all newly burnished and brilliantly recast for our times.
__________

'Though Malouf's sparingly deployed details, vigorous language, and sly wit humanize these tragic heroes, the story is unmistakably epic and certainly the stuff of legend.' Publishers Weekly (starred review)
'That this tender novel lingers so long and hauntingly in the mind is a testament both to Malouf's poetry and to his reverence for the endless power of myth.' Steve Coates, New York Times Book Review
'This book shines new light on this story of the Trojan War, adding twists and reflections as well as flashes of earthly humour.' Brisbane News
'Malouf's rendering of Ancient Greece is gorgeous, fantastical, and yet earthly, humble and relatable.' Australian Bookseller + Publisher
Published:

19 March 2018

ISBN:

9780143790846

Imprint:

Penguin

Format:

Paperback

Pages:

240

RRP:

$19.99
'In austere, elegant prose that subverts Homer's Iliad in significant ways, David Malouf has created in Ransom an imaginative terrain that is both new and old.' Rod Jones, The Age
'The sheer potency of this slim volume can hijack your senses and emotions.' The Courier Mail
'This book shines new light on this story of the Trojan War, adding twists and reflections as well as flashes of earthly humour.' Brisbane News
"RANSOM is a diamond of a novel, tiny but flawless, prose so pared away and carefully constructed that however many times you read it, it persists in revealing new meanings and unfolding new images to the mind's eye."
Sarah Bower, Editor's Choice, HNR
"it's a marvel - beautifully written, surprisingly moving, quietly rather brilliant."
Harry Ritchie, The Daily Mail
"David Malouf has written a rich, moving and sometimes disturbing novel, one to read, as it demands, in a sitting and then return to and read slowly."
Alan Massie, The Scotsman
"the prose is consistently fine. Malouf is incapable of an ugly sentence. The style is so sure, so unostentatious, that we can overlook how good it is ..."
Peter Rose, ABR
"By the time Nikos Kazantzakis completed his sequel to The Odyssey, in 1938, The Iliad had shown itself to be better suited to our imperilled, capsizing world. The twentieth century's wars were fought under the sign of Homer's epic. Rupert Brooke recited The Iliad on the troopship to Gallipoli, and ecstatically anticipated a death that would eternalise his name ... Now David Malouf's meditation on one small episode from The Iliad in his novel Ransom gives the epic a renewed relevance."
Peter Conrad, the Monthly
"David Malouf, one of Australia's most admired writers, has taken a sliver of Homer's ILIAD and augmented and embellished it. The result is a beautiful tale that acknowledges its place as a fragment in a larger narrative yet stands alone."
Nina Caplan, Time Out
"David Malouf's retelling of the final chapters of Homer's ILIAD stands alone as a magnificent tribute to the poetic strength of its tumultuous source and a quietly poignant critique on the futility of war. This is a great story in its own right ... But Malouf's beautiful language puts fresh flesh on to these characters."
Claire Allfree, Metro
" ... a work of immediacy, humanity and tenderness. Malouf succeeds beautifully in transporting the reader into the world and thought patterns of archaic Greece and then in part subverting them. His elegant prose is delightful."
"David Malouf has written a rich, moving and sometimes disturbing novel, one to read, as it demands, in a sitting and then to return adn read it slowly."
Allan Massie, The Scotsman
"The themes of this apparently simple, yet immensely moving, modern novel are still vast: loss, forgiveness, love and redemption. Lyrical, witty, gentle, this is above all a story of transformation."
Elizabeth Speller, The Independent
"David Malouf writes with the voice of a poet; his graceful fiction deals in truth and is always beautiful. RANSOM is a dignified performance. Here is fiction as art, epic re-imagined as a simple tale of a father fulfiling his duty. Serious questions are raised: honour, grief, retribution, mortality. In writing this novel Malouf is honouring a great work and also making it his own."
Eileen Battersby, The Irish Times
"David Malouf's RANSOM [is] a wonderful retelling of the encounter between Achilles and the Trojan King Priam in prose that's so good you want to eat it."
Mariella Frostrup, The Guardian
Just a short email to tell you how much I enjoyed `Ransom' by Malouf. The blurb on the back of the book said something about finishing the short novel and then immediately starting it again, which is exactly what I did.
The language and imagery is just wonderful – I loved it. If we have a greater writer in Australia, I don't know who it is!
Talk to you soon, and again, thanks for the reading copy.
Lyn, Coaldrake's Bookshop
". . .I have been lucky enough to read an advance copy of David Malouf's first novel in more than 10 years, Ransom (due in April) – a powerful, visceral and haunting revisiting of Hector's Troy. It's a thrilling reworking of a classic subject."
David Gaunt, Gleebooks
Why read a retelling of a classic of Western literature? Read David Malouf's latest to find out. Beautiful and so very lyrical, Ransom is Malouf's version of Homer's Iliad, delving primarily into the relationships between men in the midst of a long and bloody war.
The great Greek warrior Achilles mourns the death of Patroclus which spurs him on to defile the body of the heroic Trojan, Hector. Hector's father King Priam, grief-stricken, resolves to ransom his body with treasure from his kingdom's coffers. And along the way, another man, the humble cart-driver Somax who bears Priam to Achilles, becomes an unlikely ally to the king. This is simply stirring writing. With great sensitivity and insight, Malouf explores the bonds between fathers and sons, husbands and wives, comrades in arms, and men of different stations in life who have been thrown together with a common purpose. What could have been an overly masculine story, in Malouf's hands, becomes a compelling novel about grief, love and pride that will resonate with every reader. Read it slowly and savour every word.
Kabita Dhara, Readings Carlton
ALS Gold Medal Award
Winner • 2009 • ALS Gold Medal Award
Queensland Literary Awards
Shortlisted • 2009 • Queensland Literary Awards
The Age Book of the Year Award
Shortlisted • 2009 • The Age Book of the Year Award
WA Premier's Literary Awards
Shortlisted • 2009 • WA Premier's Literary Award (Fiction)
Adelaide Festival Awards for Literature
Winner • 2010 • Adelaide Festival Awards for Literature
APA Book Design Awards
Shortlisted • 2010 • APA Book Design Awards
NSW Premier's Literary Awards
Shortlisted • 2010 • NSW Premier's Literary Awards
Prime Minister's Literary Awards
Shortlisted • 2010 • Prime Minister's Literary Awards