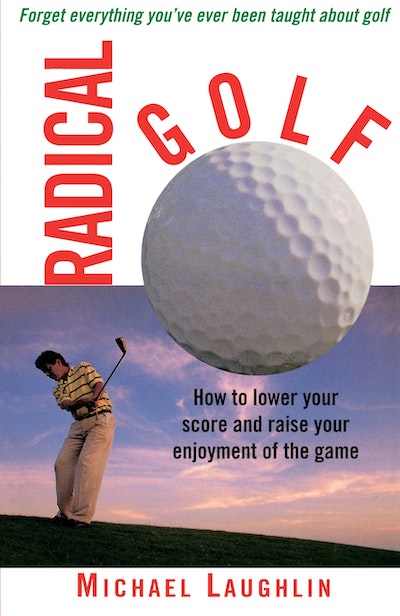 Published:

28 May 2019

ISBN:

9780517886267

Imprint:

Crown

Format:

Paperback

Pages:

196

RRP:

$24.99
Radical Golf
How to Lower Your Score and Raise Your Enjoyment of the Game
---
---
The next time you play golf leave your woods at home, putt with your 2-iron, and you will be on your way to shooting in the 70s.  Sounds radical?  Well, you're right on par!  Golf enthusiast Michael Laughlin, whose day job is in the film business, reveals his proven, but completely radical strategies that average golfers can use to dramatically lower their score.
In Radical Golf, Laughlin rethinks how the game of golf is traditionally played and shares his surprising and innovative ideas on how to play better golf.  Unlike the usual technique-riddled golf books, Radical Golf offers practical and easy-to-use tips, and is written for the legion of average players who will never have the long, crunching power game of the professional.  
"Golf is not a linear game," insists Laughlin, and "Scoring is definitely not related to advancing the ball as far as possible on each shot."
In this fun and accessible book, the radical golfer contends, for example, that players should approach the pin much like basketball players maneuver to shoot a basket by striving to shoot from their best, or "sweet" spot on the court.  Laughlin also suggests that golf should be played as two separate games (of tee-to-green and putts) and that golfers should keep a separate scorecard for their putting game.  Equally radical, Radical Golf calls for using a 2-iron for putts rather than the "dreaded" putter (the loft of the 2-iron matches the putter, "Calamity Jane," of legendary golfer Bobby Jones).  
Hole by hole, sensible shot after sensible shot, Radical Golf simulates a round of golf with a pro to show how a radical golfer can stay within strokes of par play.  Written in a witty and easy-to-understand style, with entertaining sidebars and line drawings, Radical Golf will revolutionize how golf is played both on and off the course.  Most of all, Radical Golf will increase the enjoyment of playing this great and challenging game.  Radical Golf is just the book that could become the bible of the weekend golfer.
Published:

28 May 2019

ISBN:

9780517886267

Imprint:

Crown

Format:

Paperback

Pages:

196

RRP:

$24.99