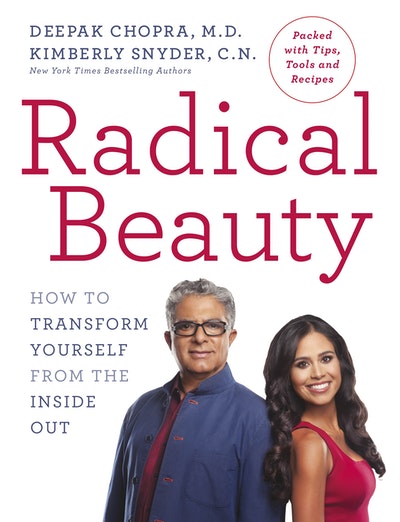 Published:

23 January 2020

ISBN:

9781846046537

Imprint:

Rider

Format:

Trade Paperback

Pages:

352

RRP:

$27.99
Radical Beauty
How to transform yourself from the inside out
---
---
---
Two bestselling authors present a revolutionary new way of looking at health, based on six spiritual and physical pillars, to help you look and feel more beautiful.
Dr Deepak Chopra, bestselling author of Reinventing the Body, Resurrecting the Soul, and Kimberly Snyder, superstar nutritionist and bestselling author of The Beauty Detox Solution, offer an exciting and practical programme to help transform you from the inside out. Through six pillars of healthy living that focus on such topics as internal and external nourishment, sleep, living naturally, avoiding excessive stress, and better understanding the relationship between emotions and inflammatory foods, the authors offer 'radical routines' and 'radical foods' that will have the best impact on your body and mind.
By revealing the latest information on new key vitamins for your metabolism, the use of healthy skincare ingredients, how skin oiling and self-massage can nourish the nervous system, and how positive emotion-based living and peace foster natural and timeless beauty, Chopra and Snyder will help you develop a more healthy body and mind, as well as increase your natural glow, magnetic presence and radiant vitality.
Published:

23 January 2020

ISBN:

9781846046537

Imprint:

Rider

Format:

Trade Paperback

Pages:

352

RRP:

$27.99
Praise for Radical Beauty
Kimberly's programme has had such an important impact not only on my health but my life in general. Radical Beauty is a must read that is the next step in your evolution to live a beautiful life. She's brilliant.

Drew Barrymore
Deepak gave me my first mantra. He's been a teacher and friend who really understands the past, present and future; a constant inspiration of taking us to the next level. He has always been a pioneer in mind, body and spirit, and this book will undoubtedly enrich its readers.

Donna Karan
With Kimberly Snyder's guidance, I have changed my nutritional health forever. As a result, I have more energy, better skin and better overall health.

Reese Witherspoon
Being healthy requires exercising both your body and your brain. Deepak & Kimberly's new book delivers a holistic approach to living through cutting-edge nutrition, meditation, yoga and sleep — all the necessities for creating a beautiful life on the inside and out.

Maria Shriver
Learn a fresh approach to beauty that will help you to feel more confident and centered in your day-to-day life from the inside out!

Lucy Liu
Useful, practical and all-encompassing

Healthista.com